The Indians' trust in Terry Francona has led to an unlikely World Series berth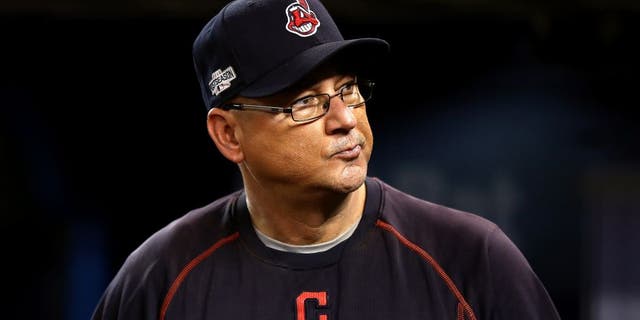 The Francona Factor cancels out Murphy's Law.
It seems like anything that could have gone wrong this postseason for the Cleveland Indians has ... but they keep winning.
The Francona Factor is the main component of a team that has allowed it to overcome more adversity over the past few weeks than most clubs see in an entire season.
After losing two of their best starting pitchers to injury right before the playoffs started, the Indians were basically written off. In early September, they lost Danny Salazar to a forearm injury, then one week later, Carlos Carrasco was hit with a comebacker and broke his hand, ending his season.
Instead of dwelling on what went wrong, manager Terry Francona -- the former Red Sox manager who wasn't fazed by a 3-0 deficit to the New York Yankees in 2004 -- went to work with what he had.
When Francona pulled his ALDS Game 1 starter, Trevor Bauer, mid-way through the fifth inning and brought in back-end bullpen weapon Andrew Miller, people thought it was crazy. Miller hadn't pitched earlier than the sixth inning all season, but Francona handed him the ball and by doing so, flipped off traditional bullpen rules. And it worked.
That move set the tone for the series and the entire postseason. Francona manages differently, with his own way of doing things both on the field and in the clubhouse, and his team loves him for it.
"Tito does such a good job of setting the tone in the clubhouse," said Miller, who also played for Francona in Boston. "It's loose. That's his style. I think the players in a sense run it. There's trash talking back and forth, but guys are prepared at the same time and we work really hard, and it shows. We wouldn't be here if that wasn't the case. ... It's exceptional and he's special."
Ironically, the laid-back clubhouse demeanor that Francona is such a big proponent of was viewed as a problem in Boston -- and it eventually cost him his job. But in Cleveland, it works, and it's a big reason why this Indians team has so much chemistry.
The players trust Francona and play for him. And with two World Series rings from his time managing the Red Sox, Francona has the credibility and experience that teams and players dream of. It's why hiring Francona was a no-brainer for the Indians in October 2012.
"As an organization, we were very analytically driven at times," general manager Mike Chernoff said of Francona last month. "We embraced a lot of different perspectives, but we didn't have that person who had won two World Series, who had credibility with the players and an understanding of clubhouse dynamics."
The camaraderie in the clubhouse carries over to the field, where players pick each other up and are quick to support each other.
You saw that in the ALCS, when Francona was forced to juggle his starting rotation after Bauer sliced his pinkie finger doing drone recon work. Bauer's start was pushed to Game 3, prompting Francona to start Josh Tomlin on short rest in Game 2, and it couldn't have gone better. Tomlin surrendered just one run in 5 2/3 innings before handing the game over to the Tribe's potent 'pen, which held Toronto scoreless, resulting in a 2-1 victory and a 2-0 series lead for Cleveland.
Then in Game 3 of the ALCS, when Bauer's bloody pinkie didn't hold up, the Francona Factor kicked in once again. Bauer couldn't make it out of the first inning and Francona had to find a way to string together 8 1/3 innings by mixing and matching his relievers. With 1 1/3 innings from Dan Otero, 1 1/3 from Jeff Manship, 1 from Zach McAllister, 1 2/3 from Shaw, 1 2/3 from Allen and 1 1/3 from Miller, the Indians pulled out a 4-2 victory and found themselves with a 3-0 lead in the series.
It's almost as if Francona knew exactly which button to press at the exact right time. Everything he did worked.
After Blue Jays starter Aaron Sanchez silenced the Indians' bats in Game 4, leading Toronto to a 5-1 victory, doubt resurfaced for the Tribe, who announced they would start rookie Ryan Merritt for Game 5. The 24-year-old Merritt had pitched only 11 major-league innings and barely even knew his teammates, but Francona chose him to take the reigns in one of the most unlikely scenarios we've seen in postseason baseball.
Once again, with the odds stacked against them -- but with Tito in their corner -- the Indians played a game no one thought they stood a chance in. The result? Merritt was brilliant, pitching 4 1/3 scoreless innings against a potent Toronto lineup that proclaimed earlier they'd have Merritt "shaking in his boots." Merritt handed a 3-0 lead over to the three-headed bullpen monster of Shaw, Miller and Allen for the last 14 outs.
Merritt, of course, credited Tito for his ability to remain collected in what was likely the most tense moment of his young life.
"He said, 'No matter what, good or bad, when you go out there we're behind you,' Merritt said of Francona's pregame advice. "He said, 'I'm behind you. Your team is behind you. Everybody is behind you. So just go out there and be yourself, control what you can control and just have fun, just enjoy it.'"
That's exactly what Merritt did. That's exactly what they did and have done up to this point in the postseason. With the Francona Factor, there's no doubt among those in the Indians' clubhouse. They "Trust in Tito" and they trust in themselves.
Still, there are doubters.
The Indians are four wins away from silencing all of them.