The Indians' Jose Ramirez eats a mouthful of dirt on this terrible slide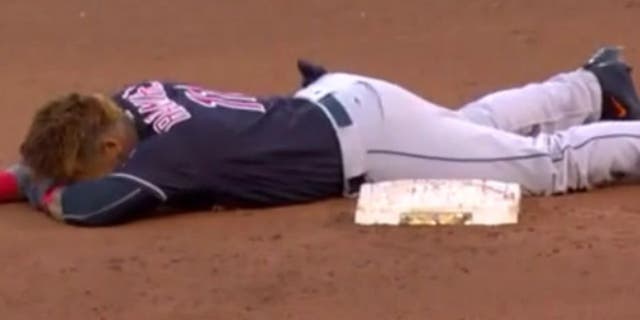 NEWYou can now listen to Fox News articles!
You won't find this slide in any instructional videos, unless they include a "how not to" section.
The Cleveland Indians' Jose Ramirez got a great jump against Kansas City Royals right-hander Edinson Volquez on Monday and seemed destined to steal second base. But perhaps he was a little too anxious, as evidenced by this "slide":
On the bright side, Ramirez probably would have been safe -- if he didn't have to go back to first because of a foul ball off the bat of teammate Lonnie Chisenhall.
As for his face, which surely is sore, we'd tell Ramirez to rub some dirt on it. But he already did.
Adding insult to injury, the Royals used a seven-run eighth inning to beat the Indians, 7-3.