The Hitlist: UFC 195's wars, submissions, rewards & reflections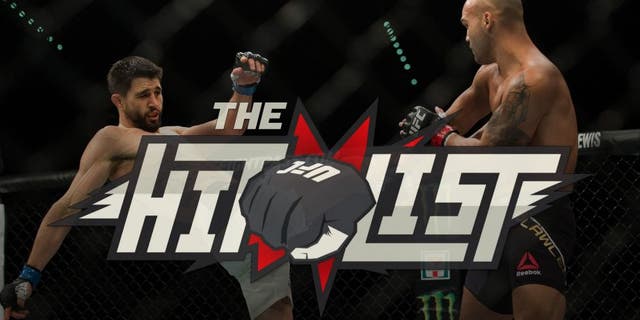 UFC 195's main event delivered scary and inspirational action, and the undercard featured a mix of KOs, nasty submissions and tactical shifts. Read on for our five favorite moments of Saturday's UFC card, and then let us know yours!
Both Lawler and Condit with their arms raised
In fights like Saturday's main event, it is difficult to see anyone called the loser. Carlos Condit and Robbie Lawler both fought from horn to horn and left blood and chunks of their souls in the ring in a closely contested title fight.
Lawler got the win, and I scored it for him (rounds 2, 3 and 5 going his way), but one judge saw it for Condit and that's certainly a reasonable position to take. The fight could have gone either way and both men knew that.
That's why, for all the hostility they showed one another during competition, they had nothing but respect and kindness for one another as Lawler raised Condit's arm afterwards.
Both Lawler and Condit with their heads held high and arms raised is the best way to remember this fight.
Carlos Condit considering retirement
It could be well argued that Carlos Condit should be the new UFC welterweight champion. However you scored his fight with Lawler, everyone can agree that The Natural Born Killer looked phenomenal in it.
Skill-wise, he's probably better than ever. So, it may have surprised some when, post-fight, he said repeatedly that he may very well retire now.
It shouldn't be a surprise. Condit is a smart young man, one rendered older than his years due to a lifetime of combat.
The 31-year-old has been fighting professionally since he was 18 years old, and training for much longer than that. Taking all contests into consideration, he's fought more than 40 times, and he's taken a lot of damage due to his breakneck style of fighting and the high quality of opposition he's always faced.
It wasn't long ago that Condit had to go through a long and arduous ACL surgery and recovery period just to get back into fighting. In all, he's also lost four out of his last six fights, going back to 2012.
There's no shame in that, considering the level of competition and how close some of those fights were. But, it's tough to justify starting from scratch after a lifetime of combat and the letdown of another title loss.
Really, Condit has nothing to prove. He's proved that he should be considered as good as anyone in the world
Whatever he ends up deciding to do, it was good to see a smart man like Condit at least considering his long-term health and so entertaining the idea of retirement. That type of reflection and forethought isn't common among athletes.
Poirier making adjustments to win
Dustin Poirier was in trouble early against a fantastic striker in Joe Duffy. His nose was broken in the first round, yet Poirier pressed on, face-first.
Moreover, he went after Duffy with a different strategy. Once he started getting caught on the outside a bit with strikes, Poirier realized that he needed to get inside and work his excellent grappling game.
The rest of the fight was still hard, but Poirier controlled it with his wrestling, ground positioning and strikes. Duffy was game enough but didn't have answers, until the final seconds of the third round when he threatened with two triangle chokes (the first was broken up by the ignorant referee, but the second was still in when the final horn sounded).
Duffy will be back. He's a great fighter and still a top prospect.
Poirier is a bit more than that, now, however. He's a rising contender and proved that he's ready for top-10 competition at lightweight.
Slick submission transitions
The main event delivered an almost exclusively stand-up striking battle but earlier on the card there was plenty of fantastic submission work. Michael McDonald, Abel Trujillo and Brian Ortega stood out for their slick mat transitions.
McDonald went from being choked on his back to escaping and then locking in his own choke within a moment. Trujillo turned being slammed onto his back into a slick front head choke within seconds.
Ortega was losing until he got his opportunity to finish with a submission in deep third-round waters. These guys once again showed that they're not just great submission fighters, but also top contenders in their divisions.
Miocic getting his title shot
Stipe Miocic has been owed a heavyweight title shot for some time. In July he was sure that he'd get one.
Then, he was passed over and given a hard fight against former world champion Andrei Arlovski. The fireman wasted no time in connecting with big right hands to the ear of The Pitbull, however, and stopped him in seconds during the UFC 195 co-main event.
After winning, the usually publicly soft-spoken Miocic then seized the opportunity to verbally make his case. He shouted at the world and UFC brass for denying him up to this point, and said they'd better not do it again.
He complimented Joe Rogan's shirt and walked out of the cage with a full head of steam.
During the post-event press conference, UFC president Dana White confirmed that Miocic was next in line for a shot against the winner of the Feb. 6 championship bout between Fabricio Werdum and Cain Velasquez.
Of course, White is known to go back on his word in these types of situations, but it was great to at least momentarily see Miocic finally get the recognition he deserves. The big man has been making statements for years, and now he's poised to make another one in a world title fight.