The Hitlist: Top 5 moments from UFC 194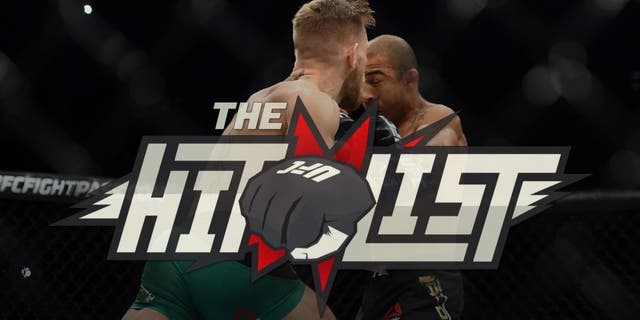 LAS VEGAS -- Demian Maia and Urijah Faber calling for gold, two of the sport's cockiest fighters showing true emotion and more. Read on for our five favorite moments from Saturday's mega event. Then, let us know yours!
McGregor, Rockhold do what they said they would
Sometimes, it can be hard to root for someone who seems so arrogant that they don't need your support. It can also be tempting to believe that the luck of the confident and successful is always about to run out.
On Saturday, two of the most vocally and brash fighters in the UFC -- Conor McGregor and Luke Rockhold -- once again made good on pre-fight predictions. Their luck didn't run out, as they earned world titles.
That's probably because their previous success had little to do with luck. Both men are pretty big for their weight classes, move well and possess real striking power.
McGregor's grappling is underrated, and Rockhold's is downright elite. Leading up to their UFC 194 title fights, both men were brash and boastful.
Afterwards, their displayed emotions revealed just how much soul was behind their bluster. In their hearts they knew that they had what it took to become champions.
Until it actually happened, however, they could never have fully believed that they necessarily would. It shouldn't be hard to root for fighters of their skill-level, who have worked as hard as their opponents to make their dreams come true.
McGregor's post-fight class
Without fail, McGregor always taunts opponents leading up to and during his fights. His insults are often very personal and mean-spirited.
Almost without exception, however, immediately after those fights, he also is complimentary of them. More importantly, he shows empathy felt towards them.
After beating Chad Mendes in July, McGregor gave credit to his opponent for stepping up and fighting him on short notice. After knocking Jose Aldo out on Saturday, McGregor said he felt bad for the longtime champion.
He sounded like he meant it. Make no mistake about it -- McGregor is glad he won and no-doubt took a great deal of satisfaction in backing up his pre-fight threats and promises.
But extreme self-belief and recognizing your opponent's shared humanity can co-exist. Good on McGregor for showing that, even for just a few moments this weekend.
McGregor going for two
McGregor laid out an ambitious, if uncertain set of goals for himself at the post-UFC 194 news conference. He wants to move up to lightweight to win a second world title.
He also wants to defend his featherweight belt. And, he wants to hold and defend both belts simultaneously.
No one has ever done that in the UFC. After doing a whole lot of other things that no one else in the UFC had done before, however, McGregor likely doesn't think too much is impossible for him, at this point.
It's a bit inspiring to see someone refuse to rest on his or her laurels. McGregor may just be getting hungrier, even as he grows richer.
Faber going for gold, again
Former world champion Faber has won three out of his last four, and seven of his last nine. The "California Kid" has a bone to pick with whoever comes out as the winner from next month's bantamweight world title fight between champ TJ Dillashaw and Dominick Cruz.
Dillashaw, a former teammate of Faber's, recently announced he was leaving his Alpha Male Team for sponsorship dollars to join another team. Since that decision, the two have battled verbally through the media.
When Dillashaw was his teammate, Faber refused to fight him for the title, despite UFC president Dana White's prodding to do so. Since Dillashaw turned his back on him and Alpha Male, however, Faber seems downright eager to fight Dillashaw, and eager to get back in the title hunt.
Faber has history with returning former champion Cruz as well. The two have split their first two meetings, and the 36-year-old would love a chance to move ahead of his rival.
After his exciting win over Frankie Saenz, Saturday, Faber let the world know that he expects to fight the winner of Dillashaw vs. Cruz. At this point in his Hall of Fame career, Urijah is only interested in big fights.
"I'm not here for a long time," he said.
"I'm here for a good time."
When Faber is fighting and vying for gold, it's always a good time for fans.
Maia calling for what is his
Former middleweight title challenger Maia is 7-2 since moving to welterweight. On Saturday he won his fourth consecutive bout.
The dominating victory came over favored rising contender Gunnar Nelson. Before that, Maia submitted the hottest contender in the entire division -- Neil Magny.
Maia's only losses at welterweight have come against Jake Shields, in an exciting and very close grappling contest, via split decision, and Rory MacDonald, by decision, in a fight where the Brazilian nearly finished the Canadian in the first round.
Maia has beaten back the best young contenders in the division, and put together the best streak of any title contender at 170 pounds. After his latest win at UFC 194, it was great to hear him act like it.
The always respectful Maia demanded the winner of January's title fight between Robbie Lawler and Carlos Condit during his post-fight interview. In the post-fight news conference, the classy fighter held his line.
At 38 years old, there isn't time enough for Maia to be patient and meek. With a record like his, he shouldn't have to be either.