The Hitlist: The top five moments from UFC 193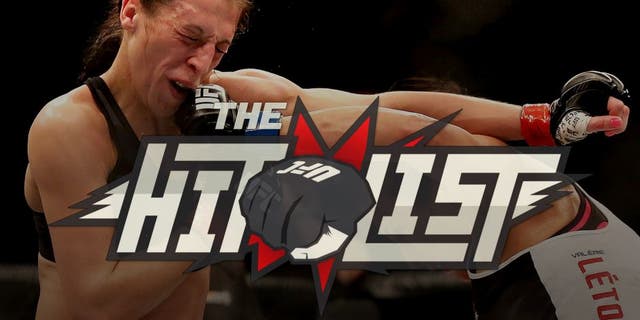 UFC 193 was historic, exciting, shocking and all-around gigantic. Below are our five favorite moments from the Melbourne mega-event.
Challengers exceeding expectations
Both UFC 193 title challengers exceeded the world's expectations of them, Saturday night. Holly Holm clearly blew the odds out of the water with her two round domination and clean KO of defending champion Ronda Rousey.
Strawweight challenger Valerie Letourneau also proved her doubters wrong, even in defeat. The Canadian mother lost a decision to Joanna Jedrzejczyk but made at least three rounds close, and showed the skill and heart of a champion.
Letourneau won two rounds in my opinion, and in any case, certainly touched Joanna Champion more than anyone else has during title fights. It's always fun to watch true warriors of spirit show just how little what other people think of them, matters, and both Holm and Letourneau managed to prove a lot of people wrong.
Joanna's tears of joy
With how much of a bully and trash-talker she is leading up to and during fights, it can be easy to forget that Joanna Jedrzejczyk is probably just hyping herself up, along the way, and is human. The strawweight charisma monster said in advance of her UFC 193 fight that she expected the fight to be easy, but her tears of joy after winning revealed that she knew all along how hard it could be.
They also demonstrated how much this all means to her, and her fellow fighters. When Joanna says, "nobody gonna take this belt from me," she's not just boasting and threatening opponents – she's also wearing her heart on her sleeve and letting the world know how precious the title she's earned through years of work and sacrifice is to her.
Like all champions – Joanna Champion is deathly afraid of losing what is important to her. Aren't we all?
Mark Hunt and Gian Villante's restrained celebrations
I'll never criticize a fighter for raucously celebrating a win. Some shout, some dance, some jump on top of the cage or into the crowd and yell out.
It's all good, and all understandable. The intense relief of winning a fight can be euphoric.
So, I'll never bash someone for unintentionally dancing on their opponent's metaphorical (hopefully) grave. However, I do appreciate when fighters act like they've been there before, and manage to enjoy their moment in a more muted, humble manner, as Mark Hunt and Gian Villante did following their UFC 193 KO victories.
I don't know why they acted relatively reserved after their victories, and the reasons likely differ from man to man. Hunt walking-off calmly after knocking someone out certainly isn't rare.
Perhaps a man who has experienced so much violence in his life – for whom it has produced perhaps the worst and some of the greatest moments of his life – has his vision suddenly widened out from its fight-time myopic view after he's felled yet another opponent.
In the moment, you want to win – desperately. After you do, if you've hurt your opponent badly, you're glad that you're safe, but you don't have to feel joy in their pain.
In fact, you may feel no small amount of guilt about it. For as devastating a fighter as he is, Hunt always seems able to separate competition from personal life, and doesn't ever really give off the feeling that he has enmity for his rivals.
That's a fascinating phenomenon, and one that will likely allow the Super Samoan to keep his humanity well in place for his whole life. Villante may have been overly self-critical, or perhaps he felt suddenly bad that he'd beaten up someone so much older than him.
Maybe it was none of those things. What is certain is that the New Yorker himself experienced a devastating KO in his previous fight.
So, though he was no doubt and justifiably thrilled to have been on the winning end of one this time out, given his nearness to defeat allowed him some additional perspective.
In any case, Hunt and Villante looked like killers during their fights, and gentlemen afterwards. That's something to aspire to.
Evolution in MMA
There was a time when we didn't think kicks could work in MMA. Or, arm-in guillotine chokes.
For a long time, many people didn't see the utility in a jab in the sport, either. Heck, when the sport just began, most of us didn't realize you could win a fight off of your back.
MMA is beautiful because its lack of rules allow us to explore what truly does and does not work in real self-defense situations. When you put dedicated martial artists in a room, with few rules, and lots of time, they tinker and our understanding of real unarmed combat evolves.
Up until UFC 193, Ronda Rousey's dominance was reminiscent of Royce Gracie's in the first couple of years of the UFC – He was so much better at grappling than his opponents, that he ran through them in short order. Once wrestlers began to learn submissions, and strikers to learn takedowns, we saw the sport evolve from style vs. style to individual vs. individual.
Holly Holm proved Saturday night that female MMA athletes are evolving just as their male counterparts are. Suddenly, a fighter was good enough to defend Rousey's takedowns and arm bar.
Suddenly a fighter was a great enough striker to tee-off on Rousey without overextending herself. All of the sudden, Ronda Rousey has peers, and it is because the sport of MMA has once again evolved in a measurable way.
Women selling
It must never be forgotten how, just a few years ago, UFC president Dana White gleefully said that women would "never" fight in the world's top MMA promotion. As is always the case with sweeping prohibitions on people of certain genders, colors, races, etc. White's reasoning was based completely on ignorance and prejudice – in his case that there were not enough women in the sport to support divisions, even though there had been for years.
His previous stance on females fighting in the UFC is often brought up in light-hearted fashion. That's inappropriate.
The UFC had a ban on women competing in their promotion the same way Major League Baseball once banned black players. On Saturday, however, the promotion which recently banned women from competing, made some major bank off of them.
Let's be clear – UFC 193 was one of the biggest and most successful events in the promotion's history, and it was sold almost completely on the strength of four female headliners. Women are just like men in this respect – they can fight, and fans enjoy watching them do it.
It's simple, but I think we're all finally starting to get it.