The Hitlist: The top 5 moments from UFC Fight Night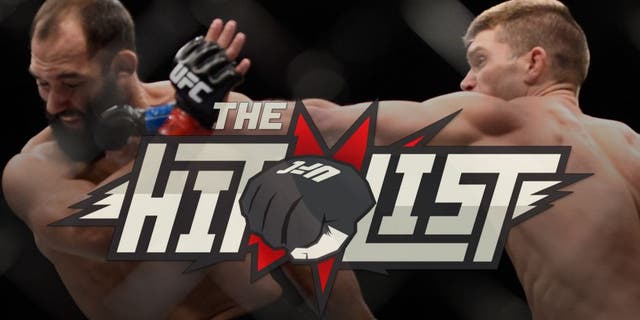 Saturday's UFC Fight Night delivered lots of action and top contenders despite losing its original heavyweight title bout main event. Long-time contenders stayed the course, new ones burst through and lots of grit and resolve were shown.
Read on for our five favorite moments from the FS1 card and then let us know yours!
Thompson emerging as a style nightmare
Stephen Thompson entered MMA as a champion kickboxer and found success because of his proficiency as a striker. Soon, however, he found himself out-grappled by Matt Brown.
The Thompson who can be easily out-grappled by the elite in the UFC's welterweight division is a distant memory now. The Thompson who defended takedowns from Johny Hendricks and then stunned him on the feet with punches and kicks is a true "Wonderboy."
Thompson is precise and technical enough to take anyone out on the feet, we knew that. But here's the thing -- if Thompson can keep a wrestler like Hendricks off of him, he can keep anyone off of him.
That's a scary thought for the rest of the welterweight division. Right now, no one matches up favorably on their feet against Thompson.
They may not stand a great chance of getting him to the ground, either.
OSP fighting through pain
Ovince Saint Preux hurt his right ankle pretty darn early in his fight against Rafael Cavalcante on Saturday. He limped around pretty badly right after and as the Brazilian began to key-in on the injured leg with kicks, things looked dire for the former football player.
Then, he decided to ignore the pain. "I tried to turn my pain sensors off," he said, post-fight, "and it kind of worked."
Saint Preux showed some guts and ability to improvise in fighting through whatever injury he sustained in the fight. He fought hurt for nearly three-straight rounds and still managed to win decisively.
Burkman fighting smart, at the right weight
Josh Burkman may have just found his weight class, over a decade late. The TUF veteran dropped down from welterweight, where he's campaigned for the length of his impressive and long career, to lightweight Saturday against KJ Noons.
It was a tough matchup for Burkman but he used his wrestling advantage in reverse to keep the decorated striker at bay and off-balance. Unafraid of getting taken down, Burkina let kicks fly, scoring and hurting Noons for three rounds.
Noons seemed a bit tentative, likely because he was worried about opening himself up for takedowns. Any time Burkina got into a punching fire-fight with Noons, he was hurt.
Fortunately for him, he didn't get into many of those and stayed patient, smart and effective, fighting to his advantage. That's what fighting is about -- doing what it takes to survive and win.
Justin Scoggins mixing it up
Justin Scoggins has quietly become one of the best young prospects in the UFC. The flyweight once again beat a very good opponent, Ray Borg, on Saturday and used versatile skills to do so. Scoggins can strike out of both stances on the feet, has solid wrestling and very good ground strikes.
He says he's ready for a world title this year. Maybe, maybe not.
By being a threat everywhere and showing great conditioning, he's certainly getting close.
Alex White's return and improvement
Featherweight Alex White entered the UFC with one of the most inspirational stories in MMA. As a child he had his vocal chords damaged in an accident and for years lived a life of quiet withdrawal, at times homeless and without much purpose or confidence.
Then, he discovered martial arts. He trained hard, cleaned up the gym to pay for his dues and soon began to speak more, make eye-contact with others and become an all-around bad-ass.
He made it from a town of a couple hundred people to the UFC as a man of confidence and skill and then hit the big leagues in a big way, with a KO victory. Eventually, he stalled a bit in the UFC, struggling against solid opposition who took advantage of his offense-first style.
White took over a year off from competition, however, before returning Saturday night against TUF runner up Artem Lobov. Evidently he was far from idle during that time.
White recovered from injuries and showed up in the Octagon with much more balance while striking, a lot more tactical awareness and better defense. Additionally, he showed the smarts and transitional skills to chain together strikes with takedowns.
Alex White is a lot better than he used to be, and he used that improvement to earn the biggest win of his career against a much more experienced and well-known opponent this weekend. The Spartan's feel-good story rolls on.