The Hit List: The Top 5 Moments from UFC Fight Night - Teixeira vs. Saint Preux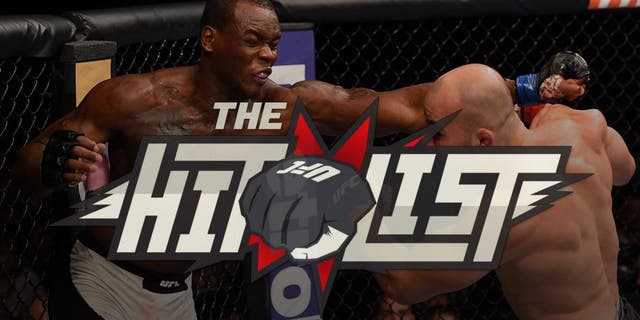 On Saturday, the UFC and its fighters produced an excellent Fight Night card out of Nashville. Glover Teixeira proved he's still a top light heavyweight, Amanda Nunes established herself as a top contender, and flyweights lit the Octagon on fire with a fast-paced grappling battle.
Read on for those moments and more below in our Hit List! Then, let us know your favorite moments on Facebook and Twitter!
Glover Teixeira winning again
Because of visa issues and other unfortunate complications, it took Glover Teixeira a long time to finally make it to the UFC. Once he did, in 2012, he quickly showed that his underground hype was well-deserved.
After four straight wins in the UFC, and 20 overall, he earned a championship fight against then light heavyweight champion Jon Jones in 2014.
Against Jones, he fought well and lasted all five rounds. It just wasn't enough.
In his next fight, Teixeira was stifled by another great wrestler in Phil Davis. Teixeira then spent the first half of 2015 out of competition.
The Brazilian could have very well looked at his age and his losing streak and gotten discouraged. Instead, he took on a dangerous opponent in enemy territory on Saturday and showed himself to be the far better fighter.
Considering Ovince Saint Preux's recent performances against former champion Mauricio "Shogun" Rua and Patrick Cummins, that was no small feat. There was good reason that Teixeira was the betting underdog heading into his UFC Fight Night main event against OSP in Nashville, Saturday.
Teixeira continues to improve, however, and he proved that he's still one of the best fighters at 205 pounds. Of course, he would have an up-hill battle against stripped former champion Jon Jones should they ever fight again, or against new champion Daniel Cormier -- who Glover respectfully put on notice, after his third-round submission hold win on Saturday.
However, I could very well see Teixeira fighting neck-and-neck with the likes of Anthony Johnson and Alexander Gustafsson. Even at 35 years of age, Teixeira's boxing, takedowns and ground technique make him a force to be reckoned with.
He isn't ready to give up on his dream of becoming a world champion, and he's not giving us any reason to believe that he should.
Class from OSP and Dariush
Ovince Saint Preux and Beneil Dariush both dealt with very different situations after their respective fights, Saturday. Dariush won a controversial split decision over Michael Johnson, and Saint Preux was choked out in front of his home Tenn. crowd.
Still, they had class in common. Saint Preux likely knew that he was on his way to sleep when Teixeira locked up his final rear naked choke attempt.
The choke was deep and tight. Anyone who trains seriously knows the familiar feeling of the final squeeze from an opponent or training partner.
That's the time where you tap out and submit so that you will not pass out. Saint Preux chose to pass out.
Rather, he chose to never consciously stop fighting. There is certainly no shame in tapping out in MMA -- that cultural acceptance of acknowledging defeat and giving in to avoid more damage is a big part of what makes the sport safer than boxing, for example -- but it is also fine to recognize and applaud the type of fighting spirit and pride that Saint Preux showed in the final seconds of his bout.
The referee did his job and recognized him as out, stopping the fight. Afterwards, OSP explained that he wasn't about to give up in front of the Nashville audience who cheered him on.
He also promised to be back, apologized to his family (there's no way any apology was necessary from the fighter) and gave his opponent credit. That class was returned by Teixeira, who could be heard telling his foe "it was an honor."
As for Dariush, we all know that his decision win is a disputed one. Close and bad decisions happen all the time (and make no mistake about it -- this was a close fight. Dariush deserved to win the third round, and the second was close. Total strikes were virtually even overall, but Johnson had the power advantage) but what doesn't happen very often is a fighter admitting that it would be reasonable to score it for the other guy.
In post-fight comments, Dariush admitted that the decision could have gone the other way, and even revealed that both he and his coach Rafael Cordeiro thought in the immediate aftermath that Johnson was going to get the nod.
That takes class. Dariush is comfortable, classy and secure enough in his effort and self that he didn't have posture and trash his opponent the way many fighters do after they receive controversial decision wins.
However you feel about the decision, you can't be mad at a guy who gave it his all, finished the fight stronger than his opponent and who also had the humility to say that he he thought he lost, afterwards.
We shouldn't be surprised at Dariush's demeanor and words, however. It took the type of centered perspective that there are more important things in the world than himself.
As an American who traces his roots and family back to the ISIS-persecuted Assyrian people (actually, their persecution goes back much further), and someone who leaves Sunday to Haiti to do missionary work and labor for impoverished people in need, Dariush has a sense of what really matters in life. That's admirable and also makes the comically ignorant chants in Nashville of"USA! USA!" in support of Michael Johnson, and against Dariush, seem even more idiotic.
Amanda Nunes standing out
Amanda Nunes is a bad woman. We got a glimpse of that last year in the first round of her fight with eventual world title challenger Car Zingano.
Then, Nunes battered Zingano on the ground and looked on her way to taking "Alpha Cat" out. In the second, Nunes faded and Zingano earned her title shot.
On Saturday, Nunes faced another former title challenger, once again looked scary, but this time finished the job and showed her potential. Nunes beat Sara McMann in almost perfect fashion.
By scoring on the feet with strikes and defending takedowns from the former Olympic silver medalist, Nunes looked like she has the stuff to become the top bantamweight contender within the next year.
The "Lioness" is coming into her own and looks to be a serious threat with her speed, power and improving wrestling (under the tutelage of former world champ Mike Brown at American Top Team), in a division with few truly viable challengers to Ronda Rousey.
Ray Borg vs. Geane Herrera
This flyweight bout between the surging Ray Borg and debuting Geane Herrera may have been the best fight of the night Saturday, It was an incredible grappling battle from horn-to-horn with non-stop offensive grappling from Borg.
His past two opponents were completely overwhelmed and submitted by his Brazilian jiu jitsu skill. Herrera, however, was poised and skilled enough himself to ward Borg off and survive all three rounds.
That Herrera could do that against a top contender like Borg in his UFC debut, speaks to the kid's potential. Two stars were advanced, Saturday.
Ray Borg is a serious contender and Geane Herrera is a real deal prospect.
Chris Camozzi with a training camp behind him
In April, Chris Camozzi took a rematch bout against top contender Ronaldo "Jacare" Souza on incredibly short notice because he wanted back in the UFC, and because he wanted revenge for a 2013 loss to the Brazilian. The fight didn't end well for Camozzi as he lost by first-round submission.
Fortunately, he got another UFC bout, with much more notice, Saturday night. With an actual training camp behind him, Camozzi showed what a good Muay-Thai based fighter he is against Tom Watson.
Camozzi controlled the distance on the feet, did damage in the clinch, and showed real chin and conditioning while pushing through fatigue (and repeated low blows) and Watson's power strikes en route to a three-round decision. What's more, he showed a diverse attack, using wrestling in the third round to seal the deal with takedowns.
Chris Camozzi belongs in the UFC and deserves full training camps. That last part is true for all fighters.