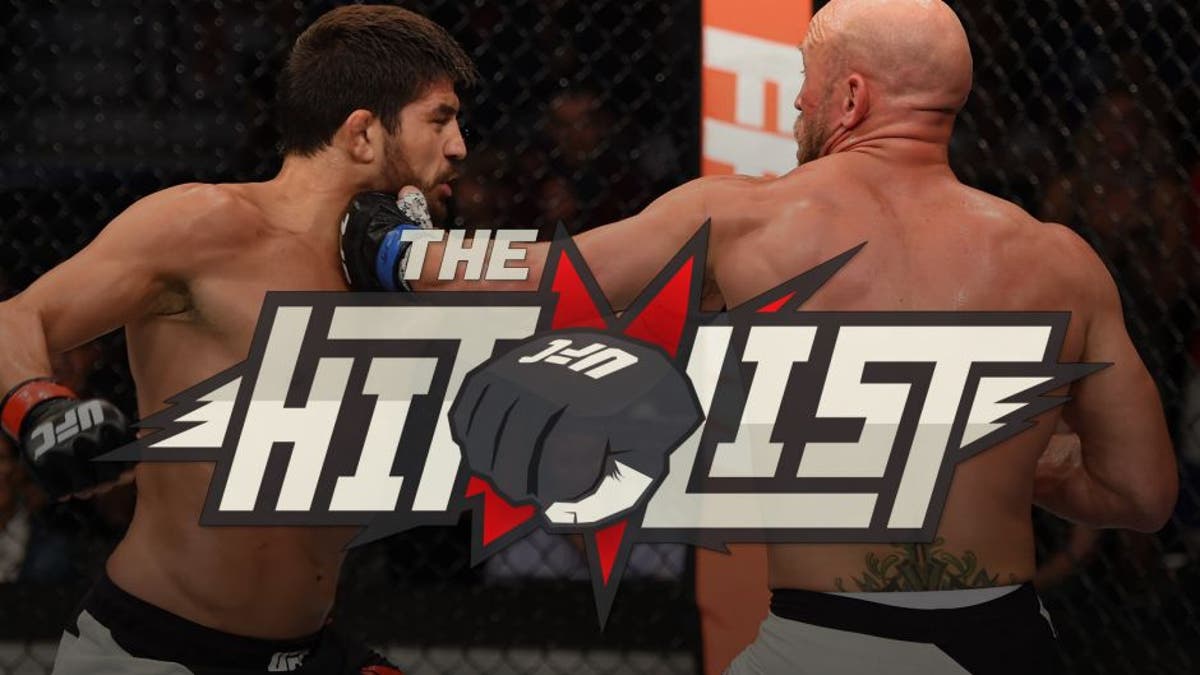 Despite an anti-climactic ending to its main event between Max Holloway and Charles Oliveira, Sunday's UFC Fight Night card on FOX Sports 1 lived up to its potential as a rising talent showcase. More than that, it also saw cagey veterans let it rip, and multiple fighters remind us about what really matters outside of the ring.
Read on to find out our top five moments of the event. Then, take to Twitter and Facebook to let us know yours!
Patrick Cote and Josh Burkman do their legacies justice
Patrick Cote has accomplished a lot over the course of his 13 year MMA pro career, including fighting for the middleweight championship. Josh Burkman transitioned from football and wrestling to MMA as a professional nearly 13 years ago as well.
He too has stacks of achievements, including submitting former world title challenger Jon Fitch, and putting together a late-career win streak so impressive that ir convinced the UFC to bring him back to the big leagues. Despite the many wins between them, both Burkman and Cote's biggest accomplishment is probably their respective resilience.
Few young fighters get good enough and find enough success on regional circuits to ever get the call-up to the UFC as Burkman and Cote both did, long ago. Fewer still manage to win in the UFC and reach a high-level, there.
Cote and Burkman have done even one better than that, however, by willing second and third acts in their careers. After getting bounced from the UFC, both men continued to do the hard work, in obscurity, and righted their ships, and won their way back into the world's top promotion.
The mental strength and love of competition necessary to accomplish that will be the real legacies of guys like Cote and Burkman. Both fighters did that legacy justice with their back-and-forth battle Sunday in Saskatoon.
Burkman came out firing and hit Cote with big shots. The Canadian shrugged those blows off, however, and he responded with felling shots on Burkman.
Even after he was hurt badly, however, Burkman continued to swing hard and refused to give in. A lesser warrior might have feared the danger of fighting so aggressively after having already taken damage, but Burkman saw only possible victory.
So, he was ultimately stopped, but "The People's Champion" went out on his shield. In fact, it was the first time he's ever been stopped by TKO or KO in his long career.
He gave it his all, and though losing is never satisfying, the whole of his career should feel so to him. As for Cote, he's won five out of his last six UFC fights and is positioned for one last run.
He wants to fight Hector Lombard, next. If he does, and manages to win, "The Predator" will find himself quite close to yet another unlikely world title shot.
Francisco Trinaldo's birthday bash
Training, dieting, cutting weight and competing during a birthday or holiday isn't that much fun. The world expects you to have a good time because you "deserve it."
The Spartan life of professional fighters usually rules out that type of indulgence, however. Francisco Trinaldo fought the day before his 37th birthday, and ended up giving himself a gift after all his prior sacrifice.
In beating the previously unbeaten Chad Laprise - by first round stoppage, no less - the Brazilian put the lightweight division on notice that he's dangerous on the feet as well as on the ground. He also thought of others and what he could give them, afterwards.
In a moving sequence, Trinaldo remembered his humble start in Brazil and vowed to pay for a party for children in his mother's neighborhood in Brazil so they could enjoy the type of festivities that his family was never able to afford him in his youth.
It always feels good to win a fight. As we watched Trinaldo cry tears of joy and think of those in need back in his home nation, we were reminded that sometimes victory is about even more than winning a fight.
For Trinaldo, it seemed to represent a lifetime of struggle and fighting the odds culminating in life-changing accomplishment.
Max Holloway's empathy
After Charles Oliveira suffered a horrible injury early in his main event, Max Holloway was awarded his seventh-straight win. He was thrilled and jumped out of the cage to celebrate with his wife and family.
Of course he was thrilled. Even though the fight never got started, Holloway had worked and sacrificed for months and now it was all over.
The relief of a fight being over and going your way is indescribable and is present regardless of how the fight ends. After celebrating, Holloway turned his attention to the injured Oliveira, however.
Checking on one's opponent in the ring after a fight is one of those gestures so common that it's hard to gauge the authenticity of it at times. Holloway's words in his post-fight interview and at the post-press conference really demonstrated an empathetic thoughtfulness, though.
"Everybody say your prayers for Charles," Holloway said in his interview, afterwards.
"It's part of the game and it's kind of sad to see that happen. This is how we make a living. All my prayers to Charles. I hope he makes a full recovery."
At the post-event press conference, Holloway expanded on the point, and explained how disruptive a loss and injury can be to a fighter's career. "If you don't fight, you don't make money," he said.
Fighting is a manic experience, often times, fo both fighters and spectators. In defeat there is despondence, in victory a euphoric high.
Spectators and media usually chase one or the other but Holloway's comments forced us to think about both sides of the coin, at once. Holloway was unapologetically happy and moving forward with his career, even as he recognized and lamented how his opponent would now face real difficulty doing so with his.
Fighters take years of quality life away from one another in the ring and cage. So, it is remarkable and profound when one of them takes the time to point it out, and remind us of their opponent's humanity.
Frankie Perez goes out on top
Frankie Perez shocked the MMA world by retiring in the Octagon immediately after earning his first UFC win. The lightweight later said that he'd planned to do so all along, regardless of whether he beat his fighting hero Sam Stout.
But, Perez did beat Stout, via TKO, in the first round after traveling to Stout's home country of Canada. The dramatic win would certainly be enough to be the highlight of just about any fighter's career, and Perez decided to leave on that note.
Part of why Perez's sudden retirement was so unexpected was because of his age- 26 years. Most would think about his youth, how he may have years of good training and competing ahead of him, how he could chase even bigger dreams.
Perez seemed to think a bit more about his later years, however. Sport fighting is a particularly self-centered endeavor.
Successful fighters usually need to shut out many other people, concerns and goals in order to focus enough on their own athletic development and success. That type of hyper-focus hurts relationships, and it hurts the body, of course.
Perez had the good sense to think about both when he explained how he didn't want to put his family through the life anymore. What he decided to do with that consideration was entirely up to him and he can't be faulted for making the choice, no matter what blithely idiotic remarks were made by UFC middleweight Michael Bisping in his role as a television analyst.
Fortunately Bisping's FOX Sports 1 deskmate and former world champion Dominick Cruz checked "The Count" hard for his classless remarks by simply explaining that "sometimes it takes more cojones to stop yourself than it does to keep going and that's something Mike Bisping could learn about from Frankie Perez."
While the decision is always a fighter's to make, we should certainly celebrate Perez - a business owner - having other professional options. After all, only a handful of fighters ever make enough money to live off for the rest of their lives, they have no pension, and retirement comes early in overall life even for the oldest of them.
Perez probably could not have drawn up a more perfect moment and accomplishment in his fight career than the one he got Sunday. If he stays retired, perhaps he'll look back in old age and wonder if he could have and should have fought more.
At least he now stands a decent chance at having his brain be in good enough shape in the years to come to be able to remember it all, though.
Valerie Letourneau forces the world to pay attention to her
It was a bit silly that Canadian Valerie Letourneau wasn't already considered a top-10 strawweight like her opponent Maryna Moroz was, heading into their Sunday fight. Moroz had only lost to the very best in the world, and usually at two weight classes above her own.
The 32 year-old mother was a bit slower than her young opponent, but made up for it with technique and power. Letourneau showed excellent defensive striking abilities with her covering up and head movement, and she also demonstrated a sharp counter right hand.
She also had the resolve to recover from getting wobbled herself. Letourneau was too humble to call anyone specific out after beating Moroz but made it clear that she wants to move forward by continuing to fight top opponents.
She's certainly earned that right as one of the best 115 pound fighters in the world.