The game a pitcher came to the plate with a 15-inch souvenir bat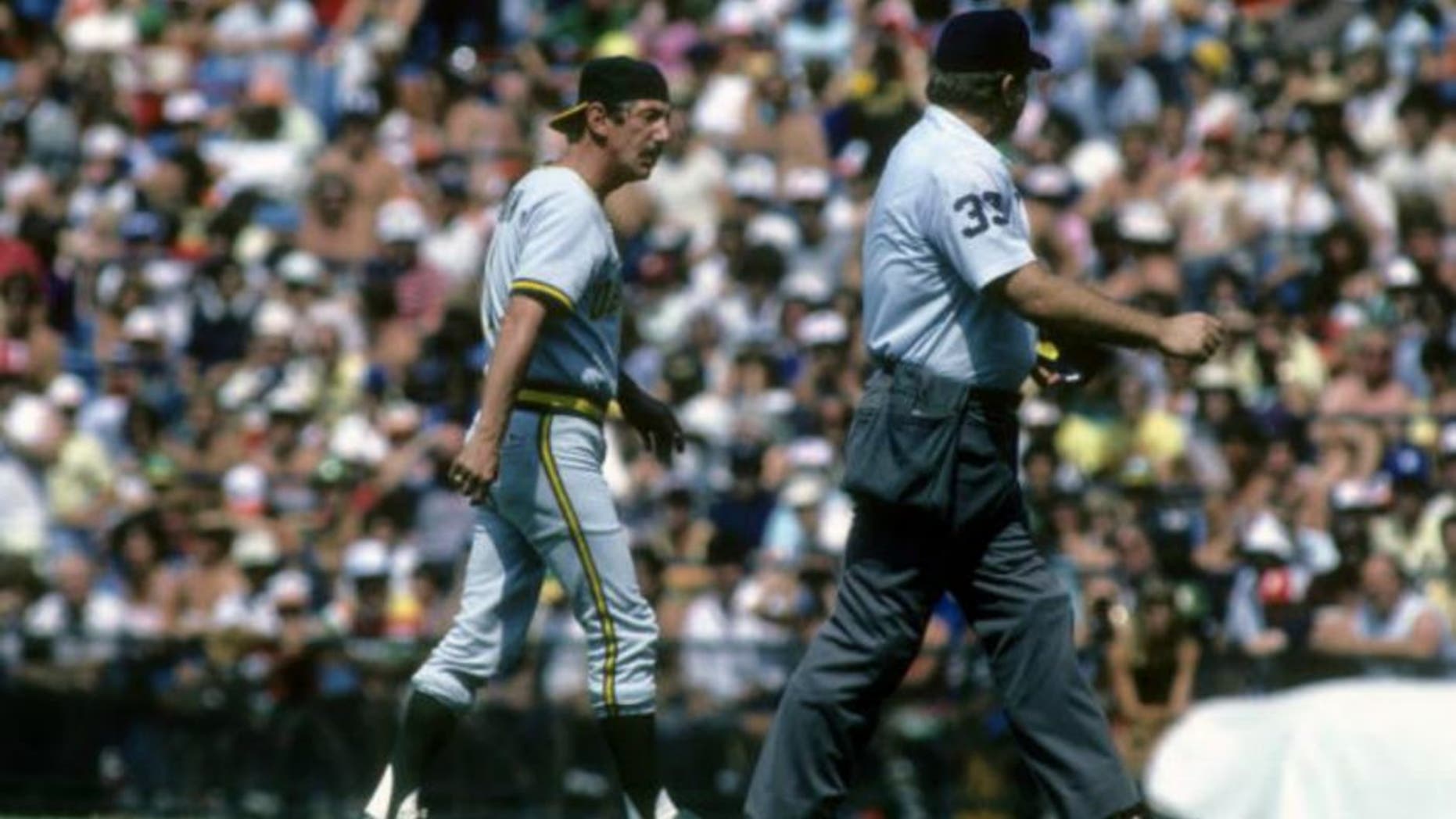 Since its inception in the American League in 1973, the designated hitter has been a divisive topic among baseball fans. On one hand, you have traditionalists who regard the DH as an abomination to the game, while fans in favor of the position argue that the National League needs to get with the times and stop forcing its pitchers to hit.
One thing proponents of both sides of the debate generally have in common, however, is the belief that both the AL and NL should operate under the same set of rules, and never has anyone made that argument as unconventionally or comically as Billy Martin and Steve McCatty did 34 years ago this week.
It was spring training 1982, and the Oakland A's were coming off an ALCS appearance in the strike-shortened 1981 season. Martin was in his third and final year as the Oakland manager, and McCatty was a starting pitcher, fresh off the best season of his career and a second-place finish in the AL Cy Young race.
A longtime AL skipper, Martin spent nearly a decade learning to utilize the DH during stops with the Tigers, Rangers and Yankees prior to his stint in Oakland, but from the beginning he'd expressed displeasure with the way the rule was implemented.
"The thing I don't like about it is that the American League is using it and the National League isn't," Martin said in January 1973, months before the Yankees' Ron Blomberg stepped to the plate as the AL's first DH. "I'm not allowed to use it against the National League in spring training. That's ridiculous. How am I going to experiment?"
Martin was apparently still stewing on that sentiment nine years later, so on April 2, 1982, during a road spring training game against the San Diego Padres, he called on his ace McCatty to take part in a protest.
"Billy still didn't like the fact that one league used the DH and the other one didn't, especially in spring training when we played a National League team and we had to hit," McCatty recalled in a phone interview with FOX Sports this week. "So we talked about it, he told me, 'You should do something,' and I said OK."
McCatty then called on a bat boy to run upstairs and buy a 15-inch souvenir bat from the concession stand.
"Then when I came up, I just walked up to the plate with nothing in my hands," McCatty said. "I think the umpire knew it was coming, but he asked, 'Where's your bat?' and I reached around and had the souvenir bat in my back pocket, pulled it out and held it up."
What happened next was more unbelievable.
"He just laughed, and then I stood there for a second looking at him," McCatty said of the umpire, Jim Quick. "(Terry) Kennedy was catching and he kind of laughed, then I threw (the bat) to the side, the bat boy brought me a real bat, and I hit a first pitch home run."
April Fools.
"No, that's not true," McCatty quickly corrected himself with a laugh. "I ended up striking out. (Martin) didn't want us to swing, so we just stood there and took pitches. I had a couple at-bats that night, and it ended up that there was a situation later where I had to bunt, so at least I got the bunt down."
During his nine-year big league career, McCatty made 221 appearances on the mound, but in a time before interleague play, he never had occasion to step to the plate in the regular season. In that era, the only time the issue came up was in spring training and at the World Series, with the league using the DH in the Fall Classic in even-numbered years from 1976-84.
That didn't mean McCatty didn't want the chance to hit, though.
"As a pitcher in the American League, we all wanted to, but if we'd been good, they probably would have signed us to be hitters," McCatty said. "There were some who were good hitters, and we liked to talk a lot of smack, but you're not going to be good if you don't get to hit off anybody."
Still, McCatty wasn't passionate one way or another about the designated hitter debate, despite what his mini-bat protest might suggest. He says he simply wanted to indulge his manager and thought it would be a funny thing to do.
"It had been around a few years, so it was just part of the game," said McCatty, who became known as 'Batty McCatty' after the incident. "If you're in that league and that's the way you play it, it didn't bother me one way or another."
That's an opinion McCatty still holds today, as well. A former pitching coach in both the AL and NL, with the Tigers and Nationals, respectively, McCatty has had to adjust to both sides of the designated hitter debate and said he doesn't find working with the rule more difficult one way or another from a coach's perspective.
"Any time you have a job in the big leagues as a manager or pitching coach, neither one is really easy," said McCatty, now the pitching coach for the Lake County Captains, the Indians' Class-A affiliate. "The decisions of what to do and the way the game runs and the way you play and everything you do is different, and you may be able to carry more pitchers in the American League because you're not going to use as many pinch hitters during the game ... but I don't think it necessarily makes it any easier."
And though the discussion likely won't subside until the DH inevitably becomes universal -- a movement that seems to have as much traction as ever, based on statements from commissioner Rob Manfred earlier this year -- the most memorable protester in the history of the position isn't about to take another strong stance in the conversation.
"As a pitcher, I would rather have the same rules in both leagues, but the National League having pitchers hit would always make it a little bit easier for me as a pitcher," McCatty said. "There seems to be more stuff that happens in the (National League) game that really makes you think than in the American League just from that simple fact. So it makes a difference, and it's a different sort of baseball, but I can't really say I'd rather see it one way or another. I just like watching baseball, so either way is fine for me."
You can follow Sam Gardner on Twitter or email him at samgardnerfox@gmail.com.