The Early Look: Holly Holm vs. Miesha Tate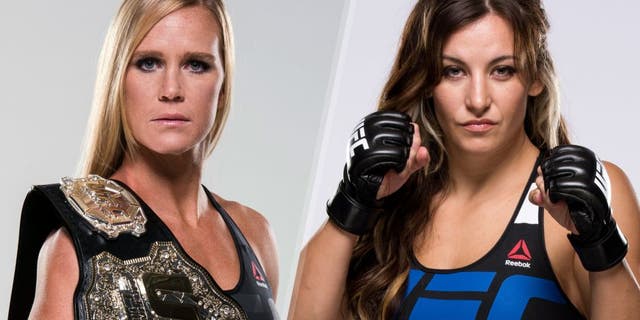 Two of the best female fighters in the world will lock up this Saturday in the UFC 196 co-main event. Take a look at the Las Vegas match up with us below and be ready for the big title fight!
Grappling
On the feet, Holm showed in her UFC 193 fight against Ronda Rousey that she has excellent takedown defense and great offensive takedown timing. Tate's takedown style, though not as dominant as Rousey's, is at least quite different.
It will also likely pair well with her more patient stand-up striking style. Rousey stalked and then charged Holm, over and over.
That approach always worked for her in the past, but it was too predictable for the quick-footed Holm. In fact, Holm had much more difficulty scoring on her previous UFC opponents, more than likely because they were more cautious and more patient than Rousey was against Holly.
Tate will likely be more patient and less predictable than Rousey. In doing so, she'd be able to avoid making herself an easier, charging-in target.
If Tate has the guts to set her takedown shots up with strikes, she could time some decent attempts. She may not be able to take Holm down easily, but she could force some scrambles. In the scramble, Tate could get Holm to open up a bit for submissions and give her angles to eventually drag her down.
Unfortunately for Tate, Holm will likely be even more patient. The long and technical striker has size and timing advantages, here, on the feet.
As long as Holm doesn't get greedy and overextend on strike attempts by looking for home runs, she can score and keep her distance while staying away from takedowns.
If she does get taken down, Holm is strong and quick enough to frame Tate's head away, and get back to her feet. Holm is also great in the clinch, striking on separation and catching opponents off-guard.
Tate has the conditioning and grit to stay on Holm for five rounds. She'll have to take a beating to stay in Holm's grill, but she is capable of doing it.
If this becomes a dirty fight on the inside, Tate has a chance to make things interesting. If the result is clean and crisp, without much time spent on the mat, Holm has the clear advantage.
Striking
Much of this has been covered above, just because proper grappling is set up by good striking. Obviously, Holm is the better stand-up striker, and she may be the best striker in all of women's MMA.
When Tate throws her punches with confidence, however, she's got some pop in her fists, with solid balance on her feet.
How well Tate can time Holm's kicks may determine if she's able to score takedowns or not. Holm is so unpredictable with her kicks because she can change stances, and she sets many of them up so well with punches because she can let them fire-off with lead and rear legs.
If Tate can pick up on any tendencies or cues from Holm that precede her kicks, she may be able to duck under or catch one and turn them into a takedown. I don't think it will be easy, though.
Holm does a great job of bringing her kicks back to her body after throwing them, as well as her hips. The point being, even if you grab one of her legs, she's probably going to be able to get it back.
Experience
Tate is the former bantamweight world champion and has an MMA big-fight experience edge over Holm, quantitatively. However, Holm has been in more boxing, kickboxing, and MMA world title fights than anyone in MMA, and was cool as ice in a Super Bowl-level pressure cooker of a contest last November against Rousey.
Neither woman will be scared, here, or particularly jarred. I'm betting both will be composed enough to try and give themselves their best chances at winning, without taking unwise risks.
Prediction
Tate is a dogged beast and is never out of a fight until it is completely over. She'll have her chances in this fight, over five rounds, to get her hands on Holm and making it a rough and tumble grappling contest.
With that said, Holm has to be considered the heavy favorite, here. She has the length, striking skill, footwork and strength to keep things at a distance, or work her way out of close quarters if need be.
Holm also has the one-strike power advantage here, so she's the better pick to end the bout. It should be a good one, and I'm betting a cautious Tate can make this much more competitive than Holm's win over Rousey, but I've got to go with the defending champion this Saturday.