The Early Look: Conor McGregor vs. Nate Diaz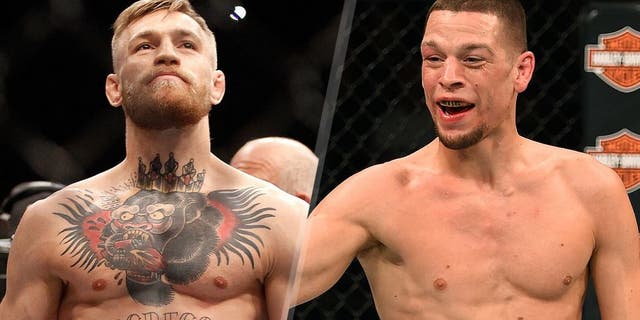 We've got a new UFC 196 featured bout and it's a goodun'! Nate Diaz steps in for the injured Rafael dos Anjos against Conor McGregor.
The fight is taking place at welterweight, no title is on the line, but lots of money and pride will be at stake. The card and superfight isn't happening until March 5, but we're so excited that we decided to takean Early Look at the match up.
Grappling
Conor McGregor has shown some solid grappling, of late. As the fight went longer, McGregor made it harder for Chad Mendes to get him down, and punished the wrestler on his way in.
The angles and stance switches he uses on his feet can make it a little harder to get a bead on his legs for shots, though Diaz doesn't shoot in for double and single-leg takedowns, often, if ever. Off of his back, McGregor is basic, but durable.
And, he has confident in his basics. For example, he took a beating from Mendes off of his back, but never got flustered, and eventually created enough space from his half-butterfly guard to get back to his feet.
Against Mendes, McGregor was able to do all this while defending a front choke. Against Diaz, he'd have to tuck his neck in a bit more to ward off chokes.
Nate Diaz is on another level when it comes to ground work. He is one of the few fighters in MMA who is a real submission threat on his back, at the highest levels, and he can snatch opponents' necks from just about anywhere.
The Brazilian jiu-jitsu black belt also flows and rolls out of danger as smooth as anyone in the sport. McGregor showed nice lange-changing on top of Dennis Siver last year, working his leg drag positions, but he'll have more difficulty pinning down the educated hips of Diaz, should he find himself on top.
Striking
It will be interesting to see if the fight even ever goes to the ground, however. Diaz has good hip tosses, but not much in the way of wrestling takedowns.
The flat-footed, and stalking boxer had better connect early and often on McGregor in order to slow him down. Otherwise, Diaz's plodding may make it difficult for him to force a clinch, from which he can work throws or even pull guard, to get the fight to the mat.
McGregor is hittable, but with a solid chin. As my own striking instructor Matt Johnson explained to me last night before training, McGregor is elusive because of the angles he hits, and his great sense of distance.
McGregor may not have the traditional type of boxing head movement where he bobs and weaves out of danger, but he angles-out to his left to set up his right cross, nicely, and also pivots out to his right to set up his left roundhouse kick well.
He trusts his iron chin, but trusts his sense of timing and distance, more. Even with his hands low, McGregor often moves his head back just an inch or so, out of the way of strikes, and is quick to strike back with his long reach and straight punches.
Furthermore, he's fast when he does it. Faster than Diaz.
Diaz has fast hands when he gets them going in combination, but he'll need to corner McGregor with his feet before he can make that happen. McGregor may have trouble dealing with the long reach of Diaz, here.
Usually, the Irishman has the longer arms in fights. He was certainly preparing for a shorter opponent in dos Anjos, a man who also has a shorter arm reach than Diaz.
There's a chance McGregor will think he's out of punching range with Diaz but still be punched. How he adjusts to that, if it happens, could say a lot about how this fight goes.
Diaz doesn't usually respond well to leg kicks but McGregor doesn't throw many. He may want to try a few on for size, here.
Diaz may become a little predictable for McGregor, because of his slower, and steady, punch-heavy attack and no real threat of takedown shots. However, the speedy McGregor could also become a little predictable for Diaz if he doesn't work for his own takedowns.
I don't think he will, because the risk of getting caught in a choke by Diaz will be too great.
Intangibles
We've got to talk about the weight, here. We've got a featherweight fighting a lightweight, at welterweight.
Who will benefit most from this? It is impossible to know.
We can only assume that Diaz will carry his weight a lot better, given that he's competed at the highest levels inside the UFC at welterweight, despite having most of his success at lightweight.
The good news is that both men should be full of energy, in this fight. If McGregor can deal with being the lighter man and Diaz's reach, his speed and energy could very well make this odd weight for him a wash.
If Diaz can get inside the clinch with McGregor, early, however, he could use his weight in conjunction with his expert grappling to put his smaller opponent in some sticky spots.
We've also got to talk about prep time. McGregor is gutsy to fight someone new after dos Anjos was injured and pulled-out, but Diaz is also taking a huge risk by agreeing to fight someone as good as the champion with absolutely no training camp.
At this level, the UFC, you need every advantage you can get. Fighting a UFC champion with no real time to prepare for them is never going to be a particularly smart idea.
Training camps are all about fine-tuning conditioning and tactics, as well as building the muscle memory to react to the tendencies of your opponent.
Neither man will have had the benefit of the last object, but at least McGregor will likely be all-around sharper since he's been training for a fight of some sort.
Given that these two men are some of the biggest trash-talkers in MMA history, it will be interesting to see who talks first, and how they each react to it. My guess is that both men will be comfortable with the situation, but that Diaz will be more so.
McGregor has the guts to get right in his opponents' faces and taunt them, while throwing strikes. He hasn't had to do that much while getting beaten up, though, yet.
We've seen Diaz talk while dominating, while getting dominated, whilel winning, losing, and getting talked back to. It is what he does, and no one other than his brother Nick does it better.
If Diaz starts to connect with hard punches on Conor and jaws at him, McGregor will be in a completely different spot than he's ever been in, before. He's got the character to deal with it, of course, but he may be a tad more rattled than Nate will be if the same happens to him.
Prediction
I like McGregor's foot speed and varied striking attack, here. He'll struggle because of Diaz's length and hard head, and certainly does not want to grapple with Diaz.
I like Diaz's size advantage, but hate that he has just days to cut weight and prepare for McGregor. With full training camps, at lightweight, I'd learn more towards Diaz, but given that McGregor has been sharpening his sword for weeks, now, to prepare for March 5, I have to give him the edge.