The Early Look: Anderson Silva vs. Michael Bisping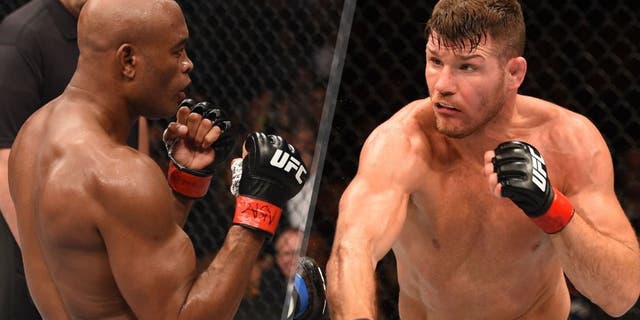 It isn't quite yet fight week for Silva vs. Bisping, but it's never too early to look at a compelling, big match up. And, make no mistake about it, this UFC Fight Pass bout, taking place in London on Feb. 27 is a big one.
Bisping is longtime middleweight contender, one of the most well-rounded and most consistent fighters on the UFC roster over the past decade, and is a bonafide international star. In this contest, he'll finally get to fight the man he's wanted to face for years, and on his own home turf in England.
Silva, of course, is one of the best MMA fighters in history. In 2015 he returned from a traumatic, potentially career-ending injury to beat Nick Diaz.
Then, it was revealed that he took banned PED's and he was suspended. Now, he returns after another year out, in his 40's, and intent on proving that he can still beat the best at 185 pounds.
So, the fight is big. It is also an interesting one.
Sure, Silva should be considered the favorite, here. After all, he dominated the middleweight division for years and years as champion, and Bisping never broke through to a title fight, before.
More than that, Silva has nasty stopping power, whereas Bisping has yet to show similar fight-ending ability. When we look a bit deeper, however, we can envision a truly competitive fight, here.
If there were ever a time Bisping could beat Anderson Silva, now is that moment. Silva is aging, and has had a lot of injuries and inactivity in recent years.
Bisping, on the other hand, has been active, and been quite competitive with very good contenders like Thales Leites, and CB Dollaway. In fact, Bisping has won two-straight, and three out of his last four fights.
At 36 years of age, the Brit is no spring chicken, either, but four years in age difference can mean a lot. Bisping doesn't appear to be losing much, if any of his quickness, and that could be key, here.
Silva controlled Diaz in their fight, a little over a year ago, but Bisping has what it takes to make this a very different fight. When Silva engaged in close-quarters fire-fights with Diaz, he got hit plenty.
Simply put, Silva is far from untouchable, these days. Bisping is also a much faster fighter on his feet than Diaz.
Bisping has better hand speed and foot speed than Diaz. So, if he doesn't make too many mistakes of walking into Silva's power, a pressuring Bisping could cause "The Spider" some real problems.
"The Count" has the conditioning to go at a strong, steady pace for five rounds, and that will serve him well, here. To put himself in a position to put Silva on his heels, Bisping will first have to not be too thrown off by Silva's weird movements and mind games.
There's a difference between cutting off the ring, pressuring an opponent, and chasing them. If Bisping, or anyone, chases Silva, they will more than likely get hurt.
If they are able to out-move him, and keep him in corners, however, Silva is catchable. If Bisping mixes punches, kicks, angles and takedown attempts together smoothly, he could force Silva to open up a bit.
Silva has always relied on his reflexes and sense of timing and distance for his defense. As he ages, those reflexes slow and he won't find it so easy to do the "wrong" things like move straight backwards, hands down, chin up, while slipping and weaving.
Just ask Chris Weidman. With enough smart pressure, strike volume and granite in his chin, Bisping can absolutely connect and connect often on Silva. Chances are, Silva will find Bisping's head as well.
Only time will tell who falls, first, and stays down. On the ground, Silva is solid, but if Bisping gets on top, he has the Brazilian jiu-jitsu skills to to threaten the Brazilian.
The fight may not go to the ground, however. If it doesn't, the more proven commodity is certainly Silva, but Michael Bisping has it in him to surprise the former champion, and the world.