The Cubs are having a great season and everything is just great, OK?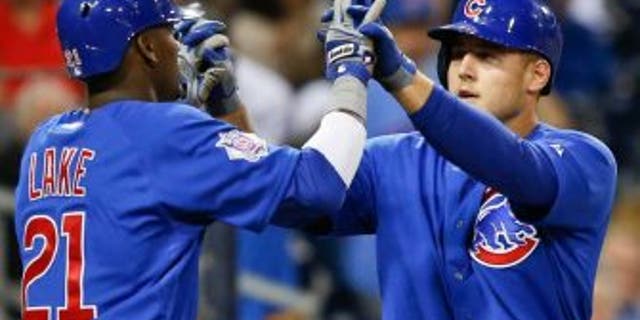 This may sound crazy, but the Cubs are having a great season.
Sure, as of Thursday they are technically the worst team in baseball, but that's just based on wins and losses. And you don't measure success on wins and losses, you measure success on winning championships. Of course, the Cubs have gone 105 consecutive years without winning one of those. But guess what, smart guy? This year's championship won't take place until October. Until then, the fate of the Cubs season remains undetermined.
Yes, some of the numbers suggest that the Cubs have no chance in hell at making the playoffs, let alone winning a World Series this season. But let's not focus on those numbers. Let's focus on the numbers that support my theory — that of the team's core contributors.
Let's call those core contributors Starlin Castro, Anthony Rizzo and Jeff Samardzija. All three of these guys are having better seasons than their last. And that's what really matters right now. If offseason moves are any indicator of the organization's main focus, the firing of Dale Sveum and subsequent hiring of Rick Renteria was telling. The focus was never to win games.
The managerial move was a direct response to the fact that the Cubs' core regressed last year. Sveum wasn't getting the most out of these players. He was getting less.
Castro, in nearly the same amount of games in 2012 (162) and '13 (161), saw regression across the board.
2012: .283/.323/.430, 78 R, 14 HR, 78 RBI, 25 SB, 5.2% BB rate, 14.5% K rate
2013: .245/.284/.347, 59 R, 10 HR, 44 RBI, 9 SB, 4.3 % BB rate, 18.3% K rate
But through nearly a third of the season in 2014, numbers suggest that Castro is returning to his All-Star form.
2014: .272/.312/.442, 23 R, 7 HR, 25 RBI, 1 SB, 5.0% BB rate, 13.8% K rate
How much Renteria plays into this is difficult to quantify, but it has to play some role, right? Perhaps he is "getting through" to Castro in a way that others couldn't. That was the hope when they hired a bilingual manager, at least.
Rizzo's rebound isn't quite as clear-cut as Castro's. He only played 87 games in 2012 compared to the 160 he played in '13. But from '12 to '13 his slash line took a dive from .285/.342/.463 to .233/.323.419 and he was striking out at a higher rate. Now, he may just have been incredibly unlucky as suggested by his .258 BABIP down from .310, but regardless, his numbers are up this year and his walk rate just keeps skyrocketing.
In fact his walk rate is identical to his strikeout rate, both at 16.9%, which lands him 12th in the majors in the BB/K category. Not bad company considering Victor Martinez is first on that list, and for a brief period this season, V-Mart had more home runs than strikeouts (as of Thursday he has 12 HR and 13 K). Rizzo is being essentially who the Cubs need him to be while also improving his plate discipline. He's not quite having the breakout year that Paul Goldschmidt had last year, but he could be having the season Goldschmidt had two years ago. And except for the stolen bases, a Goldschmidt-type jump isn't totally out of the question for Rizzo in the next year or so.
As for Samardzija, his story has been told many times in 2014. He's pitching extremely well (albeit with an unsustainable HR/9 that Rob Neyer recently pointed out), but doesn't have the wins to show it. This just further illustrates the point that success isn't always measured by wins and losses. And the point that you can have long flowing hair and be unlucky, too.
As for the question of whether or not Samardzija will end the year as a Cub? I don't know, man. I just spent this whole article explaining why the Cubs are having a great season. So perhaps I'm not the best person to be answering that question. But there's a lot of speculation that he won't. Plus, Matt Garza seems to be suggesting constantly that there are greener pastures elsewhere (like Milwaukee of all places), but if I'm a Cubs fan (and I am), I'm really hoping the current Cubs ace sticks around. He's on the right side of 30, has avoided any major arm injuries, and he's got that hair. Oh, that hair.
Look, the Cubs aren't going finish the season better than .500 or maybe even close it, but that's not what this season is about. What they need to do is find some stable footing. That way, when they do finally plant hard and jump, they won't end up falling on their faces.
Like this . . .
But I think they are. And that's why this season is so great.