The Clippers are closing the gap on the Lakers in local TV ratings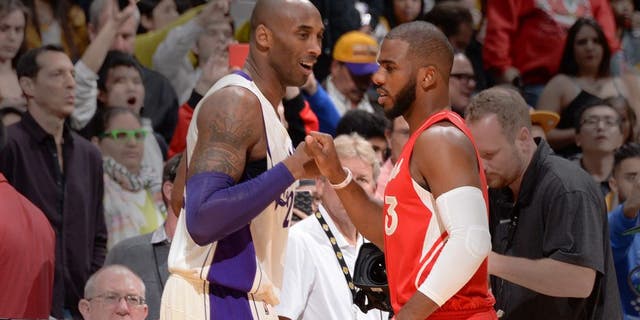 NEWYou can now listen to Fox News articles!
The Los Angeles Clippers have closed the gap between themselves and the Los Angeles Lakers on the court over the past few years, as they will now finish with a better record than their Los Angeles counterparts for the fourth consecutive season.
Off the court, however, things hadn't changed much. The Lakers still dominated the Clippers around Los Angeles. Until recently.
There is no denying that the Lakers are the most popular team in Los Angeles. Walk around L.A. and you'll see more No. 24 Lakers jerseys than Clippers gear combined. The Lakers are the national symbol of excellence in the NBA; the Clippers are a budding brand.
Perhaps no figure represented the difference in the teams' popularity more so than their contrasting television ratings.
But that's all changing now, according to the Los Angeles Times:
One would assume that, despite another down season, the Lakers' ratings would actually be higher following Kobe Bryant's announcement that he is retiring after the season. But that hasn't been the case.
The team is experiencing its lowest TV ratings since moving to Los Angeles in 1960 and a 23 percent drop-off from this point last season. To show just how steep of a drop that is, think about this: The Clippers' TV ratings have actually dropped by five percent this season, yet they've considerably narrowed the gap between the two franchises.
It's unlikely that the Clippers will surpass the Lakers in TV ratings any time soon -- especially if owner Steve Ballmer gets his risky wish and the team transitions to a televised streaming service, as the Los Angeles Times reported -- especially with the Lakers trying to reload in the next few years with Bryant's contract off the books after this season.
But the recent ratings show what the Clippers have been doing right, and what the Lakers have been doing wrong, recently.