The Chicago Bears' 'lopsided' trade to land Mitchell Trubisky makes perfect sense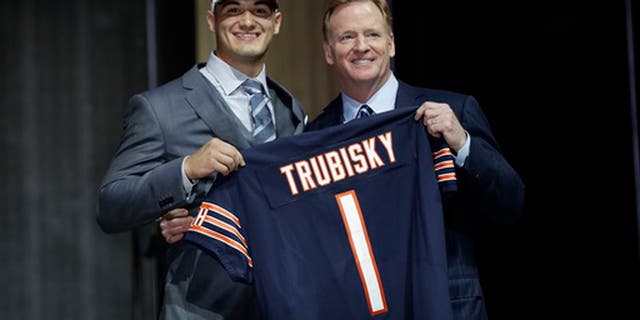 NEWYou can now listen to Fox News articles!
No one saw it coming. The Bears already had a quarterback they signed Mike Glennon this offseason to a three-year deal.
So when they traded up from No. 3 to No. 2 in the first round Thursday, few knew what to make of it. When it came out that they handed the San Francisco 49ers pick Nos. 67 and 111 and a third-round pick next year to move up one pick, confusion reigned even further. The Bears clearly lost their pick-value chart.
And it was chaos when they selected Mitchell Trubisky No. 2 overall.
But it makes all the sense in the world for the Bears to allow the 49ers to " fleece" them in exchange for a one-pick move. The Bears landed the quarterback they wanted.
Chicago handed the keys of their franchise to Trubisky on Thursday night. General manager Ryan Pace and head coach John Fox bet their jobs on his success. Do you thinkthat was a flippant decision? Of course not.
An overused adage in the NFL is that you cannot win without a franchise quarterback the Bears agree and they picked a player they believe can be one Thursday night.
It doesn't matter if the Bears had to give up fifth rounders for the next decade or third rounders for the next three years if a team believes a quarterback is worth being picked No. 2 overall, no haulof second or third-day picks istoo high a price to pay.
You might get lucky with a pick, but you're not going to land a player you view as a franchise cornerstone at No. 67 or 111 so who cares if you trade those picks away if you can get "the man"?
Perhaps the Bears didn't need to trade for the No. 2 pick after all, the 49ersseemed more than content to make the deal and select Solomon Thomas (the guy they probably always wanted) at No. 3. They might have taken him at No. 2, leaving Chicago to take the UNC QB at No. 3.
But do you think the Bears were unaware of that possibility? The move was made for a reason quarrel over the details, but you don't make moves you don't need to make.
The 49ers had been trying to move the No. 2 pick for weeks Chicago wasn't negotiating against Lynch and the 49ers, they were negotiating against any other NFL team that wanted to pick Trubisky and thought they needed to get to No. 2 to pick him.
That "other" team probably was the Browns, a team that was connected to Trubisky as the No. 1 overall pick on Thursday morning and had too many picks in this draft (they seriously can't take all of those rookies into camp),yetwho knows how many other teams might have been involved.
The Bears right or wrong (and considering that we'll never fully know the details of the negotiations, it's foolhardy to think we're more knowledgeable) felt the heat and had to give up a nice, hefty bounty.
Who cares?
They moved those picks to land their guy the guy, in their eyes. You don't pass on a franchise quarterback a player that you believe can lead you to Super Bowls because the 49ers wanted one too many third-round picks.
Time will tell if the Bears are right or wrong in their bet on Trubisky, but one thing is for certain: down the line, if Trubisky turns out to be a bust, no one will be lamenting three small potatoes, middle-of-the-road draft picks the Bears traded Thursday.
Copyright The Associated Press. All rights reserved.