The Buffalo Sabres clean house, fire coach Dan Bylsma and GM Tim Murray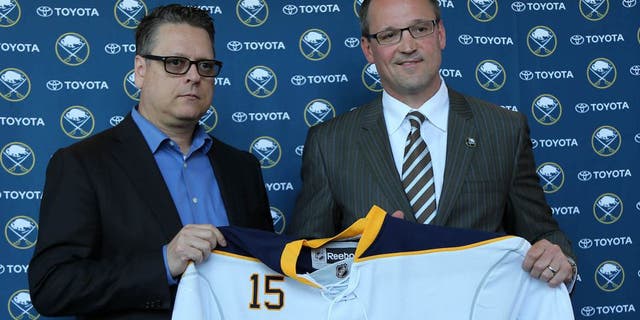 There's a changing of the guard coming in Buffalo.
The Sabres announced on Thursday morning that both head coach Dan Bylsma and general manager Tim Murray were fired from their posts with the club.
The decision comes following a disappointing season in which the Sabres finished with just 78 points in the standings, worst in the Atlantic division. Sabres owner Terry Pegula released a statement shortly after the official announcement andwillbe available to the media at KeyBank Center onFridaymorning.
Both Bylsma and Murray reportedly met with ownership on Wednesday. Prior to that meeting, a reportsurfaced suggesting that star forward Jack Eichel -- the team's No. 2 overall pick in 2015 -- would not sign an extension with the team if Bylsma remained behind the bench.
However, Eichel and his agent quickly refuted that report, calling it a total fabrication.Where there's smoke there's often fire, though, and now both the coach and the general manager are outin Buffalo.