The bucks can't stop here for the Orioles, who need rotation and outfield help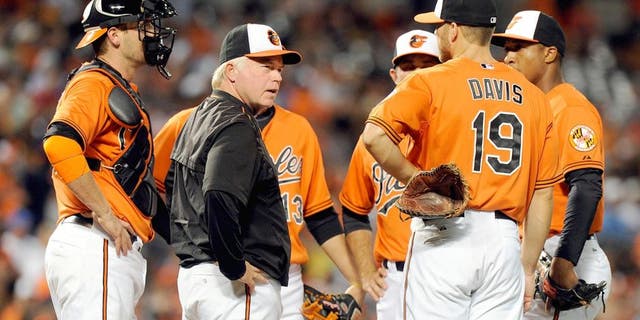 The Orioles have spent $214.8 million on free agents this offseason, but now comes the tricky part: They still need a right fielder and starting pitcher.
Such moves will be difficult to pull off for a team that is reluctant to forfeit the No. 14 pick in the draft and has little to trade.
Justin Upton will not be the new Baltimore right fielder -- he reached agreement Monday with the Tigers on a six-year, $132.75 million, free-agent contract.
Yoenis Cespedes likely will not be the new right fielder, either; the Orioles made him an offer before re-signing first baseman Chris Davis, but probably the only way they would want him now is on a short-term deal. And Cespedes, one player agent predicts, will get an even bigger contract than Upton.
"(Cespedes) was in the conversation (with the Tigers)," the agent said, "so he must know he can get even more elsewhere."
Even if Cespedes gets less than Upton, it's doubtful the Orioles would sign two expensive position players in one offseason, not when they also need a starting pitcher to join a rotation that recently lost free-agent left-hander Wei-Yin Chen to the Marlins.
Cespedes, at least, would not require the loss of the No. 14 pick; he was not eligible for a qualifying offer. But that pick would be part of the price for right-hander Yovani Gallardo, the best remaining free-agent starter, and also would have been part of the price for Upton.
The Orioles currently hold five other picks in the top 100 -- the compensation pick for Chen, which likely will be in the 30s, plus selections 53, 69, 75 and 91. But they have not chosen higher than No. 22 in the past three drafts, and did not have a first rounder at all in 2014, sacrificing the No. 17 overall choice to sign free-agent right-hander Ubaldo Jimenez.
Prior to that, the Orioles picked seven straight years in the top 10. Third baseman Manny Machado and catcher Matt Wieters were the only All-Stars to emerge from that group. Right-hander Kevin Gausman still holds considerable promise, but left-hander Brian Matusz is a reliever, right-hander Dylan Bundy has struggled with injuries and righty Matt Hobgood and third baseman Billy Rowell were busts.
Holding the No. 14 pick also would increase the Orioles' bonus pool, increasing their financial flexibility in the higher rounds. Teams generally view a mid-first round pick to be worth at least $10 million. That added value is part of the reason that Gallardo and three other free agents who rejected qualifying offers -- shortstop Ian Desmond, outfielder Dexter Fowler and second baseman Howie Kendrick -- remain on the open market.
The Orioles' desire to keep the No. 14 pick also could be influenced by the depletion of their farm system through trades in recent years. As recently pointed out by MLB Network's Peter Gammons, the Orioles have virtually nothing to show for three pitchers they moved -- right-hander Jake Arrieta, the reigning NL Cy Young Award winner; lefty Eduardo Rodriguez, who is expected to be part of the Red Sox's rotation; and lefty Josh Hader, a highly regarded prospect for the Brewers.
The Orioles sent Arrieta and reliever Pedro Strop to the Cubs for righty Scott Feldman and catcher Steve Clevenger; Feldman departed as a free agent without compensation, and Clevenger was part of the recent deal that helped the Orioles land first baseman Mark Trumbo.
Rodriguez was traded for left-hander Andrew Miller, who also left as a free agent without compensation. Hader was part of a package for righty Bud Norris, whom the Orioles released last August; Hader later was traded again, from the Astros to the Brewers, as part of the Carlos Gomez-Mike Fiers trade.
Those deals and other moves helped the Orioles average 91 wins, win their first division title in 17 years and make the playoffs twice -- in 2012 and 2014. But the pattern also has compromised the depth of the farm system, and injuries to two prospects -- Bundy and righty Hunter Harvey -- have been additional blows.
The trade values of Bundy and Harvey will remain limited until they prove they are healthy. Neither of the first basemen blocked by Davis -- Christian Walker and Trey Mancini -- figures to bring a major piece in return. The lack of quality prospects will make it difficult for the Orioles to trade for a pitcher, not that many are available at this late stage of the offseason.
The O's lack the young, impact position players necessary to land one of the Rays' starter or Braves righty Julio Teheran. The Padres remain willing to move righties Andrew Cashner and James Shields, sources say. A number of lesser pitchers -- Brewers righty Matt Garza, Indians righty Josh Tomlin, White Sox lefty John Danks -- also could be had, but to what end?
Gallardo is not the only free-agent starter that the O's are considering. They also like righty Doug Fister, who would not require the loss of a pick, but fear that his price will rise beyond their comfort level; one source says that Fister is considering a two-year, $22 million offer from an unspecified club. Mat Latos is another non-compensation free agent on the Orioles' radar, but club officials question his makeup and other teams are showing greater interest, sources say.
Whoever the O's acquire, they cannot afford to miss, not when their top four projected starters are right-handers Jimenez, Gausman, Chris Tillman and Miguel Gonzalez.
Retaining Davis, Wieters and reliever Darren O'Day was an impressive feat, as was signing Korean outfielder Hyun-Soo Kim to a two-year, $7 million deal.
The crazy thing is, the Orioles can't stop. Not if they want to contend in the AL East.