The Browns dont have a problem with Myles Garrett calling out Ben Roethlisberger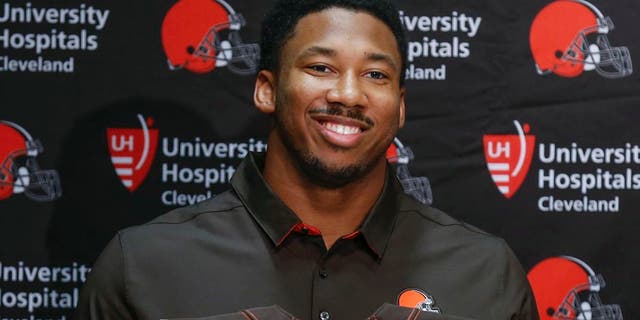 Myles Garrett is a unique player. Not because hes freakishly athletic or becausehe was a No. 1 overall pick but because of his character qualities. He enjoys poetry, has a fascination with dinosaurs and listens to music from the '70s and '80s.
He also fancies himself as a bit of a trash talker.
Not long after he was drafted by the Cleveland Browns, Garrett was asked which quarterback he most looks forward to sacking. Not surprisingly, he called out a division rival in Big Ben Roethlisberger.
"Big Ben is a Super Bowl winner, and I heard he's hard to take down," Garrett said. "So, I'm coming for him first, [to] chop him down.
There was nothing wrong with Garretts comments he was answering a question and the Browns have no problem with what their star rookie said.
"We're not scared of it," general manager Sashi Brown said, via Cleveland.com. "Myles, if you go back and look at his [introductory] press conference, has the right amount of levity balancing that confidence."
Garrett has expressed plenty of confidence in himself, saying hes vying to become the best player of all time. He certainly has the potential to be one of the best, he just needs to realize it and make the most of his opportunity.
This is exactly the sort of player the city of Cleveland needs. Hes not going to get into trouble off the field, and hes going to provide a spark on it and in the locker room. Some may think hes out of line for calling out Big Ben and saying he wants to be an all-time great, but thats simply the mindset he has and the Browns are all for it.
"I don't think you guys can relate to the amount of attention that this young man or anybody who's going to be a No. 1 draft pick has," Brown said. "People are asking him to do all kinds of just bits and pieces and interviews and photo shoots and all, and … I think we have to keep proper perspective.
"This is a 21-year-old young man who's wise beyond his years. Just to correct, he didn't say he'd hurt Ben, he did say he'd take him down, but you have to spend time with him. You have to understand what his values are. He's very confident in his abilities. He works his tail off. He's about as hard-working … as any college prospect we've had."
Garrett will get his first shot at Roethlisberger right away as the Browns will host the Steelers in Week 1. You can bet hes going to do everything he can to back up his early trash talk with a sack of the Steelers quarterback.