The best MLB Draft pick in each of the past 20 years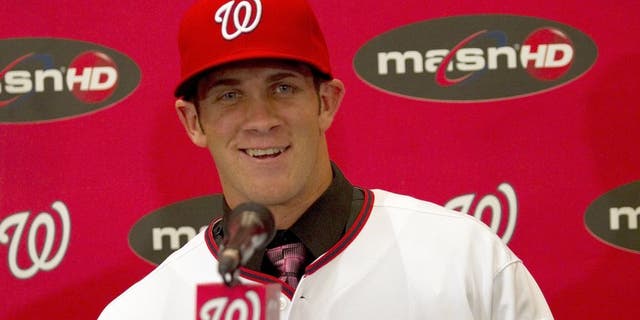 NEWYou can now listen to Fox News articles!
The MLB Draft yields some of the best stars in the big leagues today. Guys like Mike Trout, Bryce Harper, Clayton Kershaw and Albert Pujols have broken through by way of the draft and put together great outstanding careers thus far.
In the past 20 years, MLB has seen future Hall of Famers taken both first overall and 402nd, proving just how important the draft is to a franchise's success. With that said, let's take a look at the single best selection from each of the last 20 years, beginning with Jimmy Rollins in 1996.
In his prime, Rollins was the best shortstop in the game. The peak of his career came in 2007, when he was named MVP and won a Gold Glove and a Silver Slugger award. That season, he swiped 41 bases, hit a career-high 30 home runs and drove in 94 runs -- all while hitting .296. He's clearly fallen off the past couple years, but Rollins has undoubtedly put together a Hall of Fame-worthy career with 231 home runs and 470 steals.
Hudson sometimes gets overlooked because he never won a Cy Young and was only named to the All-Star Game four times in his career. But he one of his best abilities was his availability. Only five times in his 17 years did he start fewer than 25 games in a season. He retired with 222 career wins and 2,080 strikeouts with a WAR of 57.2. Lance Berkman was also given consideration here.
Sabathia has obviously struggled in recent years (though he's been surprisingly good in 2016), but his best years came in Cleveland where he was a dominant, hard-throwing ace. He won the CY Young award in 2007 after winning 19 games with a 3.21 ERA and 209 strikeouts. At age 35, Sabathia is still pitching with a great deal of success despite going through personal issues last year.
Not only was Pujols the best player of the 1999 draft, he may have been the best pick of the '90s. With 572 home runs, 1,739 RBIs and three MVPs, no player in this class comes close to Pujols' production. A surefire Hall of Famer, he was also one of the biggest steals in MLB Draft history at No. 402. Few players have hit for both power and average like Pujols has in his career, and he has been paid accordingly.
The 2000 class was loaded with talent which made this pick somewhat difficult to make. Utley ultimately edged out Adrian Gonzalez, Jose Bautista and Cliff Lee. The reason? He could very well wind up being a Hall of Fame second baseman. As a six-time All-Star and four-time Silver Slugger at second, Utley has collected 1,699 hits and 240 career home runs, both of which are outstanding for a middle infielder. From 2005 to 2008, he recorded four consecutive seasons of 22-plus home runs and 100-plus RBIs.
Mauer may not have the most home runs in the 2001 class -- Mark Teixeira holds that honor with 397 -- but he is the best player and was worthy of the No. 1 overall pick. A great defensive catcher and an even better hitter, Mauer came into the league and had an immediate impact. He was an All-Star by Year 3 and an MVP by 2009, hitting a ridiculous .365 with 28 home runs -- 15 more than any other season in his career. He'll go down as one of the best hitting catchers the game has ever seen.
Greinke came up with the Royals, where he had some of the best years of his career. He won his only Cy Young Award in 2009 when he struck out a career-high 242 batters and posted a 2.16 ERA. Had Jake Arrieta not dominated the way he did in 2015, Greinke would have two Cy Young titles to his name. Regardless, Greinke's 150 career wins are the most of anyone in this class, and he's second only to Cole Hamels with 1,960 strikeouts. Prince Fielder and his 314 home runs also made a case here.
Kinsler has a ways to go before he's considered a Hall of Famer, but he's put up some outstanding numbers thus far. He has 195 career home runs (third in the 2003 class) and 204 stolen bases, proving to be a double threat who can also hit for average (.277 for his career). He's a four-time All-Star who's on pace to be named for a fifth time this season, having hit .315 with 11 home runs.
This one was a toss-up between Verlander and Dustin Pedroia. Each has won an MVP, though Verlander's is more impressive as a pitcher, winning the Cy Young in the same season. He's also a six-time All-Star with a career ERA of 3.53 and 162 wins. Pedroia's impact may have been slightly greater, but they're close in WAR -- 45.1 for Verlander, 47.6 for Pedroia. Ultimately, Verlander gets the edge thanks to his stellar, historic 2011 season.
In a class that yielded Andrew McCutchen, Jay Bruce and Troy Tulowitzki, it's Braun that has the highest batting average (.305) and the most home runs (264) and RBIs (879). Not to mention, he has 170 career stolen bases and is a legitimate five-tool player. PED issues aside, Braun has been an outstanding outfielder since coming into the league.
Kershaw is the best pitcher in baseball and has been for the better part of the past six seasons. He's a five-time All-Star (soon to be six) with three Cy Young Awards and one MVP. Few pitchers can say they've accomplished that in their careers, let alone in a five-year span. Incredibly, he has only one season with an ERA above 2.91, and that was his rookie year in 2008. Tim Lincecum and Max Scherzer have also had great careers from this class.
Madison Bumgarner is a close second at the top of this class, but Price barely gets the edge. Bumgarner has the World Series wins, but Price has the career accolades that MadBum has yet to reel in. Price has 19 more wins and 234 more strikeouts, while also topping Bumgarner in one key category: Cy Young Awards. Price won it back in 2012 with the Rays, going 20-5 with a 2.56 ERA. Though he's obviously struggled with the Red Sox this season, he's been a great pitcher in recent years.
Posey played a big role in the Giants' three World Series championships over the past seven years, winning the MVP in 2012 when San Francisco won it all. In three of the last four seasons, he's been the top player based on WAR for the Giants, doing so primarily as a catcher. No player from the 2008 class comes close to Posey's production, let alone his winning ways.
In 2009, Stephen Strasburg went first overall. The Nationals are still pleased with the pick several years later, but they could have snagged a future Hall of Famer instead. Trout somehow fell all the way to 25th in the first round, making every team that passed on him regret their decision. Barring injuries or a complete breakdown in his production, Trout has a good chance to go down as one of the best center fielders of all time.
Just imagine: The Nationals take Trout in 2009 and Harper one year later, giving them one of the greatest young outfields baseball has ever seen. That was a possibility, as crazy as it sounds. Compared to the loaded 2010 draft class, Harper isn't a runaway favorite as the best. Chris Sale, Manny Machado, Matt Harvey and Jacob deGrom have also gotten off to great starts. However, Harper is the third-youngest MVP ever after winning the award last season and has already mashed 110 home runs in his career. Like Trout, Harper is a future Hall of Famer.
Prior to last season, Betts was just an undersized prospect tearing up the minors, getting on base with ease. Now, he's a legitimate MVP candidate. Among 2011 draftees, he's third in home runs, second in batting average (among qualified players), second in RBIs and third in stolen bases. He's erupted this season with 14 home runs and 45 RBIs (sixth in MLB) as a leadoff hitter. Francisco Lindor, Gerrit Cole, Sonny Gray and Jose Fernandez have also been great thus far, but Betts' potential is sky high.
It's still extremely early for 2012 draftees, but Correa has shown why he was worthy of the top overall pick. He already has 30 home runs and 22 stolen bases in 160 career games, which puts into perspective that he's a legitimate 25-home run, 25-steal threat year in and year out. There's a reason he won Rookie of the Year in 2015 after playing just 99 games. Addison Russell, Corey Seager and Michael Wacha have also been solid in their short time in the bigs.
Bryant is one of the few players to get the call up this early in his career, and he's already had a huge impact on the now-dominant Cubs. In 208 games, he's hit 40 homers and driven in 142 runs with a .278 batting average. His numbers have actually improved this season, which is a frightening thought for the rest of MLB. Bryant is undoubtedly one of the best young players in the game today.
Here are the players to have at least a minimal impact from the 2014 class: Conforto, Kyle Schwarber, Carlos Rodon and Aaron Nola. Surprisingly, it's Nola with the highest WAR, but Conforto has the greatest potential. He's not Trout or Harper, but Conforto has put up similar numbers to those two players through 109 games. Additionally, he hit two homers in the World Series last fall, with an average of .333. Schwarber likely would have gotten the nod here had it not been for his unfortunate season-ending injury this season.
No player from the 2015 class has gotten called up to the majors just yet, but Bregman could be the first of the class. He's dominating the minors, hitting .310 with 12 home runs and 37 RBIs in just 46 games. Correa has a hold of the starting job a short, but Bregman could be called up later this season to play third.