The best matchups for Bret Bielema's Big Ten-SEC football challenge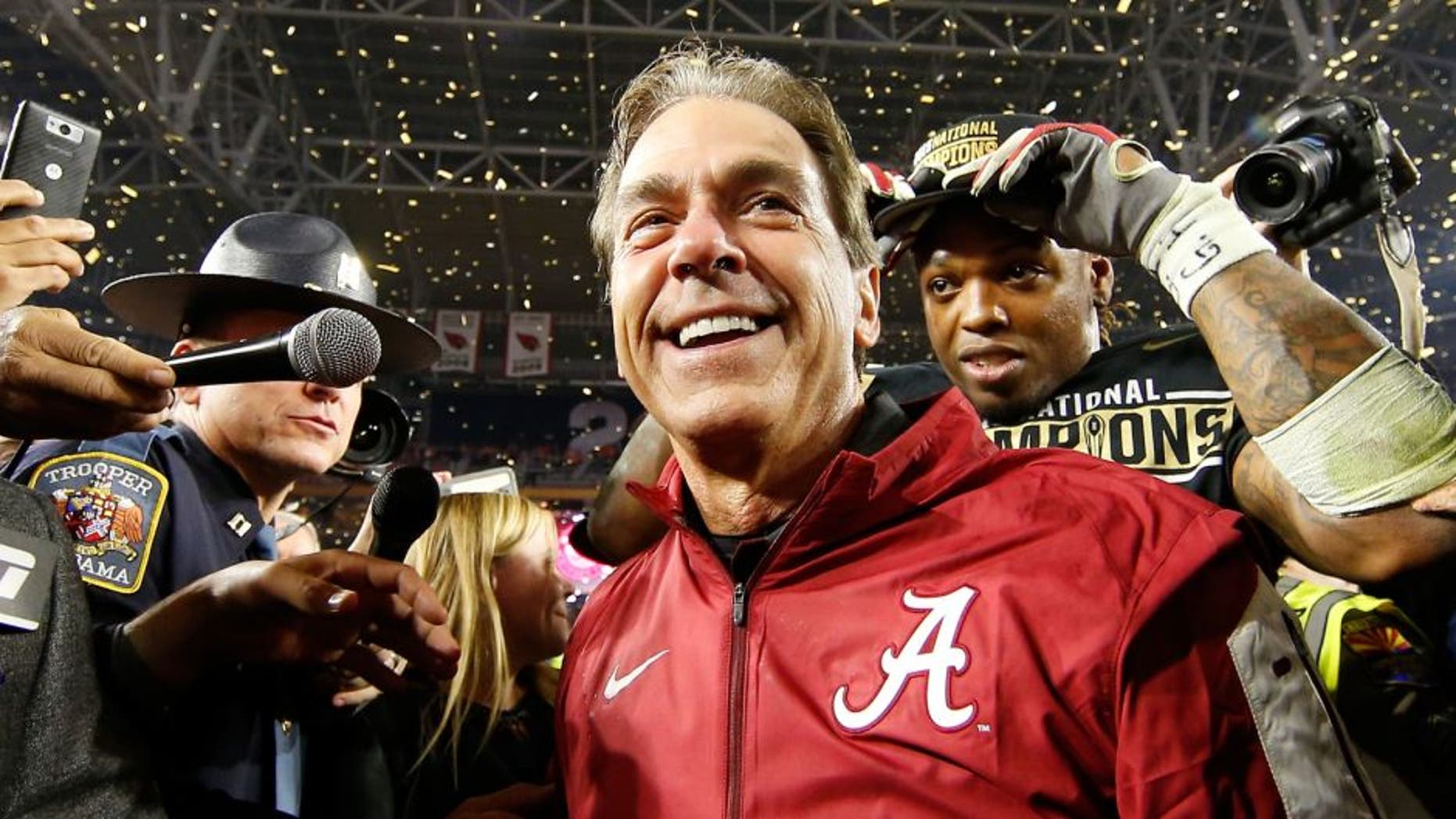 The SEC Spring Meetings began Tuesday and while the focus eventually turned into "Harbaugh vs. Saban," what got lost in the shuffle was that earlier in the day Bret Bielema actually said something pretty darn interesting. He proposed a Big Ten-SEC challenge in football.
Sure, commissioner Greg Sankey eventually shot it down, but still it's a fascinating concept and one that would add a heck of a lot of intrigue to the opening few weeks of the season. Rather than seeing another set of boring beat downs against directional schools, FCS foes or even worse, teams from the ACC, we might actually get intriguing matchups.
If I were scheduling the inaugural Big Ten-SEC challenge next year, here is my dream schedule.
Until Tuesday evening, this matchup would have been Ohio State-Alabama no question. Then Jim Harbaugh went nuclear on Nick Saban and I had to re-evaluate everything I had been planning for the premiere matchup of the event.
So while Saban-Meyer has now been pushed to the side, we might have gotten something even better: A matchup of Top-10 teams entering 2016, two Top-five programs all time, and even more important, Nick Saban against the only guy in college football with the you-know-what big enough to take him on publicly.
Speaking of which, can you imagine the smack talk leading up to this game? Jim Harbaugh might do enough to start another Civil War.
The original plan was to have Les Miles face the school that once tried to hire him in the darkness of the night (Michigan), but this is a nice alternative isn't it? Now we get a matchup between two teams that will enter 2016 in the Top 10, not to mention a showdown with Urban Meyer and one of the few coaches who gave him genuine trouble during his time at Florida.
Anyone else remember those five fourth-down conversions back in 2007? This one could be just as good.
Having traveled pretty extensively across America, I can tell you that Wisconsin is home to some of the nicest people this country has to offer. I can also tell you that those same people would have "Oakland Raiders fans before a big game" rage if Bret Bielema ever returned to Camp Randall.
Remember, it's not just that Bielema left Wisconsin four years ago but that he threw grenades on the way out. Therefore, what better way to ring in the new event than by sending Bielema back to Madison in an event that's his brainchild?
Talk about "Karma," huh?
An intriguing matchup between two former Nick Saban assistants, although let's be honest: At this point, roughly 87 percent of all current FBS coaches were once Nick Saban assistants.
Still, it'd make for a great game, especially when you consider that it would have major implications for two big reasons: 1) It could be a coming out party for Kirby Smart's Georgia Bulldogs; 2) It could be a way for Michigan State to begin to earn some respect back after that blowout in the College Football Playoff.
Call this the "Dooley's revenge" game since it was a loss to James Franklin (while he as at Vanderbilt) that cost Derek Dooley his job at Tennessee.
For Butch Jones, it'd give him a shot at a signature win to start a make-or-break season in Knoxville, as well as a chance to scream, "The one thing that Tennessee always does is kick the (expletive) out of Penn State!" in an emotional locker room celebration.
A fun, old-school matchup between two of college football's great historic powers, not to mention two teams that got out of the Big 12 at exactly the right time.
You know how Florida hasn't played a regular-season non-conference game outside the state of Florida since like back in the 1820's? Well, what better way to make them pay than by sending them to the coldest and furthest possible destination from Gainesville we can find?
Ideally, this game would be outside of the standard "first few weeks of the season" out of conference bubble, and be played in late November.
We want this matchup if only for all the "Revenge of the Nerds" newspaper headlines in the lead-up to this game and all the bad "safety school" jokes during it.
Since these two basketball programs just can't figure out a way to get a regular-season game made on the court, we'll have them play on the football field instead.
The only question: If this game was in fact played on a neutral field in Indy, would it get a bigger or smaller crowd than if a basketball game was played between the same two schools at the same location?
Not only would this serve as basically the most meaningful game in recent Purdue football history, it's also a matchup of a school that has been accused of paying for its players against a school that couldn't get good players to play for them even if they paid them.
A border war that dates all the way back to 1896 ... and whose only appeal in 2016 would involve Lovie Smith trying to get a signature win in his first season in Champaign.
The New York City ratings bonanza that the Big Ten was hoping for when it invited Rutgers to the conference four years ago would definitely come to fruition with this game. The entire city of Manhattan would be on pins and needles for days leading up to this one.
A battle between two teams that both seem to be national championship contenders about once every six years, meaning, this could either be a potential Top-five matchup by the time they play or one between two teams that finish last in their respective divisions.
Alright we're grasping at straws here, however this would ultimately be a battle between one of the most intriguing head coaching hires of the offseason (D.J. Durkin) and one of the least intriguing in recent college football history (Will Muschamp).
Hey Greg Sankey and Jim Delany, let's make this Big Ten-SEC Challenge thing happen, OK?
Aaron Torres is a contributor for FOXSports.com. Follow him on Twitter @Aaron_Torres or Facebook. E-mail him at ATorres00@gmail.com.