The 49ers and Colin Kaepernick are stuck with each other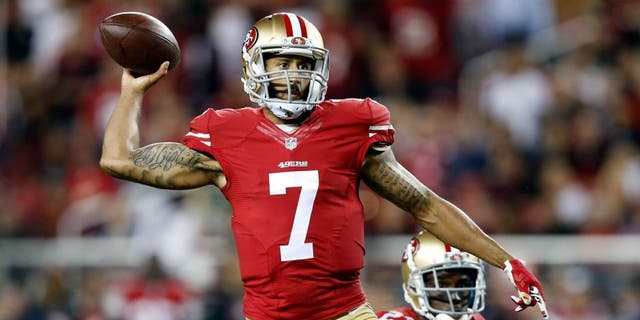 Despite Colin Kaepernick's wishes to be traded, the quarterback is still on the San Francisco 49ers roster.
And it looks like it's going to stay that way throughout the summer.
The 49ers opted to not cut Kaepernick before 4 p.m. Thursday, therefore guaranteeing the enigmatic quarterback's $11.9 million contract for the 2016 season.
Most quarterbacks would be thrilled to know that they're guaranteed to make close to $12 million next season -- €" most contracts in the NFL are not guaranteed -- €" but not Kaepernick.
There are conflicting reports on what Kaepernick actually desires, but it's clear that he asked the 49ers for a trade this offseason.
The Broncos were interested in No. 7 after losing Brock Osweiler, but according to Jason Cole, Denver is looking for Kaepernick to take a 40 percent pay cut. That's not an arbitrary number -- €" the Broncos need Kaepernick to restructure his deal because they are right up against the salary cap -- €" the NFLPA says they have only $1.6 million in space.
But Kaepernick's agents -- €" who weren't able to set up a trade over the last month -- €" aren't interested in restructuring his contract, per Comcast SportsNet Bay Area.
Meanwhile, the Jets -- €" still at an impasse with Ryan Fitzpatrick -- €" weren't keen to make a move for Kaepernick before his salary was guaranteed, so it seems particularly unlikely they'll jump into the fray now that he has a set cost.
Unless there's a mystery team interested in paying a possible backup $12 million a season, it looks like Kaepernick is staying in the Bay Area.
That's because the 49ers have been steadfast in doing nothing. They didn't need to do anything unless regarding Kaepernick unless it was laughably obvious. They have the most cap space in the NFL, so paying Kaepernick $12 million, whether he's the starter or Blaine Gabbert's backup, isn't a problem.
Add to the fray the equally enigmatic Chip Kelly, whose offense seems tailored for Kaepernick's style of play, and there was little incentive for the 49ers to move Kaepernick unless they were blown away by a trade offer.
That trade offer hasn't come yet, and unless some team panics and makes a deal before the NFL Draft, that offer won't come.
Ultimately, the paradigm hasn't changed, but the decision is pretty black-and-white now: unless Kaepernick can turn into the NFL's best general manager and convince another team to give up valuable assets to trade for him and his whole salary, he'll be suiting up for the 49ers Week One.