The 2015 All-NFC West Team (Offense)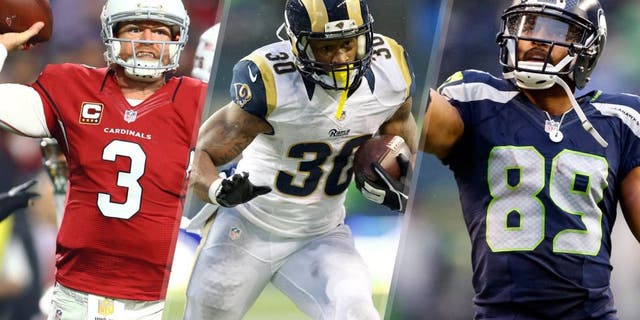 The Arizona Cardinals were an offensive powerhouse that came within one win of advancing to Super Bowl 50.
Therefore, it's hardly a surprise that that Cardinals dominated the NFC West All-Offensive Team with five selections. That left every other division team with two picks apiece. The envelope, please.
Carson Palmer, quarterback
The toughest call of any position. Seattle's Russell Wilson had the most spellbinding stretch of any quarterback in the league with 24 touchdown passes and one interception over the final seven games, but Palmer gets the nod for his overall production and consistency. Palmer threw for 35 scoring passes and 4,671 yards - both career highs - against only 11 picks while registering a passer rating of at least 100 in 11 of his 16 regular-season starts. With Palmer at the controls, Arizona featured the league's top-ranked offense (408.3 yards per game) and finished second to Carolina in scoring (30.6 ppg).
Todd Gurley, running back
Despite not seeing the field until Week 3 and missing three full games, Gurley finished his rookie campaign as the league's third-leading rusher with 1,106 yards while also scoring 10 touchdowns. Gurley erupted on the scene with a 146-yard effort in Week 4 and became the first player in NFL history to rush for at least 125 yards in each of his first four starts. Gurley, who rushed for at least one touchdown in eight of his last 10 starts, put up the impressive numbers despite playing in an offense that ranked 32nd overall and had the league's worst passing attack at 175.3 yards per contest.
Larry Fitzgerald, wide receiver
Coming off his worst season since he was a rookie 10 years earlier, there were questions as to whether Fitzgerald's days as an elite receiver were over. Fitzgerald squelched that notion by rebounding from a 63-catch season in 2014 to establish a career best with 109 receptions while surpassing 1,000 yards for the the seventh time. Despite injuries to fellow wideouts Michael Floyd and John Brown, Fitzgerald hauled in at least five catches in 12 of Arizona's first 13 games. The 12-year veteran also reached a major milestone, becoming one of 13 players with at least 1,000 career receptions.
Doug Baldwin, wide receiver
For his first four seasons, Baldwin has heard the talk that he lacks the size and speed to be a true No. 1 receiver. He was in the midst of a rather nondescript first half in 2015 before putting together one of the best stretches in league history. Baldwin reeled in three scoring passes as the Seahawks outlasted Pittsburgh in Week 12 to ignite a five-game span in which he had 11 touchdown receptions among his 29 catches. During that torrid streak, Baldwin joined Jerry Rice as the only wideouts in history with at least 10 TD catches in a four-game span en route to his first 1,000-yard season.
John Brown, wide receiever
If not for a hamstring injury that slowed him for a few games at midseason, Brown was on pace to double his total of 48 catches from his rookie season. As it was, the second-year speedster out of Pittsburgh State joined teammate Larry Fitzgerald by eclipsing 1,000 yards on 65 receptions. Brown turned in a monster performance in Week 6 against Pittsburgh with 10 catches for 196 yards, but he managed only seven catches over his next three games while sitting out another. Brown had five receptions of at least 45 yards and scored seven touchdowns.
Jimmy Graham, tight end
Tight end was not exactly a position of production within the NFC West and Graham gets the nod despite playing in only 11 games before sustaining a season-ending injury. Seattle struggled to incorporate Graham into the offense, particularly with Russell Wilson was running for his life for the first half of the season. Graham led all division tight ends with 48 receptions and had his best outing versus NFC champ Carolina with eight catches for 140 yards versus NFC champ Carolina in Week 6. He scored twice in the first three weeks but didn't find the end zone again.
Joe Staley, left tackle
Unlike the aforementioned tight end, Staley had plenty of competition in Seattle's Russell Okung, Arizona's Jared Veldheer and St. Louis' Greg Robinson. All but Robinson would have been a worthy choice, but Staley had to navigate a much more unsettled situation in the Bay Area on a line that was without right tackle Anthony Davis for the entire year and center Daniel Kilgore for most of the season, along with a benching at quarterback. Staley earned his fifth consecutive trip to the Super Bowl and played every offensive snap in appearing in all 16 games for the fifth straight season.
Mike Iupati, left guard
One of the most impactful acquisitions for the Cardinals a year ago was the free-agent signing of Iupati, who lived up to his reputation as a powerful run blocker by helping Arizona's rushing attack improve from 31st in the league in 2014 to No. 8 this season. The Cardinals put up big numbers across the board, leading the league in total offense and finishing second in points scored per game as Iupati teamed with tackle Jared Veldheer to former a steller tandem on the left side. Iupati missed the first three games due to injury but came back to earn his fourth straight Pro Bowl berth.
Lyle Sendlein, center
A roster cut following last season, Sendlein was re-signed to a one-year deal in August and went on to reclaim his starting center position. At the time of his signing, right guard Jonathan Cooper told the team's official website that Sendlein is "the glue that holds the room together." It's important to note that the Cardinals had a revolving door in the backfield, losing starting running back Andre Ellington in Week 1 before turning to mid-August signee Chris Johnson and eventually rookie David Johnson. The Cardinals averaged 119.8 yards rushing, up from 81.8 in 2014.
Andrew Tiller, right guard
One of the biggest mysteries is why now-deposed 49ers coach Jim Tomsula waited so long to slide Tiller ahead of the struggling Jordan Devey at right guard. Tiller played only one offensive snap in 2014 and was not activated off the practice squad until Week 5. In his third year out of Syracuse, Tiller finally cracked the starting lineup in Week 11. He allowed a 18 combined sacks, hits and hurries on the season and ranked No. 10 among all guards over the final five weeks, per Pro Football Focus. He gets the edge at a weak position within the division.
Rob Havenstein, right tackle
Two rookies made the all-division team and both play for the Rams - Gurley and Havenstein. Rams coach Jeff Fisher used four draft picks on offensive linemen in 2015 and appears to have found a keeper in Havenstein, a second-round selection whose only issue was missing three games during the middle of the season while dealing with a calf injury. Playing on an offensive line that was riddled with injuries, the 6-foot-7, 321-pound Havenstein was the only offensive tackle in the league to not allow a sack in 2015, according to Pro Football Focus.