The 2015 All-NFC North (Offense)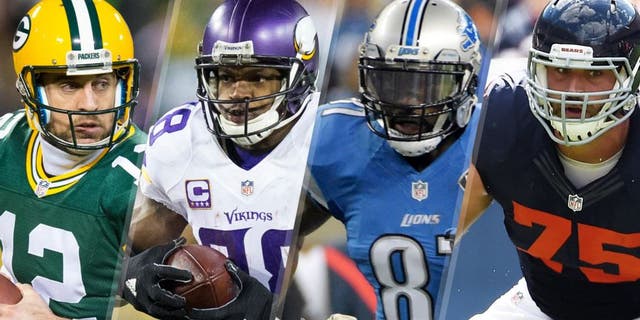 The NFC North was a strong division in 2015. Two of the four teams qualified for the postseason, as the Minnesota Vikings made it as division champions and the Green Bay Packers made it as a Wild Card team.
The Detroit Lions finished one game under a .500 winning percentage, and the rebuilding Chicago Bears were just a game behind them. Both teams featured plenty of talented players who were up for consideration on this list.
This list will highlight the NFC North's best player at every starting position in an "11" personnel grouping, which features one running back, one tight end and three wide receivers. All four teams are represented, but the Packers and the Vikings lead the way with four representatives each.
Aaron Rodgers, quarterback
By Aaron Rodgers' standards, 2015 was a down year. Still, his season was the best among all NFC North quarterbacks. He completed over 60 percent of his pass attempts for 3,821 yards, throwing nearly four times as many touchdowns (31) as interceptions (eight). Although these numbers produced a career-worst passer rating (92.7) and the NFL's 25th-ranked passing offense (219), Rodgers was the player most responsible for delivering the Packers to the playoffs with a 10-6 record in the regular season.
Adrian Peterson, running back
There was no running back across the NFL more dominant than Adrian Peterson in 2015. As the only back who carried the ball over 300 times, he cruised to a rushing title with 1,485 yards. Although he was battered and ended up on the injury report often, the 30-year-old veteran had relatively fresh legs after missing 15 games during the 2014 season due to suspension. Peterson made a strong comeback, signaling to the league that he's not going anywhere any time soon. He was a major reason why the Vikings won the NFC North.
Calvin Johnson, wide receiver
Even at age 30, Calvin Johnson is still the most dominant wide receiver in the division -- specifically in a season where Jordy Nelson was lost to injury. Johnson fought through a nagging ankle injury to start all 16 games for the first time since 2012. As a result, the super-sized receiver reeled in 88 receptions for 1,214 yards and nine touchdowns. Johnson may not be the same player he was just a few years ago, but he's still a pretty productive pass-catcher. The Lions will miss Megatron dearly if he is not on the team in 2016.
Randall Cobb, wide receiver
The Packers didn't have a lot of success throwing the ball in 2015, but Randall Cobb was key to the team's offensive efficiency. Although he trailed teammate James Jones in receiving yards and touchdowns, the versatile receiver led the team with 79 catches for 829 yards and six scores. He also recorded 13 rushing attempts for 50 yards. Cobb's efforts were often overlooked, as his overall production out of the slot took a hit without a legitimate No. 1 receiver to draw defenders outside the numbers.
Alshon Jeffery, wide receiver
Despite missing almost half the season, Alshon Jeffery still managed to distinguish himself as one of the NFC North's best pass-catchers in 2015. In just nine games played, he had 54 receptions for 807 yards and four touchdowns. If not for a season marred by soft-tissue leg injuries, the 25-year-old could be looking at a long-term deal that would make him one of the highest paid receivers in the league right now. Instead, Jeffery may be forced to play under the franchise tag in 2016.
Kyle Rudolph, tight end
Kyle Rudolph wasn't the most productive tight end in the division, but he played a key role as a two-way tight end in a run-first offense. The 6-foot-6, 265-pound tight end caught 49 passes for a career-high 495 yards and five touchdowns. A lot of times the Vikings asked Rudolph to stay in and block. He helped rookie right tackle T.J. Clemmings hold up in pass protection and helped plow the way for Adrian Peterson's 2015 rushing title.
David Bakhtiari, left tackle
The Packers dealt with a lot of instability along the offensive line, and David Bakhtiari was not immune to the bite of the injury bug. He was a solid blind-side protector for Aaron Rodgers for most of the season, but knee and ankle ailments caught up to him and ended his consecutive starts streak at 46 games (dating back to the first game of his career). Bakhtiari's impact was noticeable when the Packers tried and failed to replace him, then again when he returned for the Divisional round of the playoffs.
Josh Sitton, left guard
Only one offensive lineman from the NFC North made an All-Pro team in 2015 and it was Josh Sitton, who made the Associated Press' second team. He overcame knee and back injuries late in the season to start every game, including one at left tackle during David Bakhtiari's absence. Sitton may not be cut out for pass protection on the edge, but he's still one of the best interior offensive linemen across the league. The Packers are lucky to have him.
Joe Berger, center
The Vikings didn't have high expectations for the center position after longtime starter John Sullivan was lost to a back injury that ultimately cost him the entire season. However, Joe Berger stepped in and did a tremendous job in his stead. Although it was the first season in which he started all 16 games, the 33-year-old veteran never seemed inexperienced. Berger spearheaded Minnesota's ground game, which yielded the league's rushing champion, as Pro Football Focus named him the NFL's best run-blocker in 2015.
Mike Harris, right guard
Mike Harris was also key to Adrian Peterson's resurgent year in Minnesota. In his first season as a full-time starter, the 27-year-old did a lot to boost his stock right before hitting free agency. He is a prime candidate for a handsome contract extension, as a 6-foot-5, 338-pound guard who broke into the league as an undrafted free agent in 2012. Harris was a pleasant surprise for the Vikings this past season, and now he's in position to become a long-term fixture along their offensive line.
Kyle Long, right tackle
Kyle Long might be the best athlete of the offensive linemen named on this list. He is a guard by trade, but he complied when the Bears' new coaching staff asked him to play right tackle for the 2015 season. Although his skills are definitely better suited for interior blocking, he held his own while starting on the edge for all 16 games. Long just completed his third NFL season, and he's already playing in his third career Pro Bowl this weekend.