The 2015 All-AFC West Team (Offense)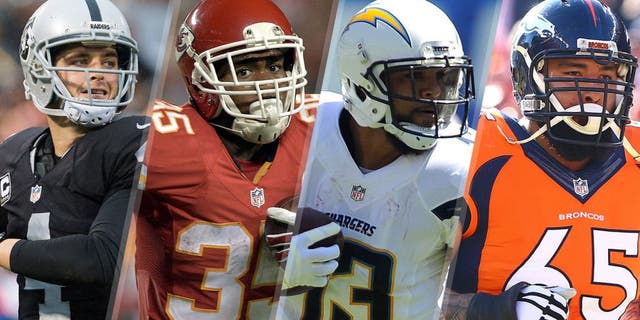 The Denver Broncos' offense isn't really the reason why they're on the precipice of a Super Bowl 50 win.
That's why the reigining AFC Champions had only one player -- right guard Louis Vasquez -- on our AFC West All-Offensive Team. Sorry, Peyton and Demaryius and Emmanuel.
Without further ado, here's the all-star cast -- with plenty of Oakland Raiders, Kansas City Chiefs, and San Diego Chargers on it:
Derek Carr, quarterback
Philip Rivers finished third in the league in passing yards. Alex Smith and Peyton Manning were playoff signal-callers. But this All-AFC West offense is led by Carr, who proved to be the gem of the 2014 quarterbacking class this year. He completed 61.1 percent of his throws for 3,987 yards and 32 touchdowns. Moreover, he's the first Silver and Black passer to earn a Pro Bowl nod since Rich Gannon in 2002.
Charcandrick West, running back
Raise your hand if you thought Charcandrick West would be the cream of the AFC West's ball carrying crop. But the former undrafted defied all odds when he seamlessly transitioned into Jamaal Charles' old role. The Chiefs' rushing offense didn't miss a beat behind West, who ended the season with nearly 850 all-purpose yards.
Jeremy Maclin, wide receiver
Only three receivers had posted 1,000-yard seasons under Andy Reid's watch. Only seven receivers had reached that mark in Kansas City Chiefs history. Maclin broke both barriers in a sublime 2015 campaign, setting a career-high in receptions. Only future Hall of Famer Tony Gonzalez has more in a red and gold uniform.
Amari Cooper, wide receiver
When people mention your name with Randy Moss, that's a good sign. When you're a rookie, it's an even better sign. So all signs point to an amazing career for Cooper (1,070 receiving yards), who re-wrote the Raiders' receiving records in his first season out of Alabama. He's the first 1,000-yard wideout in Silver and Black since Moss did it 11 years ago.
Keenan Allen, wide receiver
So what if he missed half the season? Allen was on pace for a historic season by any wide receiver, let alone a Chargers one. After eight games, the third-year wideout was tied for the second-most receptions... ever. His 67 grabs for 725 yards was good enough for second on his team at season's end. Get better soon, Keenan.
Travis Kelce, tight end
This year might be remembered as the one Kelce put it all together. He was second on the Chiefs in catches (72), yards (875) and receiving touchdowns (five) in 2015. It all culminated with a breakout playoff game (eight catches, 128 yards vs. Houston) and a spot on the AFC West's All-Offensive Team.
Donald Penn, left tackle
The Buccaneers thought Penn was washed up when they cut him loose two seasons back. Now, he's the surprise anchor of an even more surprising Raiders line. Per Pro Football Focus, Penn surrendered only 11 sacks over two weeks. That's an amazing feat in a division full of Von Millers and Justin Houstons.
Gabe Jackson, left guard
Fans forgot about Oakland's mauling left guard during Pro Bowl voting. They'll be hard-pressed to do so in future seasons; Jackson is blossoming into the NFL's preeminent guard. He paved the way for the first 4,000-yard passer/1,000-yard rusher combination in Raiders history.
Mitch Morse, center
Consider that the Chiefs lost Jamaal Charles and still rushed for over 1,000 yards and 10 scores. A lot of that falls on the rookie Morse, who blocked like a season veteran for most of 2015. He's the perfect anchor for K.C.'s multifaceted running game, when healthy.
Louis Vasquez, right guard
Denver had its share of breakdowns up front in 2015, but don't blame that on Vasquez. The veteran right guard was Peyton Manning's only returning blocker from their 2013 Super Bowl team. He added some much-needed stability to a line that's been forced to mix-and-match the past few seasons.
Joe Barksdale, right tackle
Barksdale deserves some recognition for being the Chargers' last linemen standing. That's because, at times, he was the only healthy starting ugly available in San Diego. The team lined him up at left tackle, guard, and right tackle. Blame the pass protection and run blocking issues on other Bolts blockers.