The 2015 All-AFC South Team (Offense)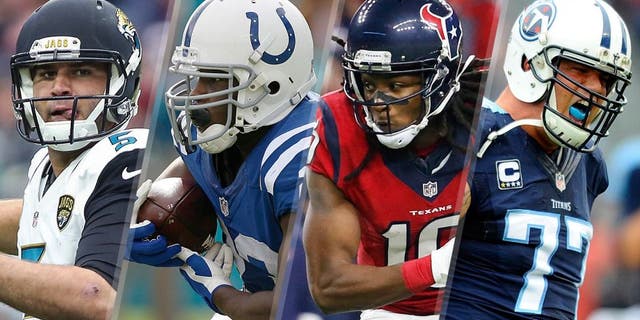 The AFC South had the unfortunate distinction of being the worst division in football in 2015, but that doesn't mean there weren't a number of talented players spread among the Indianapolis Colts, Houston Texans, Jacksonville Jaguars and Tennessee Titans.
Perhaps not surprisingly, it's the division champion Texans who emerge with the most players honored on the All-AFC South offensive team. But the Jacksonville's combination of youth and promise at some of the game's highest profile positions provides ample reason for optimism heading into 2016. These are the best offensive players at every position in the AFC South.
Blake Bortles, quarterback
Bortles followed up an uneven rookie season with a year that more than justified Jacksonville's decision to take him third overall in the 2014 draft. The second-year quarterback threw for a franchise-record 4,428 yards and 35 touchdowns in 2015. His 35 touchdown passes were second most in the NFL, tailing only New England Patriots quarterback Tom Brady. While he'll need to cut down on his NFL-high 18 interceptions next season and improve on his decision making at times, Bortles has all the makings of a franchise quarterback.
Frank Gore, running back
Gore's first season in Indianapolis didn't result in the deep postseason run he and the team hoped for. In fact, the preseason favorite Colts didn't even make the playoffs. Still, it's hard to fault Gore's effort. Playing behind an inconsistent offensive line, the 11-year veteran ran for 967 yards and six touchdowns. At 32, he proved he's still productive and durable, starting all 16 games for the fifth season in a row.
DeAndre Hopkins, wide receiver
Hopkins quickly erased any question whether the Texans would feel the absence of longtime star Andre Johnson with a breakout season in 2015. The three-year veteran caught 111 passes for 1,521 yards and 11 touchdowns en route to his first Pro Bowl selection. The 23-year-old finished third in the league in both receptions and yards and sixth in receiving touchdowns. Hopkins numbers were even more impressive considering he had four different starting quarterbacks throughout the season. No matter. Hopkins topped 100-yards receiving with each of the four signal-callers he played with in 2015.
Allen Robinson, wide receiver
If Hopkins is the best young receiver in the division, Robinson isn't far behind. The second year receiver caught 88 passes for 1,400 yards and 14 touchdowns, becoming the first Jacksonville receiver to break the 1,000-yard mark in a decade. Robinson's 14 touchdown catches tied for the league lead and helped earn him a spot in the Pro Bowl alongside Hopkins. His emergence should give Bortles a legitimate No. 1 receiver for years to come.
Allen Hurns, wide receiver
Hurns, a 2014 undrafted rookie free agent, joined Robinson in eclipsing the 1,000-yard mark, catching 64 passes for 1,031 yards and 10 touchdowns. The 24-year-old's standout season came despite playing through a sports hernia most the season. He and Robinson combine to form arguably the league's top young receiving duo.
Delanie Walker, tight end
On a team that struggled throughout the season, Walker stood out as the Titans' main offensive threat outside of rookie quarterback Marcus Mariota. The 10-year veteran led all NFL tight ends with 94 receptions, becoming just the ninth tight end in league history to catch at least 90 passes in a season. Walker finished the season with 1,088 receiving yards and six touchdowns as well.
Taylor Lewan, left tackle
Yes, Lewan was part of a line that gave up an NFL-high 54 sacks as well as 105 quarterback hits. But the second-year tackle actually acquitted himself nicely consider the line's overall struggles. Per Pro Football Focus, Lewan only allowed a combined 23 sacks, hits and hurries in 15 games. While he's not yet proved himself to be an elite tackle, Lewan at the very least, he's shown can be a dependable starter on what the Titans hope will be an improved line next season.
Jack Mewhort, left guard
Mewhort started the season at right tackle and then shifted to left guard amid a shakeup on the offensive line after Week 2. He appears to have found a home there. According to PFF, the second-year player didn't allow a sack in 2015. Much of the Colts' line needs improvement, but the left side seems set with Mewhort lining up next to tackle Anthony Castonzo.
Ben Jones, center
In his first season as Houston's center, Jones played in every game, providing consistency and leadership amid a series of injuries along the offensive line that resulted in eight different starting combinations over the first eight games. He was also able to work effectively with four different starting quarterbacks, while playing through a back injury and a sprained MCL. A free agent, the Texans should make re-signing Jones a priority.
Brandon Brooks, right guard
The best of a weak group of AFC South right guards, Brooks started 14 regular-season games, as well as the Texans' playoff loss to the Kansas City Chiefs. The four-year veteran has been a starter the last three seasons, and like Jones, is headed for free agency. If he doesn't re-sign with Houston, Jones figures to draw significant interest on the free agent market.
Derek Newton, right tackle
The former seventh-round draft choice has started 62 regular-season games over the past four seasons. He put his versatility on displaying in 2015, starting at both guard positions, as well as he usual tackle spot because of injuries. Despite the shuffling up front, as well as the loss of star running back Arian Foster for much of the season with a pair of injuries, Newton was part of a line that helped the Texans finish in the top half of the league in rushing, averaging 108.2 yards per game.