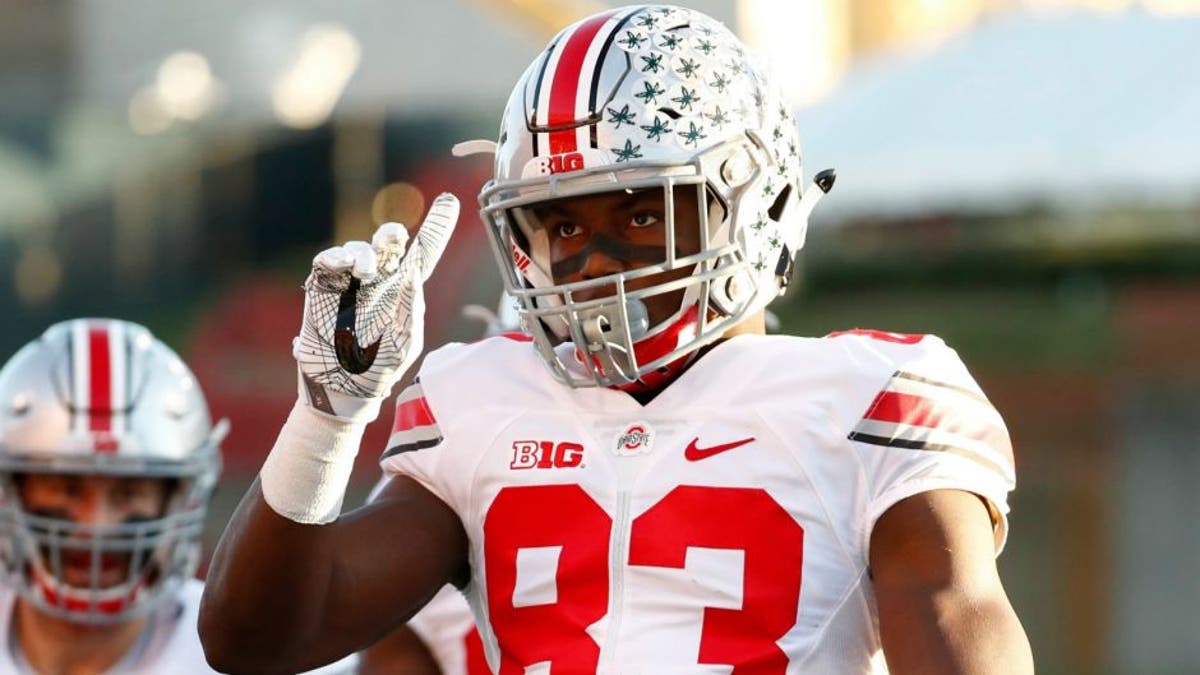 Hey everybody. It's Monday. Time for Immediate Recovery.
(Note: To send questions for my Wednesday Mailbag, email Stewart.Mandel@fox.com)
*****
When chaos finally struck the 2016 season, it spared almost no one not named Alabama. No. 2 (Clemson), No. 3 (Michigan) and No. 4 (Washington) all went down. No. 5 (Ohio State) somehow saw its playoff hopes rise but its conference title hopes plummet.
November in college football never fails to come up with something new.
But something also feels very different about this edition of November chaos. In the immediate aftermath of Pittsburgh's 43-42 upset of 9-0 Clemson, many of my Twitter followers wanted blood. Surely the fraudulent Tigers, having finally been exposed by the mediocre Panthers, would plunge down the rankings Sunday.
But soon it became apparent that in fact nothing had really changed for Clemson. Same for Michigan following its 14-13 loss at middling Iowa. Both retained the same path to the playoff they did coming into the games.
As FootballScoop's Zach Barnett aptly theorized, "If everyone loses, does anyone really lose?"
Here, now, I separate the remaining contenders by the degree to which they control their own fate.
Win out and get in
Alabama: The 10-0 Tide, which clinched the SEC West on Saturday with Auburn's loss to Georgia, are in such great shape at this point they could rest their starters for the Nov. 26 Iron Bowl and come out completely unaffected. Just win the SEC championship game against 7-2 Florida or 7-3 Tennessee.
Michigan: The 9-1 Wolverines still win the Big Ten East if they handle 5-5 Indiana and win the big one at 9-1 Ohio State. And they've beaten three current AP Top 12 teams (No. 6 Wisconsin, No. 9 Penn State and No. 12 Colorado). Follow that up with a win in Indianapolis and they're safely in the top four.
Clemson: The 9-1 Tigers still hold three likely Top 25 wins (four if you include Troy, which entered the AP poll this week), and its 42-36 win over Louisville has essentially created a firewall between them and the 9-1 Cardinals winning their division or passing them in the rankings without a second Clemson loss. A 12-1 ACC champion with likely a fourth Top 25 win in Orlando will be in.
Ohio State: Barring a Penn State loss to 3-7 Michigan State or 2-8 Rutgers, Ohio State will get boxed out of the Big Ten title game. But if the Buckeyes win out, their resume will include three wins over current AP Top 10 teams (Oklahoma, Wisconsin and Michigan), a close road loss to another (Penn State) and a fourth Top 25 win (Nebraska.)
I'd call that unequivocal. The committee would, too. Which means the Big Ten might be sending two to the Dance.
Still in good shape
Washington: A potential 12-1 Pac-12 champ will be squarely in the mix. But with just one Top 25 win to date (AP No. 11 Utah), they're unlikely to match resumes with any of the teams above, even if they beat No. 20 Washington State and a ranked South Division champ (Colorado, Utah or USC).
U-Dub fans should root for Michigan to win the Big Ten, ruling out any possibility of a second team from that conference.
Wisconsin: The Badgers could finish an 11-2 Big Ten champ that would beat a Top 10 team in the conference title game on top of two Top 25 wins already (AP No. 16 LSU and No. 19 Nebraska). And their two losses were to Top 5 teams Ohio State and Michigan. They'd trump the Big 12 and possibly Pac-12 champs.
Still needs help
Louisville: Though the 9-1 Cardinals rose to No. 3 in the AP and coaches poll, they're still likely to finish with just one Top 25 win (Florida State), and the committee will hold their head-to-head loss to Clemson against them. They either need Clemson to lose this week, or the Pac-12 to produce a two-loss champ.
Penn State: The 8-2 Nittany Lions are a lock if they win the Big Ten title right? … Well, maybe not. That Ohio State win is their only Top 25 belt to date. Their resume and 11-1 Ohio State's would not be particularly close. And with TCU and Baylor in 2014, we learned head-to-head only comes into play as a tiebreaker.
Call me crazy, but I think the Buckeyes would get first dibs. Or they could both make it.
Colorado, Utah and Washington State: If any of the trio emerges as an 11-2 Pac-12 champ they will likely have beaten at least three Top 25 foes to get there. Not bad. But would that be enough to beat out 11-1 Louisville if it comes to that?
Still needs a miracle
Oklahoma, West Virginia and Oklahoma State: I don't want to dismiss the Big 12 out of hand, but it's hard to envision a combination where one of these teams finishes with a top-four resume. The Sooners' and Cowboys' best-case scenarios involve two Top 25 wins, and the Mountaineers' is one. And no 13th data point.
USC, Florida: The 7-3 Trojans are gaining newfound respect by the week, but they need both Colorado and Utah to lose to make the Pac-12 title game. And then they need the committee to excuse three early losses. As for the Gators, they need to beat LSU, Florida State and Alabama all in a row. So, a miracle.
And now, a few more takeaways from Week 11 as we reset the landscape for Week 12.
Lamar Jackson can wrap up the Heisman on Thursday night
It's always dangerous to declare anything over before it's truly over -- but let's be honest. The Heisman race is nearly over.
Not only has Louisville's star continued to maintain his near wire-to-wire stranglehold on top of nearly every Heisman Watch list on the Internet, but the rest of the field is hardly helping itself. Three primary competitors -- Washington QB Jake Browning, Clemson QB Deshaun Watson and Michigan LB Jabrill Peppers -- all suffered losses Saturday. There's little consensus surrounding anyone else.
On Thursday night, Jackson's team visits 8-2 Houston in a game that's lost considerable sizzle since the Cougars' early-season hype, but should still be highly watched. If Jackson produces anything close to his season-long heroics -- 2,898 yards passing, 1,334 yards rushing, 46 total TDs -- no one's going to catch him.
But if he loses? Folks will likely go scrambling to find an 11th-hour flavor from amongst Alabama QB Jalen Hurts, Ohio State QB J.T. Barrett or Oklahoma QB Baker Mayfield, among others.
Ed Orgeron's still got a shot
LSU (6-3, 4-2 SEC) bounced back from its Alabama loss in impressive fashion, thumping a (briefly) ranked Arkansas team 38-10. Derrius Gice (21 carries for 252 yards and two TDs) and Leonard Fournette (17 for 98 and three) shredded a Razorbacks (6-4, 2-4) defense that had apparently not righted itself against Florida the week before after all. (Arkansas now ranks 128th out of 128 in rushing defense. Ouch.)
"This is a new team, a new mindset," Orgeron said afterward. "We do things different. We act different, and you saw that tonight."
Orgeron is now 4-1 since taking over as LSU's interim coach, with tough but manageable games coming up against Florida (7-2, 5-2) on Saturday and at Texas A&M (7-3, 4-3) on Thanksgiving night. Win both, and the safe bet is that Coach Oeaux will be back in 2017.
Mark Helfrich does not
A month ago, I felt Oregon, despite clearly headed toward a losing season, would not fire its coach after this season, with Helfrich less than two years removed from a national title game and owed a roughly $11 million buyout.
But the situation in Eugene has spiraled so drastically that his ouster now appears inevitable.
On Saturday, Stanford, which came into the game ranked 120th nationally in scoring offense, lit up the Ducks' woeful defense for 52 points in three quarters, winning 52-27. The loss sealed a sub.-.500 season for 3-7 Oregon, but it's not just the losing; it's the continued embarrassments. Saturday marked the program's third home loss by 25-plus points since last season, not to mention blowing a 31-point lead to TCU in last year's Alamo Bowl.
With rumors swirling about mega-booster Phil Knight and other donors willing to pony up big for a new coach, the question now is, who can Oregon get? Because no, Chip Kelly is not coming back to Eugene. But Tom Herman (if Texas keeps Charlie Strong), P.J. Fleck or perhaps Dana Holgorsen could be tempted.
Shea Patterson makes quite the entrance
With QB Chad Kelly lost last week to a season-ending ACL injury, Ole Miss coach Hugh Freeze took the redshirt off his touted true freshman for Saturday's game at Texas A&M. The nation's top-ranked quarterback recruit threw for 338 yards and two touchdowns to rally from a 21-6 deficit for a last-second 29-28 road win.
"I've recruited this kid since he was a ninth-grader and I've kind of always known that he has that 'it' quality," Freeze said afterward. "The guy just makes plays. He doesn't get rattled a lot."
Some questioned Freeze's decision to burn Patterson's redshirt in the 10th game of the season. Now, he looks like a genius. Ole Miss (5-5, 2-4 SEC) has a chance to end its thus-far rough season on a high note if it beats both Vanderbilt (4-6, 1-5) and, most importantly, Mississippi State (4-6, 2-4) down the stretch.
Boise State has new life
In both of the first two committee rankings, Boise State (9-1, 5-1 MWC) hovered just one spot behind undefeated Western Michigan for highest-ranked Group of 5 team. But unlike Western, Boise did not control its own conference title fate. It still doesn't, but it did get some help Saturday night.
UNLV's wild 69-66 triple overtime upset of Wyoming (7-3, 5-1) sent the conference's Mountain Division into a three-way tie between Boise, Wyoming and New Mexico (7-3, 5-1). If Boise wins out and either San Diego State (9-1, 6-0) or the Lobos beat Wyoming, Boise will face the Aztecs in the Mountain West title game.
That game alone might push either the Broncos or 12-1 San Diego State above 13-0 Western Michigan.
But there's another budding G5 contender out there -- Navy. With their 42-40 win over Tulsa on Saturday, the Midshipmen (7-2, 5-1 AAC) now sit alone in first in their division, with wins over Houston and Notre Dame. It will be interesting to see if they crack the rankings this week.
Just for fun …
With a last-minute win over Ball State on Election Night, longtime MAC cellar dweller Eastern Michigan -- 1-11 just last season, 2-10 for three straight seasons before that -- clinched bowl eligibility for the first time since 1995. With 80 bowl berths for the taking, the Eagles (6-4, 3-3 MAC) will have no trouble finding a December destination.
Unlike the last time this happened.
Despite its 6-5 record in '95, EMU did not garner a bowl invite. Nor in 1989 when it went 7-3-1. The only previous bowl appearance in the program's history was a 30-27 win over San Jose State in the 1987 California Bowl in Fresno.
Sadly, that game went kaput just four years later. Which got me wondering: How many bowl games from 1987 still exist in the same form today?
There were a modest (by today's standards) 18 bowls played that year. The breakdown:
Unchanged (12): Rose, Sugar, Orange, Fiesta, Cotton, Citrus, Peach, Gator, Liberty, Holiday, Sun, Independence.
Rebranded (1): Hall of Fame (now Outback).
Dearly departed (5): Bluebonnet (Houston), Freedom (Anaheim), Aloha (Honolulu), All-American (Birmingham) and California.
While "Shreveport" has become a punchline for two poor 6-6 teams, note that the Independence Bowl predates more than half of today's games and outlasted events in Hawaii and California. Also: Houston's got nothing on El Paso.