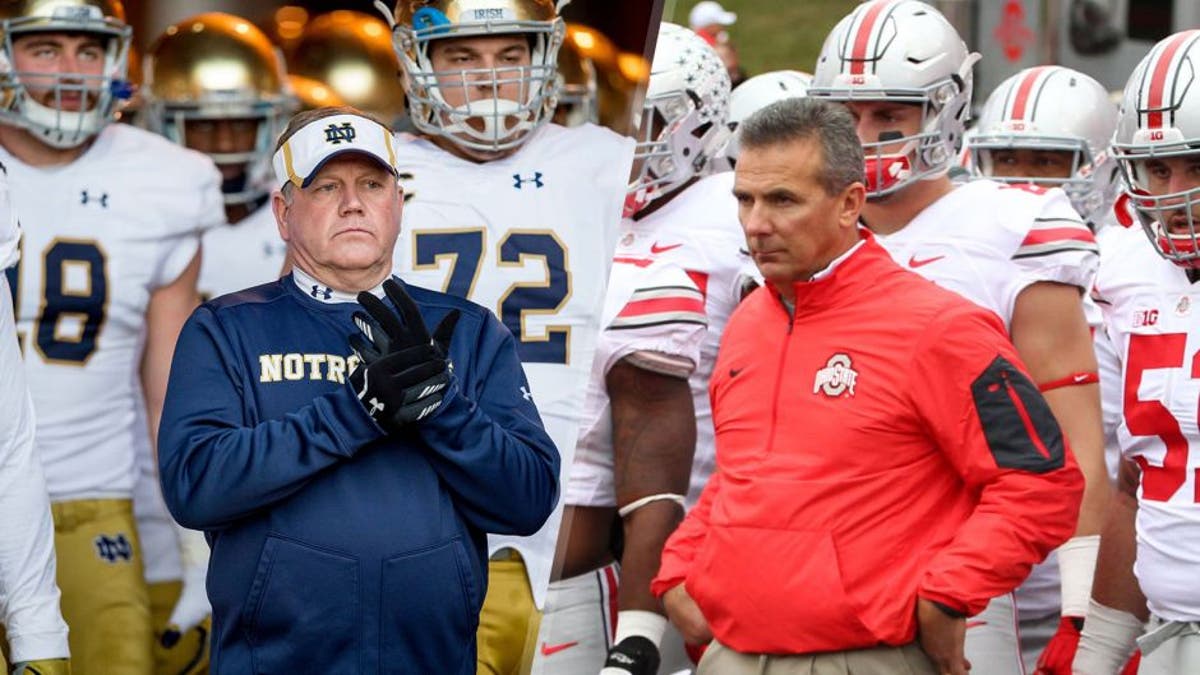 With a record number of early entrants bolting for college to enter the NFL Draft, you knew some college programs would be rocked -- and they were.
Perhaps the biggest surprise was that the school that often takes the hardest hit -- LSU, which a few years ago lost 10 underclassmen early -- came away almost entirely unscathed. Defensive studs Kendell Beckwith, Lewis Neal and Tre'Davious White opted to stay with the Tigers for another season (That, coupled with the arrival of DC Dave Aranda to go with a loaded sophomore class, has me very optimistic about the Tigers in 2016).
This week's Top 10 is a list of programs that were hit the hardest by early NFL departures.
1. Ohio State: Urban Meyer and the Buckeyes have had a fantastic week in recruiting -- new OSU commit Dwayne Haskins is arguably the top QB in the 2016 class -- but that figures to do little to pick up the slack this fall. Ohio State's defense was decimated. DL Joey Bosa is gone. So is LB Darron Lee, as well as DBs Vonn Bell, Eli Apple and Tyvis Powell. Bosa and Lee were expected to leave. The latter three could've gone either way, but all opted to bolt. Same for WR Jalin Marshall. He's exiting along with QB Cardale Jones, RB Ezekiel Elliott and WR Mike Thomas from the offensive side. Elliott and Thomas both will be sorely missed. The OSU staff has to hope that Noah Brown -- like Thomas, a big and physical wideout who was the Buckeyes' revelation of fall camp before being lost for the season with a broken leg -- is back and ready to be a star.
2. Clemson: Brent Venables, the Tigers' DC, proved in 2015 he's quite adept at reloading after losing a lot of talent to the NFL. Now, he'll face perhaps an even bigger challenge with six underclassmen departing, led by two All-American-caliber DEs Shaq Lawson and Kevin Dodd. In the postseason, Dodd was as dominant as any defensive player in college football; he had 10 tackles for loss and five sacks in Clemson's last three games. The Tigers also lost both safeties -- huge Jayron Kearse and T.J. Green -- plus their best coverman, CB Mackensie Alexander, along with LB Travis Blanks. In all, they lost a staggering 338 tackles, 67 TFLs, 26.5 sacks and 18 passes defended from the early-exit guys.
3. UCLA: The Bruins' departures started early when stud LB Myles Jack announced he was out after suffering a season-ending knee injury. He may have been the most versatile LB in college football. Then, they lost their best defender in DT Kenny Clark along with their best RB Paul Perkins (the leading rusher in the Pac-12 in 2014), not to mention their most reliable receiver Thomas Duarte and two O-linemen: Caleb Benenoch and Alex Redmond. The good news: Conor McDermott, their most talented O-lineman, did decide to return.
4. Cal: Sonny Dykes' team lost two guys, which is a lot fewer than many others in my top 5. But the problem is who they lost. QB Jared Goff was fantastic. He had a 43-13 TD-INT ratio this season (96-30 in three years). Simply put: Without Goff this season, Cal (8-5) might not have won more than three games in 2015. The Bears also lost big-play WR Kenny Lawler, who caught 13 TD passes this season.
5. Notre Dame: This was the most athletic Irish team in decades. Three big reasons why: OT Ronnie Stanley, LB Jaylon Smith and game-breaking WR Will Fuller, all of whom are leaving behind another season of eligibility. The first two were expected. Fuller wasn't, as he had said he planned on staying. Running back C.J. Prosise also is leaving early. Speedy CB KeiVarae Russell also is out. That is a ton of speed for the Irish to lose, but Brian Kelly has recruited better than anyone has in South Bend since the Lou Holtz era. A name to remember in the wake of the Fuller exit: Equanimeous St. Brown, a rangy 6-foot-5 wideout signed last winter who coaches say is waaaay faster than many think.
6. Baylor: The Bears lost the best wideout in college football, junior Corey Coleman, and the best defensive player in the Big 12 in powerhouse DT Andrew Billings. They also lost early a good CB in Xavien Howard.
7. Arizona: The Wildcats probably would be higher on this list, but U of A already got to see what life was like without Scooby Wright this fall, because the do-everything LB/DE was sidelined for most of the year with injury. And it wasn't pretty. The 'Cats allowed more than a touchdown more than they did in 2014, and they produced a lot fewer negative plays. Not only is Scooby out early, but so is WR Cayleb Jones, the team's top receiver.
8. Mississippi State: Replacing senior QB Dak Prescott was going to be tough enough, but the Bulldogs also are losing early their top big-play threat, De'Runnya Wilson (60 catches, 918 yards, 10 TDs); the guy on the D-line around whom every OC has to game-plan, DL Chris Jones (7.5 TFLs despite lots of double-teams); and their No. 2 tackler, Beniquez Brown, a heady LB who also made 11 TFLs.
9. Ole Miss: The players who comprised the nucleus of Hugh Freeze's epic 2013 recruiting class are all doing three-and-outs. Former No. 1 overall recruit DL Robert Nkemdiche, who caused a ton of havoc at the line of scrimmage, is gone, although his final days in college football were actually quite stormy. The tougher pieces to replace are star WR Laquon Treadwell, who dazzled all season long, and LT Laremy Tunsil, who did miss a bunch of the season because of a seven-game NCAA suspension. Folks in Oxford are hopeful that top 2016 recruit Greg Little can come in and take over for Tunsil. That is a lot to ask of a true freshman O-lineman, but as we noted this summer, coaches who have worked with Little rave about how polished he already is.
10. Arkansas: The Hogs' offense was hit very hard by early exits, starting with Hunter Henry, the best tight end in the country. They also lost a good O-lineman in Denver Kirkland, plus RB Alex Collins, who ran for 20 TDs and almost 1,600 yards this season.
Bruce Feldman is a senior college football reporter and columnist for FOXSports.com and FS1. He is also a New York Times best-selling author. His new book, "The QB: The Making of Modern Quarterbacks," came out in October 2014. Follow him on Twitter @BruceFeldmanCFB and Facebook.