Texas Tech needs defense to step up to end losing skid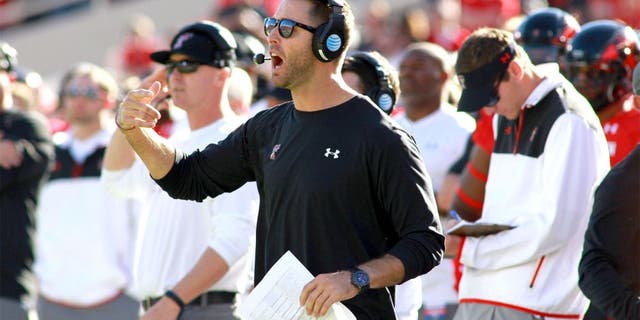 LUBBOCK, Texas (AP) -- Texas Tech and Kansas State are both looking to snap losing skids when they play on Saturday.
The Wildcats have lost five straight -- a first since 2008 -- and want to avoid their first six-game skid since 1989.
The Red Raiders have dropped their last three after a promising start, eliciting memories from coach Kliff Kingsbury's first season -- After starting 7-0, Texas Tech lost its final five games in 2013.
Even if they win their last two games, the Red Raiders (5-5, 2-5 Big 12) won't have a winning Big 12 record for a sixth straight season.
Both teams need the win to become bowl eligible: Kansas State (3-5, 0-5) requires wins in three of its final four games, while Texas Tech has to win one of its final two.
Kansas State coach Bill Snyder said it's not winning that he misses. The Wildcats have lost to four ranked teams the past five weeks.
"To me, it's not so much missing that," he said. "It's how much you despise the other side of it. When you are not successful, then that pain really lingers on. It's something you really have to fight to overcome."
Kansas State faces the second-best passing team in the Big 12, with Red Raiders' quarterback Patrick Mahomes averaging 392 yards per game.
Here are some things to watch for when Texas Tech hosts Kansas State:
GRANT CHALLENGE
Texas Tech WR Jakeem Grant has almost as many yards on kick returns (859) as he does receiving (965). He leads the Big 12 in all-purpose yards with 1,850 over 10 games. Snyder is worried about how Grant can impact the game. "How are they going to use him today? What are you going to see that you haven't seen before that will involve him? That's a concern," he said. "He can do all of it."
RECEIVER WOES
Texas Tech receivers dropped five passes in a loss at West Virginia, including two that could have been touchdowns. Freshman replaced starters last week, and the drops alarm offensive coordinator Eric Morris. "It's inexcusable," he said. "So we've got to continue to harp on it. We'll catch some extra balls and stay late, later than normal this week and we'll try to get it corrected."
RUN FIRST?
The Wildcats will likely run a lot after Texas Tech gave up 300 yards rushing in its loss at West Virginia. The Red Raiders have given up 33 rushing TDs and 273.6 yards rushing per game and have the third worst rush defense in the nation. Even the Red Raiders coaching staff knows what opponents will do. "Run, run, run like everybody else does, and they're good, they're well-coached, they're smart," Texas Tech defensive coordinator David Gibbs said. "So they'll look at us and be smiling from ear to ear."
MAHOMES REBOUND?
Mahomes will look to rebound after his least productive game of the season. He's second in the Big 12 in passing (28 TDs and 353.2 yards per game) but in the loss at West Virginia he threw for only 196 yards. Snyder is impressed by Mahomes. "I just like his competitive spirit, and I think that provides a great deal of leadership for his football team," he said. "They rally around him."
ONE-DIMENSIONAL QB
Kansas State QB Joe Hubener doesn't throw many passes (166 attempts in eight games). But the 6-4, 205-pounder has been effective running the ball, gaining 411 yards and scoring eight TDs. "He's a big, physical kid," Kingsbury said. "With our struggles against the run, we're going to see a heavy dose of him."