Texas Rangers' Hamilton confirms alcohol relapse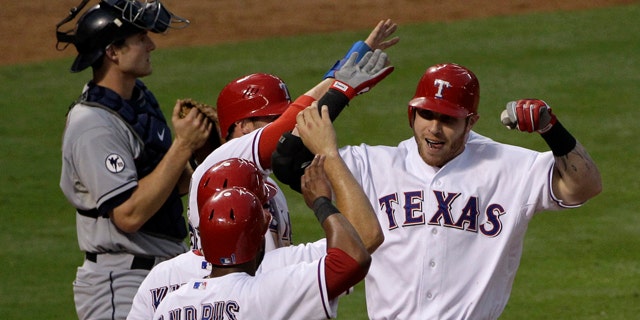 Texas Rangers outfielder and recovering drug addict John Hamilton admitted to having a relapse earlier this week when he drank alcohol at a Dallas-area bar.
Hamilton said he had a "weak moment" after having dinner on Monday, eventually consuming three or drinks. The 30-year-old confirmed an earlier report that he drank alcohol.
"It was just wrong," said Hamilton, who was suspended for more than three years for drug and alcohol use while in the Tampa Bay organization. He missed the entire 2004 and 2005 seasons, but has become one of the best players in baseball on a team that has won the last two American League pennants. He was the AL MVP in 2010.
"Once I do drink, I can be very deceptive, very sneaky in a lot of ways," Hamilton told reporters at a press conference.
Hamilton, who said he did not use drugs, apologized to his fans and teammates and said he's considering a treatment program.
"Everything is open at this point," he said.
In a statement to The Dallas Morning news prior to the news conference, the Rangers said they were "aware of a situation, but we don't have further comment at this time."
In a tweet on her account, Hamilton's wife, Katie, wrote: "Truly appreciate all the encouraging & supportive tweets we've been getting. God is Faithful and forgives- so thankful that you all are."
This was Hamilton's second known alcohol-related relapse in three years. In January 2009, he drank to excess in a bar in Tempe, Ariz. Before that, Hamilton said he hadn't taken a drink of alcohol since Oct. 6, 2005.
When the Rangers acquired him from the Cincinnati Reds on Dec. 21, 2007, they were aware of Hamilton's off-the-field problems and had a zero-tolerance policy regarding his drinking.
The Associated Press contributed to this report.