Texas A&M QB Allen has put on 25 pounds this offseason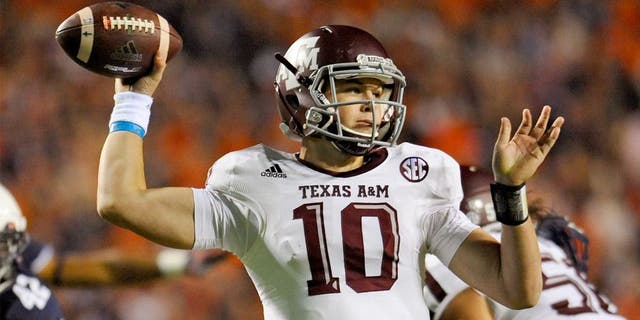 As expected, sophomore Kyle Allen will enter the season as Texas A&M's starting quarterback after an impressive half-season debut as starter at the end of 2014.
But, according to coach Kyle Sumlin, Allen won't look quite the same as he did the last time he took the field; Sumlin said at his Tuesday media availability that Allen has put on about 25 pounds this offseason. On top of that, his understanding of the offense from his freshman to sophomore seasons has grown substantially, Sumlin told the media.
"We challenged him in January to become a better leader and increase his knowledge, not only of our offense but of (opposing) defenses," Sumlin said, according to the Houston Chronicle. "He's had an excellent spring. ...
"His growth has been not only mentally, but physically. He played in the (Liberty Bowl) at 190, 195 pounds -- he's 215 now. He's come along just fine."
Offensive coordinator Jake Spavital echoed Sumlin's comments regarding Allen's maturation, both physical and mental.
"Just the difference in watching the bowl replay, you can tell how much weight he's put on," Spavital said told the media. "On the field, I'm impressed with his poise and his familiarity with the offense. He doesn't look sideways at me anymore on the sideline -- he understands what I'm trying to do. The game is really starting to slow down for him."