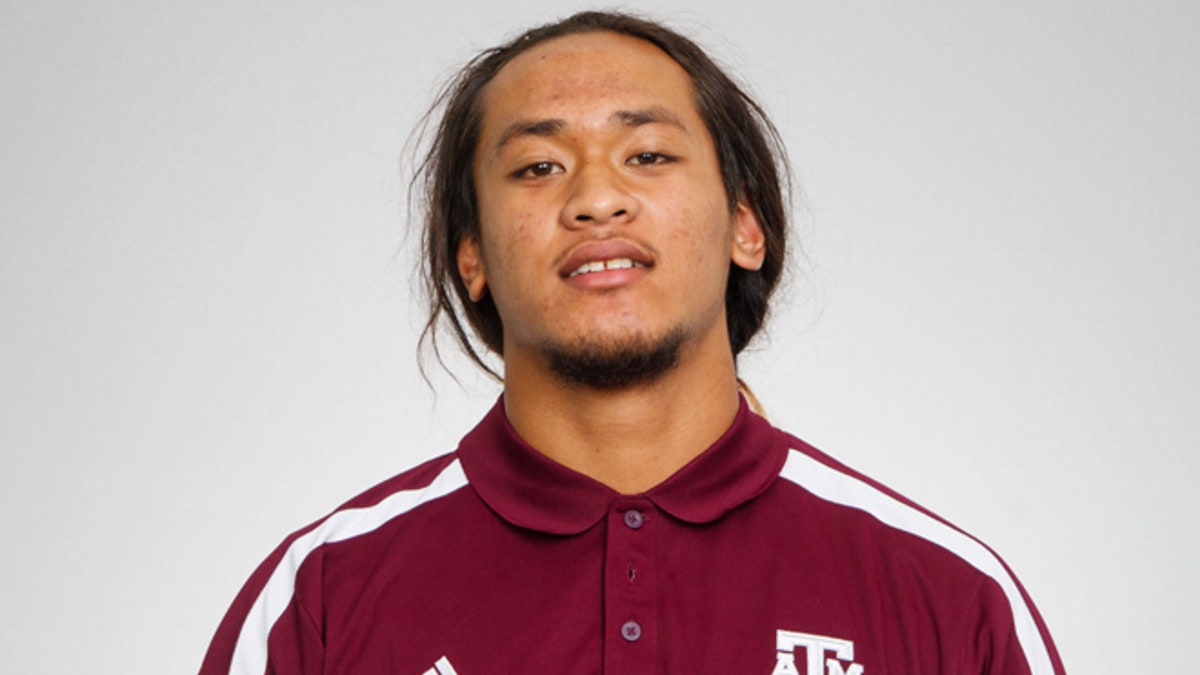 Texas A&M said Tuesday that redshirt freshman Polo Manukainiu and a friend who was joining the Utah football team this fall were among three people killed in a single-car rollover crash in the high desert of northern New Mexico, stunning both schools just days before fall practices begin.
Manukainiu, a 19-year-old defensive lineman for the Aggies, and 18-year-old Utah recruit Gaius "Keio" Vaenuku were killed, officials from both schools said.
The wreck happened Monday evening on U.S. 550 near Cuba, about 85 miles north of Albuquerque, apparently as the group was returning to suburban Dallas, where three of them had ties to prep football power Trinity High School in Euless.
New Mexico state police said Manukainiu and Vaenuku were passengers in a southbound 2002 Toyota Sequoia that drifted off the sagebrush-lined highway, according to Texas A&M. The driver overcorrected and the vehicle rolled several times.
Alcohol wasn't involved and it appeared that the driver, who was not immediately identified, was the only one wearing a seatbelt, authorities said.
Manukainiu and passenger Andrew "Lolo" Uhatafe died at the scene after they were ejected from the vehicle, the Texas A&M statement said. Vaenuku was pronounced dead in an ambulance that responded to the accident.
Survivors included Salesi Uhatafe and his son Salesi Uhatafe Jr., an incoming freshman football player for Utah and a stepbrother of Manukainiu. Both suffered only minor injuries, authorities said.
Manukainiu had apparently traveled to Salt Lake City for some relaxation, tweeting Sunday: "It's always good to get away from the Texas Heat for the weekend. Utah got that breezeeeeeee."
On Monday, hours before the accident, he tweeted: "22 hour drive back to Texas on no sleep. Oh my."
Manukainiu played football at Trinity High School in Euless, west of Dallas, and was part of the Aggies' 2012 signing class. He was a recreation, parks and tourism science major, the school said, and is survived by his mother, Lima Uhatafe of Euless.
"We lost a terrific young man," Texas A&M coach Kevin Sumlin said. "Polo was loved by his teammates and coaches. Anyone who came in contact with him was struck by his sense of humor and smile. My heart aches for his mom and family members."
Texas A&M finished last season ranked No. 5 after an 11-2 season, their first in the Southeastern Conference. They were led by quarterback Johnny Manziel, who became the first freshman to win the Heisman Trophy, and are expected to be highly ranked again this year.
"Heart hurts waking up to news about Polo," Manziel tweeted on Tuesday. "I think I speak for everyone on our team when I say we love you brother you will be missed."
It is the second such tragedy for Texas A&M in less than two years: Senior offensive lineman Joseph Villavisencio, 22, was killed in a December 2011 car accident after veering head-on into the path of an 18-wheeler 40 miles from College Station. He had spent part of that day delivering gifts to families at a local shelter. Manziel mentioned Villavisencio during his Heisman acceptance speech last year.
Vaenuku was a defensive tackle who had planned to play one year at Utah before going on a two-year Mormon mission, the Deseret News of Salt Lake City reported in January when he committed.
"Everyone who knew Gaius is heartbroken today," Utah coach Kyle Whittingham said. "He was the kind of young man who lit up a room and his future in football and life had no boundaries. Words cannot express our devastation over the loss of Gaius."
Vaenuku was a member of The Church of Jesus Christ of Latter-day Saints and considered playing at church-owned Brigham Young but he said he felt more at home in Salt Lake City playing for the Utes. His bio on the Utah website says Vaenuku he had three brothers and three sisters and enjoyed acting and singing.
The news stunned Trinity High in Euless, where Manukainiu, Vaenuku and Uhatafe Jr. all played football. The team has been one of the best in Texas in recent years, with three state titles in a span of five seasons from 2005-09 and a trip to the championship game in 2010.
Principal Mike Harris said the deaths have affected a majority of the Euless community, where there is a tight-knit Polynesian community.
"They were students with bright smiles that everybody knew and everybody loved," the principal said.
Texas A&M associate athletic director Alan Cannon said Manukainiu was known for his sense of humor and "will be sorely missed as a person you enjoyed being around." He said the football staff was working Tuesday to notify teammates of his death. Players are scheduled to report to campus Sunday to begin practicing for the upcoming season.
Cannon said Manukainiu was to wear jersey No. 90 and that it was too early to determine if players will affix the number to their uniforms as a tribute. The NCAA must approve any such recognition, Cannon said.