Texans praise Hoyer's leadership skills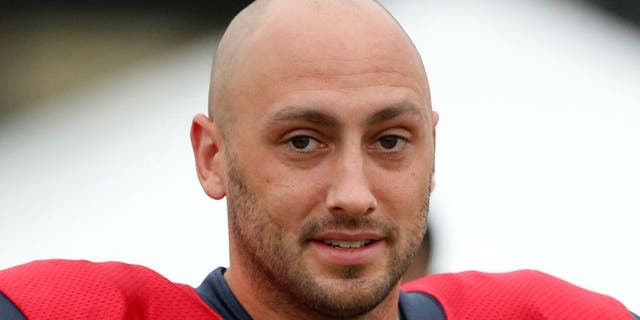 Monday's decision to name Brian Hoyer the Texans' starting quarterback was met with approval from teammates who've been impressed with the way the veteran has taken charge of team during his short time in Houston.
"He's a commander," wide receiver DeAndre Hopkins, per the Houston Chronicle. "He's the chief of this offense, and he handles himself like that on and off the field. When he gets in the huddle, he's the leader.
"You would think he's been in this offense 10 years. He's a hard-working guy. He hates making mistakes. If he makes a mistake, he beats himself up. On the next play he'll try to be perfect."
Hoyer, a seven-year veteran who signed with the Texans as a free agent in March after two season with the Cleveland Browns, beat out veteran Ryan Mallett for the starting job.
"Very underrated guy in the NFL," wide receiver Nate Washington about Hoyer. "He's a guy that can convert the lessons in the classroom to the field, and that's major when you get in that guy in that position to be able to do that. Everything we learned in the coaching sessions and in our film sessions, he's able to carry over. So, that'll be huge for us."
Wide receiver Cecil Shorts, who caught a 57-yard touchdown pass from Hoyer in Houston's preseason opener against the San Francisco 49ers, was equally optimistic about the Texans' chances with Hoyer as the starter.
"He's outstanding," Shorts said. "He's the leader of the huddle, he knows the offense like the back of his hand. If we have any questions out there, he tells us what to do and the right direction. He's just awesome out there. He's a true leader, on and off the field. It's going to be fun working with him."
Leadership skills aside, Houston's receivers say they also have no concerns about Hoyer's arm strength based on what they've seen.
"I don't question anything about him, about his arm strength, or about his ability to make plays," Hopkins said. "Just watching film on him in Cleveland, I want to say he had a ball about 70 yards that he threw, or maybe it was close to 80 yards.
"You know his arm strength isn't a question. He's been in this offense since he's been in the NFL, besides Cleveland, so if anyone can run this offense, he can."
(h/t Houston Chronicle)