Terrelle Pryor's first catch with Browns is a beauty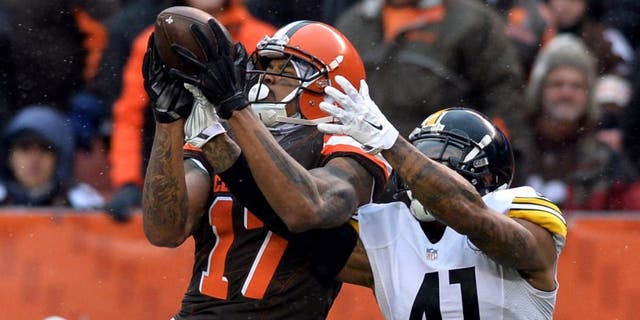 Just as his head coach said in training camp, Cleveland Browns receiver Terrelle Pryor looked the part while bringing down a 42-yard catch in Sunday's game against the Pittsburgh Steelers.
Pryor capitalized on a size mismatch with Antwon Blake, outleaping the Steelers corner while streaking down the left sideline for his first catch since converting to receiver this summer. Pryor is 6-foot-4 while Blake is listed at 5-foot-9.
Pryor has one previous reception in his career, a 22-yarder in 2012, his second season in Oakland. Browns head coach Mike Pettine sung Pryor's praises for his progress in the switch from quarterback when he had him on the roster the first time around back in August. Pryor tried out with a handful of teams but did not land a contract until Cleveland brought him back in the beginning of December.