Tensions rising in Ducks-Predators series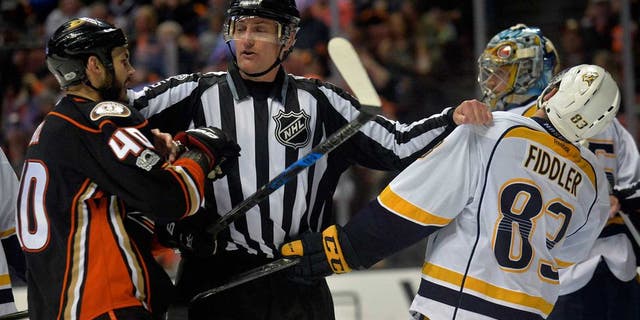 Consider the ante upped in the Western Conference finals, and not just because the Anaheim Ducks rallied from an early two-goal deficit Sunday to beat the Nashville Predators 5-3 and even the best-of-seven series at one game apiece.
Things got chippy as the teams established a level of hatred one would expect with a conference final. Anaheim's Ryan Kesler and Nashville's Ryan Johansen chirped and exchanged slashes, as well as other forms of creative stick work.
Even Predators forward Filip Forsberg, who has never been confused with, say, Claude Lemieux, snuck in a stick to the groin of the Ducks' Jacob Silfverberg just before the second period ended. The officials missed that one, as well as a two-hander to the back of the legs of Nashville defenseman P.K. Subban late in the third period.
Johansen, whose goal and assist got the Predators off to a quick start Sunday night, had no trouble making his feelings about Kesler known.
"It just blows my mind," Johansen said. "Watching him play out there, how can his family and friends cheer for a guy like that? I'm just trying to play hockey, and it doesn't make sense when you have to pull a stick out of your groin every shift."
Johansen may not have to worry about Kesler's stick as often the next two games, including Game 3 Tuesday night. With Nashville deriving the last shift change due to home-ice advantage, coach Peter Laviolette could opt to keep Johansen away from Kesler.
Then again, it's not like Kesler is shutting down Johansen, regardless of where his stick winds up. Johansen drew assists on the first two goals in Game 1, a 3-2 overtime win for the Predators, and has 13 points in their 12 playoff games.
Nashville's bigger concern could be, for the first time in the playoffs, goalie Pekka Rinne. After allowing just 16 goals in the first 11 games, Rinne permitted four goals on 26 shots Sunday, including a pair high to the blocker side -- an area Anaheim believes it can beat the 6-foot-5 netminder.
Nick Ritchie's tiebreaking goal at 17:07 of the second period was a wrister from the left faceoff circle that flew over Rinne's blocker into the net's roof.
"You feel like you could have saved that one," Rinne said. "It's a tough break, tough play … for sure, I want to have that back."
But Rinne and his teammates should get a boost from returning to Bridgestone Arena, where they have won all five postseason games this spring by a combined score of 15-6. Dating to April 25, 2016, the Predators have captured nine straight games in front of their gold-clad audience.
Crowds of just over 17,000 have turned Bridgestone into hockey's version of Duke's Cameron Indoor Stadium or Kentucky's Rupp Arena. The noise is unrelenting, whether because of what the home team is doing or the fans' choreographed cheers.
But the Ducks might not feel intimidated by the prospect of winning in a barn that sounds like the end of an airport runway. They are, after all, the last visiting team to win a playoff game there, doing it twice last spring, although they still lost the first-round series in seven games.
"We're in a conference final here," Anaheim center Ryan Getzlaf said. "There's going to be no sweeps, no blowouts. Both teams are here for a reason. They're both playing hard."