Tennessee Titans preview (No. 32): It's all about Marcus Mariota's learning curve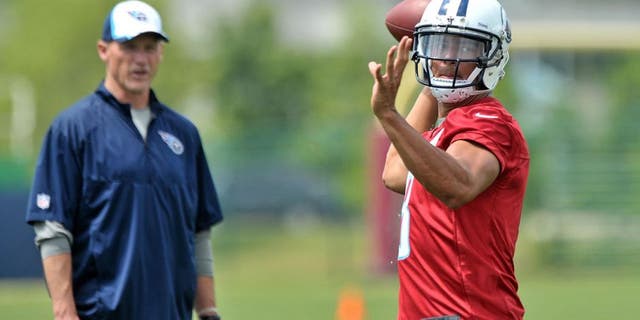 NEWYou can now listen to Fox News articles!
Our 2015 NFL preview series ranks every team, from worst to first. Today: the No. 32 Titans.
2014 record: 2-14
Head coach: Ken Whisenhunt (second season, 47-65 overall coaching record, 4-2 in playoffs)
Key arrivals: Hakeem Nicks (wide receiver), Anthony Fasano (tight end), Perrish Cox (cornerback), Byron Bell (tackle), Brian Orakpo (outside linebacker), *Marcus Mariota (quarterback), *Dorial Green-Beckham (wide receiver)
(*denotes rookie)
Key departures: Michael Oher (tackle), Eric Olsen (center), Nate Washington (wide receiver), Bernard Pollard (strong safety), Jake Locker (quarterback), Shonn Greene (running back), Quentin Groves (outside linebacker), Colin McCarthy (inside linebacker), Michael Roos (tackle), Chris Spencer (guard), Will Svitek (tackle), George Wilson (safety)
2015 schedule (ET)
Sept. 13: at Tampa Bay, 4:25 p.m.
Sept. 20: at Cleveland, 1 p.m.
Sept. 27: Indianapolis, 1 p.m.
Oct. 4: BYE
Oct. 11: Buffalo, 1 p.m.
Oct. 18: Miami
Oct. 25: Atlanta, 1 p.m.
Nov. 1: at Houston, 1 p.m.
Nov. 8: at New Orleans, 1 p.m.
Nov. 15: Carolina, 1 p.m.
Nov. 19: at Jacksonville, 8:25 p.m.
Nov. 29: Oakland, 1 p.m.
Dec. 6: Jacksonville, 1 p.m.
Dec. 13: at New York Jets, 1 p.m.
Dec. 20: at New England, 1 p.m.
Dec. 27: Houston, 1 p.m.
Jan. 3: at Indianapolis, 1 p.m.
TRAINING CAMP QUESTION: How much time will it take for a revamped secondary to jell?
Tennessee's opponents gained a first down on 38.7 percent of their pass completions last year, which was the NFL's fourth-worst rating. The Titans have since signed cornerback Perrish Cox (San Francisco) and strong safety Da'Norris Searcy (Buffalo) in free agency to pair with cornerback Jason McCourty and free safety Michael Griffin. Veteran depth at cornerback is a worry after Brandon Harris tore his ACL during an offseason practice, but the Titans will have an excellent chance of bolstering the position through the waiver wire. Because of last season's 2-14 finish, the Titans are No. 2 in the pecking order behind Tampa Bay through early in the regular season.
IF EVERYTHING GOES RIGHT
Marcus Mariota, the No. 2 overall pick in the draft, will be the starting quarterback in Week 1 and the Titans will do everything possible to protect him. They will keep him on his feet, won't put too much on his plate and will nurture him as he adjusts to the pro-style offense. Dorial Green-Beckham will make the Tennessee front office look smart for taking a risk on him, despite all of his red flags. This will be a season of growth for the Titans, and if they can avoid the pitfalls along the way, 2015 should be considered a success.
IF EVERYTHING GOES WRONG

Mariota wilts under the speed of NFL defenses and either fails to master reading defenses or relies too much on his feet and falls victim to injury. Second-year running back Bishop Sankey fails to take the next step and free-agent signings such as Brian Orakpo can't measure up to their past success. Anything less than four wins in 2015 and the front office will start to get itchy. Head coaches have been fired for less.
BREAKOUT PLAYER: Running back Bishop Sankey
Although he was the first running back drafted in 2014, Sankey ranked seventh among all rookie rushers last season. With the Titans set to field a better offensive line, Tennessee has confidence Sankey can excel and take some of the pressure off Mariota.
CIRCLE THE DATE GAME: at Tampa Bay in Week 1 (4:25 p.m. ET/Sept. 13)
Tampa Bay's Jameis Winston and Mariota will always be linked as the first two players taken in the 2015 draft. The comparisons between the quarterbacks will continue here as both are likely to make their NFL debuts.
ALEX MARVEZ'S PREDICTION: 3-13, fourth place
When he was hired last year, head coach Ken Whisenhunt believed there was no need for patience and the Titans would be ready to compete for a playoff berth immediately. That assumption proved poor as Tennessee's 2-14 record. The only positive to come from such failure was having the chance to draft Mariota with the No. 2 overall pick. Whisenhunt immediately installed Mariota as his starter, which means Tennessee's offense will be taking its lumps once again in 2015. Mariota's development will be accelerated if the Titans can field a better running game.
Sankey didn't justify his status as the first running back selected in the 2014 draft. He averaged 3.7 yards on 152 carries and never gained more than 61 yards in a game. A shoddy offensive line didn't help matters. Tennessee's best offensive player does return in tight end Delanie Walker, who quietly put together a 63-catch, 890-yard receiving season after coming from the San Francisco 49ers.
Legendary defensive coordinator Dick LeBeau was brought in following his departure from Pittsburgh to oversee what was the NFL's second-worst run defense in 2014. The addition of Orakpo (Washington) and re-signing of Derrick Morgan gives LeBeau two double-digit sack candidates to work with. The Titans must prove staunch up front to cover for a secondary that still needs a lot of work.