Tennessee Titans at Miami Dolphins game preview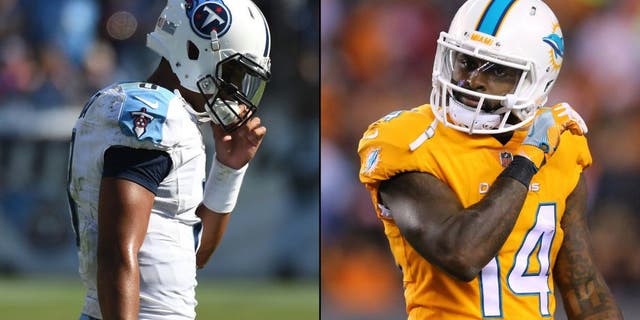 TV: CBS
Time: Sunday, 1 p.m.
DAVIE, Fla. -- The Tennessee Titans and Miami Dolphins are off to awful starts -- each team is 1-3 and tied for last place in their respective division. They meet on Sunday at Miami's renovated Hard Rock Stadium.
"We have to put out a better product than we showed the last time we were out there," said Dolphins first-year coach Adam Gase. "That's what this season is going to be about for us, we've got to keep getting better every week. That's going to be key to us. If we do that, that gives us our best chance."
The Dolphins shifted their practice schedule this week with Hurricane Matthew forecast to make landfall in South Florida on Thursday afternoon. The NFL is monitoring the storm and Gase said player and fan safety was the top priority, not keeping with the plan to play a game in Miami Gardens on Sunday.
A final option would include moving the game to Nashville, but neither team expected that to happen at midweek.
Things are far from routine around Titans headquarters after another poor start.
Titans coach Mike Mularkey has already hit the panic button, firing special teams coach Bobby April just four games into the season.
"I'm not putting all the blame on Bobby," said Mularkey, who fired April on Monday.
April is a long-time assistant, twice named Special Teams Coach of the Year.
April, who was replaced by Steve Hoffman, who is in his 27th NFL season and his fourth with Tennessee, lost his job after the Titans had 12 men on the field on a Houston second-quarter punt that turned into a Texans field goal last week. In the third quarter, Houston burned Tennessee for a 67-yard punt return for a touchdown.
Those two plays cost Tennessee 10 points in a 27-20 loss within the AFC South Division that the Texans lead with a 3-1 record.
The Dolphins are in similarly desperate shape, somehow trailing AFC East leader New England by two games just four weeks into the season despite the fact that the Patriots have been using their second- and third-string quarterbacks.
Tom Brady is back from a four-game suspension this week when New England visits the Browns.
Gase is hopeful the Dolphins can turn their fortunes with a four-game homestand.
The Titans are 1-3 for the third straight year and the fourth time in the past five seasons.
Last year, coach Ken Whisenhunt started 1-6 for the Titans before getting fired. Mularkey, an assistant under Whisenhunt, was promoted to interim coach. He is catching heat after beating the Detroit Lions to open the season and then losing three in a row entering Miami.
The Titans have lost to three teams with a combined 9-2 record -- Minnesota, Oakland and Houston -- and the past two defeats have gone down to the last possession.
The rest of Tennessee's October schedule should ease up. After Miami, the Titans play host to the Cleveland Browns (0-4), the Indianapolis Colts (1-3) and the Jacksonville Jaguars (1-3).
Miami won its only home game, but it was against the Browns, and the Dolphins needed overtime to prevail after Cleveland's backup kicker missed a field goal that would have won them the game at the end of regulation.
Neither Miami nor Tennessee has shown the ability to score effectively this season. The Dolphins are averaging just 17.8 points, which ranks 28th in the NFL. The Titans are averaging 15.5 points and are dead last, 32nd.
One of Miami's problems has been the running game. Gase, who calls the plays, has not shown a commitment to the run, especially with opening game starter Arian Foster (groin) out the past two games. Gase called just 13 runs and got 62 yards last game against the Cincinnati Bengals.
Clearly, Gase would rather pass the ball, but Dolphins quarterback Ryan Tannehill takes a lot of sacks (11 so far) and has been intercepted five times.
In Gase's defense, management didn't leave him with much at running back when they let speedy Lamar Miller -- a 1,000-yard runner in his prime -- go via free agency.
The Dolphins planned to replace him with Jay Ajayi, a second-year back who has not proven to be ready. Foster has not been available. The Dolphins have started Kenyan Drake twice and Damien Williams once. Ajayi is back from suspension, and Isaiah Pead is also getting carries.
"We will try to narrow it down," Gase said, noting Foster returned to the practice field for individual work and looked good Wednesday. "(Having multiple running backs) is hard on the offensive line and on the backs and on myself as a play-caller."
The Titans, unlike the Dolphins, have a good situation at running back with veteran starter DeMarco Murray (340 yards, 5.2 average) and promising rookie Derrick Henry (97 yards, 3.7 average).
"We have to do a great job of making sure that we're disciplined on defense, making sure we're gang-tackling," Gase said. "When we have a chance to get him down, get him down. Don't let him break a tackle. We have to be swarming to the ball. When he has his big games, it's because you have one-on-one and he ends up running a guy over or making a guy miss. So we have to play team defense against him."
Tennessee ranks fourth in the NFL with 127 rushing yards per game. But the Titans rank 27th in the league with 221.0 passing yards.
Tennessee's Marcus Mariota, 22, was the second pick in the 2015 draft. He has been intercepted five times and sacked seven times this season but is also a threat to run with 72 yards and a 5.5-yard average.
"I think we all have to get better," Mularkey said. "Not just Marcus."