Tennessee loses second O-lineman to season ending injury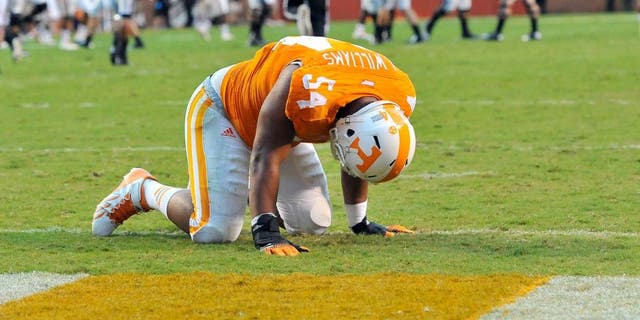 The injury bug has bitten Tennessee's offensive line yet again, this time ending the season of redshirt sophomore Austin Sanders. Sanders suffered a torn bicep, the same injury that struck senior Marcus Jackson last week.
Head coach Butch Jones confirmed the news following Thursday's practice session.
"We have lost one individual, so it is number two in terms of a season-ending injury, and that is Austin Sanders," Jones said. "We lost him the other day, and he will be out for the entire year. It is really the same injury that Marcus Jackson had, a bicep tendon.
"It just happens with body position. He extended his arm and in a contact phase of a block. He extended his arm, and his bicep tendon went. So, he is scheduled to have surgery shortly. We'll monitor his academics. We love Austin, and we know he will do a great job in recovery. But, we have lost him for the year."
Sanders was not expected to compete for a starting spot in the lineup this season but would have been looked to to provide quality depth at a position that often needs to rely on the second unit. Jones will now look to a freshman to step up and contribute now that the opportunity has presented itself.
"The positive thing going in is that we have recruited to have some depth at the offensive line position, but it does set us back. It is another individual's opportunity for some of the young freshmen to step up in terms of Chance Hall, Jack Jones and a number of individuals. You never recover, but that is a position that we have built some depth there. Next man in--it's another person's opportunity."
The offensive line was the team's biggest weakness last season and now they are down two likely contributors before the season opener arrives. If a newcomer fails to emerge the offense could yet again sputter to start the season.
Tennessee has two weeks to figure out their starting five up front and find the best players on the roster to back them up. No pressure but the success of the season could very well rest on the choices they make in the next 14 days.