Tennessee forward Jarnell Stokes seeking to build on his big performance against Kentucky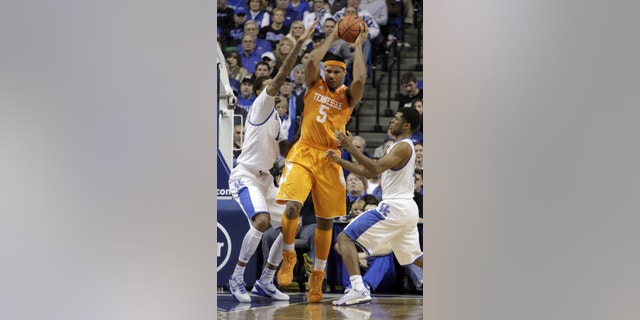 KNOXVILLE, Tenn. – Tennessee coach Cuonzo Martin has no doubt that junior forward Jarnell Stokes is one of college basketball's best big men.
"When you're talking about big guys, the way he rebounds the basketball, when he's moving and scoring the ball like that, there's no doubt in my mind," Martin said. "I'd take him up against anybody."
If the 6-foot-8 Stokes keeps playing the way he did in his last game, a few more people may start agreeing with Martin.
Stokes had 20 points and 15 rebounds Saturday in 74-66 loss at No. 14 Kentucky, which was ranked 13th at the time. Stokes will try to back up Martin's bold statement Wednesday when the Volunteers (11-6, 2-2 SEC) host Arkansas (12-5, 1-3).
"I feel like when you're not at a Top 25 (team), one of those top, big basketball schools, they don't compare you with one of the best bigs and they don't give you the credit that you deserve," Stokes said. "But we're waking up at 6 a.m. We're in the gym working on our game also. I feel like I've worked harder than any other big man in college basketball, so I deserve statements like that."
Tennessee usually is at its best when Stokes is at his best.
Before Saturday, Tennessee had won all 15 times Stokes had made at least six baskets in a game since his arrival on campus. Before that Kentucky game, Stokes had been averaging 15.8 points per game in Tennessee's wins and 8.2 points per game in the Vols' losses this season. He's averaging 13.8 points and 9.9 rebounds per game overall.
But his big performances haven't come consistently.
Stokes had four points and four rebounds before fouling out of a season-opening 67-63 loss at Xavier. He fouled out of a 70-61 loss at Wichita State with eight points and four rebounds. He had six points, five rebounds and four turnovers in a 57-56 home loss to Texas A&M.
"For him, it's playing each opponent the same, it doesn't matter who it is," Martin said. "I think the stage had something to do with that, with his level of play (against Kentucky). I think he wanted to play well against those guys. You have to be consistent with that."
Stokes said his problems in certain games have arisen from foul trouble rather than a lack of intensity. Stokes also had a bruised AC joint in his right shoulder that bothered him against Texas A&M, though he says he feels better now.
"I really feel like I've been playing the same every game as far as playing hard and bringing energy," Stokes said. "The Kentucky game, I just made three or four more baskets than I normally do."
Stokes expanded his game after deciding to return for his junior season rather than entering the NBA Draft. He also has become a more vocal player and spoke up after the Kentucky game about how the Vols needed to play at a faster pace.
He has developed a 15-foot jumper to complement his post moves. And after shooting just 56.8 percent from the foul line over his first two seasons, Stokes has made 72.8 percent of his free throws this year. Stokes also has benefited from playing alongside 6-8 senior Jeronne Maymon, who often defends an opponent's best big man.
"It's maturity in his game," Arkansas coach Mike Anderson said. "It's growing up. That's what good players do. He's always been a guy who's been a physical specimen. Now he's utilizing that to his advantage on the floor."
Anderson's team could be particularly vulnerable against Stokes, who has a league-high 12.3 rebounds per game in SEC competition. Tennessee leads the SEC with a plus-12.5 rebound margin in league competition. Arkansas is being outrebounded by 10.8 boards per game in SEC play to rank last in the league in that category.
It may represent an ideal opportunity for Stokes to build on his momentum