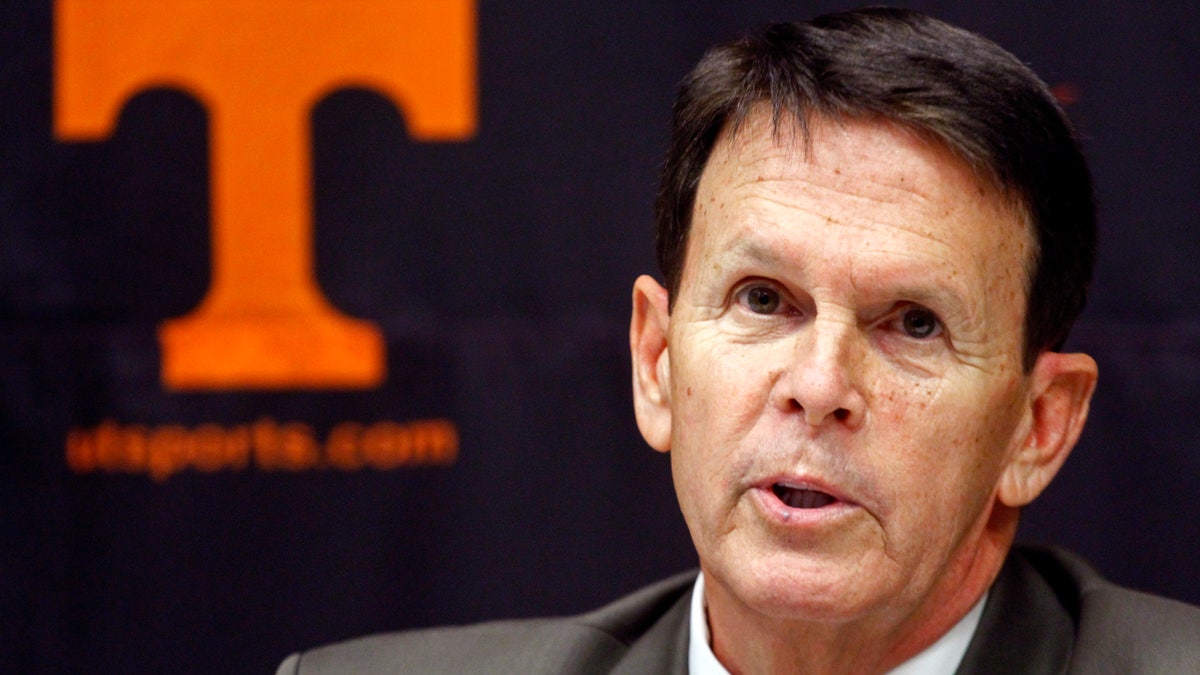 KNOXVILLE, Tenn. – Tennessee has a steep hill to climb before the Volunteers can fully recover from all their recent setbacks — on an off the field.
Athletic director Dave Hart knows it won't be an easy process.
His background gives him a unique perspective on the gap separating Tennessee from the top Southeastern Conference football programs.
Hart arrived at Tennessee in the fall of 2011 after working at Alabama, which just won its third BCS title in the last four years. He knows the difficulty of competing in the SEC and realizes what Tennessee must do to start competing for league championships again.
He believes new coach Butch Jones understands what it takes as well.
"He has a great understanding of the total picture," Hart said. "He wants to re-engage with lettermen, with high school coaches. He's spending a lot of time balancing a lot of balls. He's very, very proficient at multitasking. He knows recruiting is at the top of the priority list because we've got to go find football players who can help us return to the top of the pyramid, in the SEC and nationally."
Hart doesn't believe the Tennessee brand has been tarnished by the Volunteers' tumultuous recent history.
Tennessee has posted three straight losing seasons in football for the first time in a century, and Jones wasn't the first choice to replace Derek Dooley. Hart hired Jones — who will be the Vols' fourth coach in a six-year stretch — last month after Louisville's Charlie Strong announced he'd turned down an offer from Tennessee.
"Certainly we've had a very tough five years or so, a run that we're trying to come out of," Hart said. "Internally we are setting the foundation to come out of it."
He pointed to the Vols' fan base as evidence of the fact the Tennessee brand remains strong.
"They've been extremely supportive through some very rough waters," Hart said. "We've been in choppy seas, and yet they haven't been intimidated, nor have they been deterred."
As it attempts to rejuvenate its football program, Tennessee's athletic department is working at a financial disadvantage. The athletic department reported a $3.98 million budget deficit for the 2011-12 fiscal year that caused its reserve to drop to $1.9 million, the lowest total in the Southeastern Conference.
Hart noted that other SEC schools have reserve of anywhere from $50 million to $100 million. Hart said he eventually wants to build the reserves back up to $50 million, though he didn't set a timetable for it.
"That's not an overnight process by any stretch of the imagination," Hart said.
Steps have been taken to address the athletic department's budget issues.
Tennessee chancellor Jimmy Cheek has announced the athletic department would keep $6 million each of the next three years instead of contributing that money annually to the university as it had done previously. That $6 million annual donation had been used primarily for scholarships and fellowships, which now will be funded primarily through private gifts.
"We still have to be very mindful that we're still not flush with revenues," Hart said. "We're certainly not going to allow our financial position to impact our pursuit of comprehensive excellence."
Hart also noted that he would like to continue scheduling one high-profile nonconference football game per year. The Vols travel to Oregon this season and will end up playing road games against the Ducks and Florida on back-to-back weeks. Tennessee's other nonconference games are at home against Austin Peay, Western Kentucky and South Alabama.
Tennessee opened its 2012 season against North Carolina State at the Georgia Dome, and Hart said he wouldn't mind scheduling something similar in the near future.
Hart also remained confident that Tennessee could continue its men's basketball series with Memphis, though it's increasingly unlikely they will meet next season. Tennessee's 85-80 loss to Memphis last week represented the last game in the contract between these two schools, but Hart and Memphis athletic director Tom Bowen have been negotiating future matchups between the in-state rivals in men's basketball as well as other sports.
"I'm not so concerned with there being a one-year gap (in the series) as I am about there being a multi-year gap," Hart said. "I don't think either Tom or I want that to occur."