Teemu Packalen demolishes opponent in just 24 seconds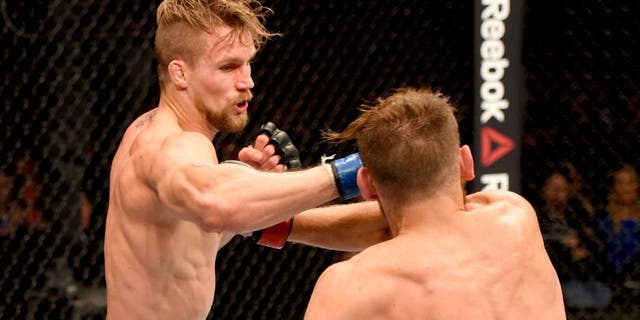 Teemu Packalen only needed 24 seconds to get his first UFC win on Saturday in London after a rapid fire finish to put away Thibault Gouti.
Packalen came up short in his debut fight last July against Mickael Lebout but made quite an impact with his second inside the Octagon.
While he is best known for his grappling, it was Packalen's uppercut that clipped and dropped Gouti to the mat in the first exchange of the fight.
From there, Packalen went back to his submission roots as he quickly hopped on Gouti's back and began working for the rear naked choke.
In a split second, Packalen had his arm wrapped under Gouti's chin and rolled him around on the mat to lock up the hold.
A moment later, as Gouti's face started to turn three different shades of red as a result of the choke, he tapped out.
Packalen put Gouti away in a very impressive, efficient fashion to pick up his first win in the UFC.