Teddy Bridgewater aims to complete 70 percent of passes in 2015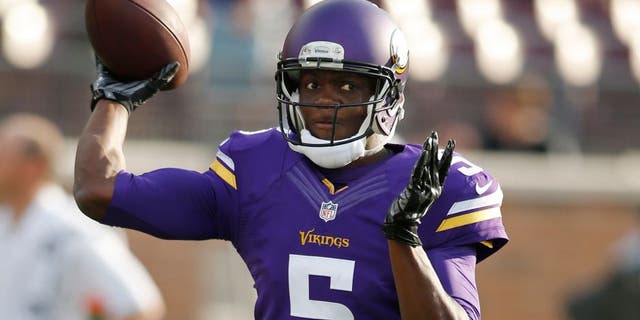 Minnesota Vikings quarterback Teddy Bridgewater enjoyed a clean rookie season. He posted an impressive completion percentage of 64.4, but apparently that's not good enough.
Bridgewater's goal for the 2015 season is to complete 70 percent of his pass attempts.
"We try to aim to be over 70 percent in the quarterback room," Bridgewater said, per Chris Tomasson of the Pioneer Press. "That's one of our goals. We take pride in completion percentage."
This feat has only been accomplished five times in NFL history: Drew Brees did it in 2011 (71.2) and 2009 (70.6), Ken Anderson in 1982 (70.6), Steve Young in 1994 (70.3) and Joe Montana in 1989 (70.2). By reaching his goal in 2015, Bridgewater would enter elite quarterbacking company.
So far this preseason, Bridgewater has been nearly flawless 22 completions on 28 attempts (78.6 percent). One of his tosses went for a touchdown and not one has been intercepted.
"I want to be perfect," Bridgewater said. "That's the mind-set, but no one is ever going to be perfect. Something always comes up, the receiver could slip running a route or you could get hit throwing the ball."
So long as Bridgewater is in command at quarterback, the Vikings can field one of the league's most efficient offenses this season.
(h/t TwinCities.com)