Ted Thompson once modeled Notre Dame-style Packers unis for Ron Wolf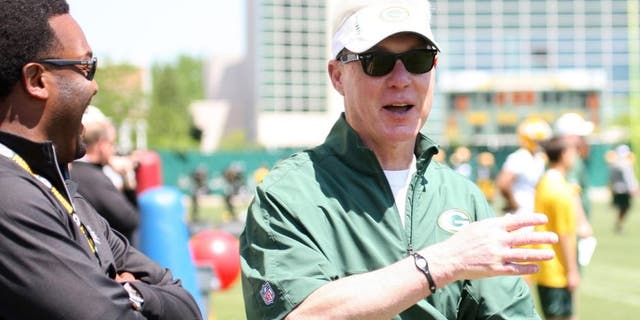 In the early 1990s, when Class of 2015 Pro Football Hall of Fame inductee Ron Wolf was trying to rebrand the Packers after two decades of losing, the former general manager considered a drastic uniform change. Wolf was inspired by Notre Dame's classic look and wanted to try out a uniform much like the Fighting Irish wear, according to Bob McGinn of the Journal Sentinel.
Wolf needed a model, though, so he asked current Packers GM Ted Thompson, then a pro scout, to try on the uniform for him, then-president Bob Harlan and some other Packers executives at Lambeau Field. Thompson wore a "dark green jersey, metallic gold pants, solid metallic gold helmet with the 'G' logo that had existed since 1961 and solid green socks" with no stripes on the helmet, jersey or pants, according to the Journal Sentinel.
"He (Thompson) was on the field down there all by himself," Wolf recalled, per the Journal Sentinel. "The guy ran up and down the field. I was thinking to myself, 'Holy (expletive), I must have been smoking dope.'"
Wolf knew right away that the look wouldn't work for the Packers, who have maintained pretty much the same look since the Vince Lombardi era (1959-1968).
"All it took was that one trip up and down the field for me to say, '(Expletive), that's terrible. No, no, no. There's no way we can do this,'" Wolf remembered, via the Journal Sentinel. "We would have changed it, but after that I said, 'This is foolish.'"
The Packers were able to salvage their traditional look by winning throughout the '90s. Under Wolf -- who hired Mike Holmgren as head coach, traded for quarterback Brett Favre and signed defensive lineman Reggie White in free agency -- Green Bay won Super Bowl XXXI after the 1996 season and returned to the big game the following year.
(h/t Journal Sentinel)