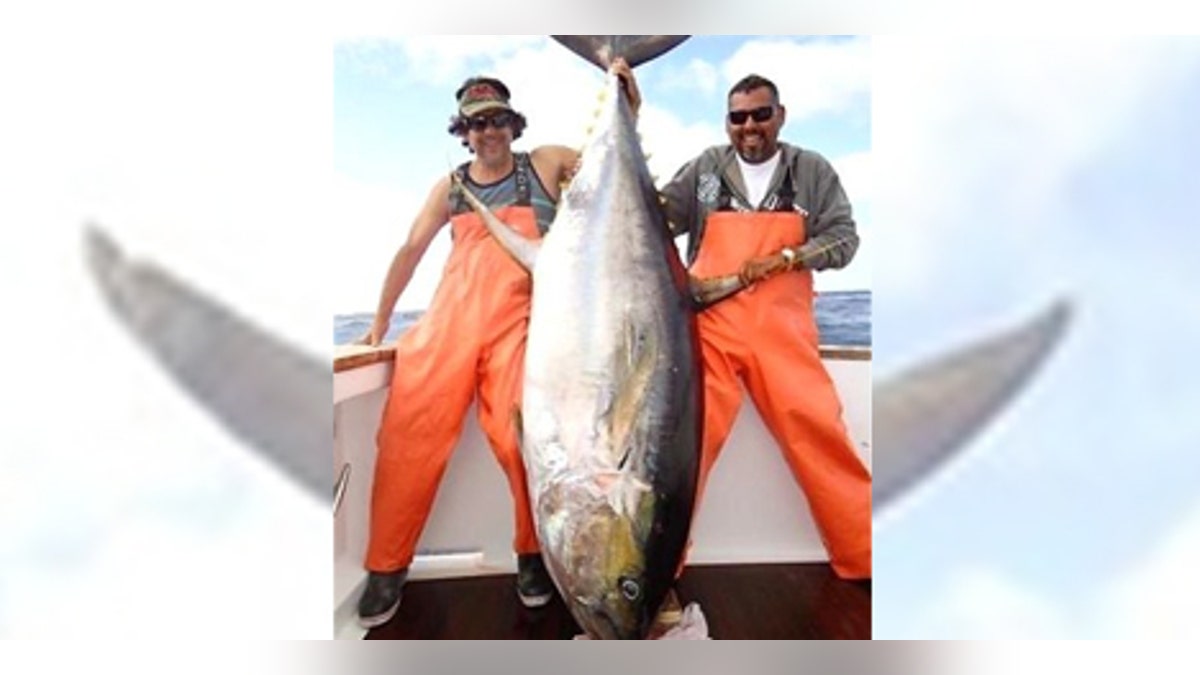 In saltwater fishing's version of baseball's infamous pine tar incident, an angler who reeled in a world-record yellowfin tuna had his home-run catch called back -- because a deckhand touched his fishing pole as he fought the mighty fish.
Robert Pedigo hooked the 427.9-pound fish last Thursday and fought it for a half-hour before bringing it aboard the "Journeyman." But everyone on board agreed that Danny Osuna, a local captain working that day as a deckhand, blew the record by touching Pedigo's pole during the battle between man and beast off the coast of Puerto Vallarta, Mexico. The rules say an angler can't have any help pulling in a fish if he or she wants to make history.
"I do this for a living and we're really hardcore fishermen," Osuna told FoxNews.com. "We have caught a lot of fish in the high 300s, but this is the first time we've caught something like this."
Osuna admitted touching Pedigo's fishing rod, disqualifying the catch from consideration by the International Game Fish Association. But he said Pedigo, who could not be reached for comment, isn't too broken up about the technicality.
"We're fine with that," Osuna said. "Actually, we never even thought the fish would be that big."
Osuna said everyone who was in on the fishing trip got a big meal out of the monstrous catch before the rest was given away.
"We never sold the fish," he said.
Like the famous home run by George Brett in 1983 that was disqualified when Yankees Manager Billy Martin pointed out that the Kansas City Royals' slugger had pine tar smeared too high on the barrel of his bat, the pole touch indeed disqualifies the catch, according to IGFA officials.
"I do this for a living and we're really hardcore fishermen."
A spokesman for the agency confirmed to FoxNews.com that the all-tackle record for yellowfin tuna remains 405 pounds, caught by Mike Livingston near Baja Sur, Mexico -- because Osuna touched the rod.
"No one (to my knowledge) has been contacted by the angler or any member of the crew in regards to this catch," IGFA World Record Coordinator Jack Vitek wrote in an email. "We have heard of the catch on various fishing forums and websites, and are pleased to hear that the angler and crew are being up front about such an impressive catch, and are respecting the IGFA rules."