Tebow talks progress and chances of making Eagles' roster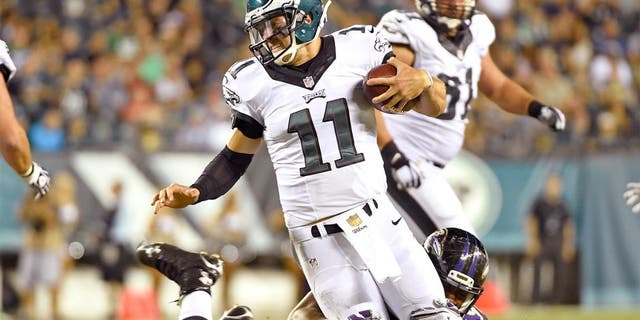 At this point, you've probably encountered numerous opinions from writers, analysts, friends and family on Tim Tebow's chances of making the Philadelphia Eagles' final roster. Teammates and head coach Chip Kelly have been singing Tebow's praises since the start of spring practices, but for the first time Monday, Tebow talked about where he stands on the debate.
"That's not something I worry about to be honest,'' Tebow said after Monday's practice, per Mark Eckel of True Jersey. "I worry about what I can control and that's come out and improve every day, enjoy the process, count your blessings and work extremely hard.
"You know something I always try to practice is be anxious for nothing, but let your request be known to God. That's how I try to handle that.''
Tebow played the question perfectly, offering very little room for the media to run with a quote. However, he was more willing to splurge on his opinion when it came to the topic of his progress since the spring practices. As a refresher, Tebow worked hard this offseason to retool his mechanics with former MLB pitcher Tom House. The next step was learning Kelly's unique offensive scheme, and this is an area where Tebow is starting to feel more comfortable.
"I feel like I'm improving with the offense, with the tempo, with the footwork, with the timing,'' he said. "I just want to continue with that process. I think I'm getting better at (pocket presence), just throwing a few away, not taking sacks. Always knowing that there's the next down.''
In Saturday's game, many pointed to a mistake that Tebow made in the red zone. As he broke from the pocket, Eagles wide receiver Josh Reese broke free in the back of the end zone. Instead of delivering a strike to the streaking Reese, Tebow tucked the ball under and took off for the pylon. Tebow scored on the rush but it was overturned. The Eagles would punch it in on the next play. Tebow explained his thought process on the play:
"In a situation like that you're just trying to be smart,'' he said. "We really emphasize here not turning the ball over, especially in the red zone. We were at the 3 or the 4, and it was first down. So on first down from the 3 or the 4, if I have a chance to get a touchdown, or get to the one-inch line, I'm going to be smart.
"You have to have situational awareness. See the field, know the situations, know what we need. If that's third down it's different, even if it's second down. But 1st-and-goal you have to be smart.''
History would tell us that Tebow is not just blowing smoke after the fact. Through 35 total game appearances and 23 games started with the Denver Broncos alone, Tebow has only thrown nine interceptions. If you had the perception that he is a turnover-prone quarterback, it is simply a misconception.
In Saturday's second preseason game, Tebow was 2 of 5 for 13 yards and ran for 31 yards, including a 26-yard scamper. In the Eagles' preseason opener, he finished 6-of-12 for 69 yards passing on the day. Tebow also added 15 yards rushing, including a fourth quarter touchdown run on a read-option play.
Earlier last week, a report surfaced that Kelly had become 'increasingly excited' with Tebow and could have big plans for him in short yardage and two-point conversion situations. The moment of truth will come 11 days from now when the Eagles are forced to cut down the roster.
(h/t True Jersey)