Teammates shower Cardinals' Choate with attention for 40th birthday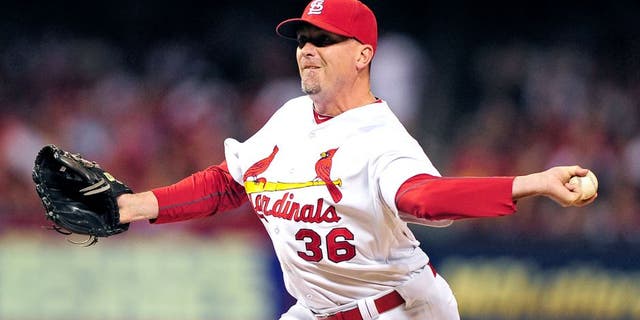 St. Louis Cardinals reliever Randy Choate turned 40 years old on Saturday. To celebrate the occasion, his wife and teammates put together a special day for him once he arrived at Busch Stadium.
As MLB.com's Jennifer Langosch detailed, Choate's wife Leigh purchased t-shirts for the whole team. The black tees featured the word #Holler (Choate's 'go-to phrase') on the front and '36 is 40' on the back. Langosch also noted that Choate's teammates bought a mini Red Bull refrigerator and took turns signing it for him as a gift.
Here's a shot of Choate smiling with Brandon Moss, as captured by Jim Hayes of FOX Sports Midwest:

The day's events meant a great deal to Choate, who has had some struggles recently out on the mound. "The key is enjoying [the game], and right now, I don't think I'm enjoying it because I'm over-worrying myself," Choate said to Langosch when asked about the celebrations. "Then walking in and seeing these shirts… just seeing these guys and how they reacted when I came in today. … It was a good way to start the day, especially since it wasn't the best way to end yesterday. It at least put a smile on my face."
Choate has great career numbers against left-handed hitters, though they've put together a .278/.345/.380 line against him this season in 24 2/3 innings of work. That's what he's found himself 'over-worrying' about lately, as quoted above by Langosch.
On Saturday, at least, Choate was able to let loose and appreciate the kind gesture put together by his wife and Cardinals teammates.