Team USA sets the gold standard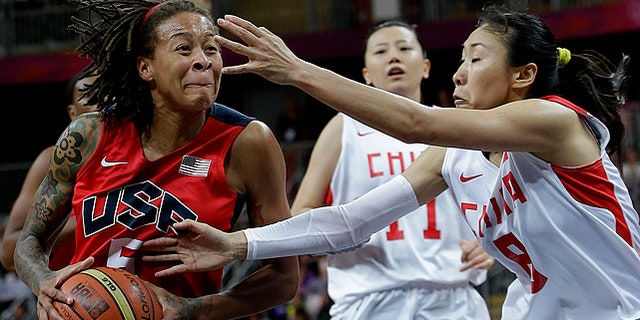 NEWYou can now listen to Fox News articles!
Led by swimmers Michael Phelps and Missy Franklin, Team USA holds a 9-medal edge over arch rival China — and leads the London Games with 39 gold medals with three days' worth of games remaining.
Led by dramatic victories in gymnastics, track and field and soccer, American athletes have won 90 total medals, including 25 silver and 26 bronze medals. China, led by swimmer Sun Yang — with two golds, a silver and a bronze medal — has 81 total medals, including 37 gold, 25 silver and 19 bronze medals, according to london2012.com. Next up are Great Britain and Russia, with the host team notching 25 gold, 15 silver and 16 bronze medals for 56 total medals. Russia has 59 total medals, but has just 14 gold and 21 silver medals comparatively.
[pullquote]
The race to rack up hardware may be in the bag for the U.S., since most of the remaining sports heavily favor the Americans, including basketball, where both the men's and women's teams are heavily favored to win gold.
"The Olympic Games is a competition between athletes, not nations," U.S. Olympic Committee CEO Scott Blackmun told Gannett. "With that said, we are very proud of our American athletes in London."
Highlights for Friday include finals for the women's 4x100-meter relay, the men's 4x400-meter relay and the women's 1500m in track and field; a men's semifinal in basketball against Argentina; and the start of rhythmic gymnastics. Team USA seeks to add to its comfortable lead Friday at Olympic Stadium, where the women's 4 x 100 relay team hopes to grab America's first gold in the event since 1996. Finals in men's pole vault and women's hammer throw will also be held Friday.
The men's basketball team — led by LeBron James, who became the first American to record a triple-double in Olympics history during Wednesday's quarterfinal victory over Australia — will continue its march toward gold during Friday's semifinal against Argentina. Spain meets Russia in the other semifinal.
Meanwhile, at the Aquatic Centre, U.S. divers Nick McCrory and David Boudia, who took bronze in the 10-meter synchronized diving, will compete in the 10-meter platform diving. Finals will also be held in the men's 10-kilometer swimming and women's synchronized swimming.
Team USA's medal lead has in large part been powered by success in the water, led by Phelps, whose all-time 22 medal haul was bolstered with four gold and two silvers in London. Teenage phenom Franklin, 17, who holds the world record in the 200-meter backstroke, has also grabbed four gold medals and a bronze.
American gymnasts have also fared well in London, with Aly Raisman leading the way with two gold medals and a bronze. Gabby Douglas, the so-called "Flying Squirrel," won the women's all-around — becoming the first African-American to do so — and Team USA won its first gold since 1996. Overall, however, the U.S. women gymnasts will leave London with five medals, the fewest since 2000.
On Thursday, the U.S. women's soccer team won its third straight Olympic gold medal, beating Japan 2-1 in a rematch of last year's World Cup final. Carli Lloyd scored early in both halves before 80,203 at Wembley Stadium, a record crowd for a women's soccer game at the Olympics.
The team avenged a difficult loss to Japan in the 2011 World Cup, but midfielder Lauren Cheney said there was no animosity heading into the rematch.
"On the gold medal stand, we were all just saying how much we love Japan and how much fun they are to play," Cheney said. "We have so much respect for them and they always play us well and play a great game."
But Team USA's admiration for their Japanese counterparts is nothing compared to their own camaraderie.
"There's so much love, we tell each other that all the time but it's so genuine and it's so much fun to be around each other," Cheney said. "To know that's our last time to play, we are just going to enjoy it as much as we can."
In men's soccer, South Korea meets Japan for the bronze on Friday, while Brazil meets Mexico on Saturday for gold.
In early events on Friday, Tunisia's Oussama Mellouli won gold in the men's open-water marathon, with Germany's Thomas Lurz taking silver and Canada's Richard Weinberger taking bronze. The 22-year-old, who lives and trains in Victoria, is the first Canadian to win a medal in open-water swimming. The sport made its Olympic debut in 2008 in Beijing, but Canada didn't qualify any swimmers then.
The Associated Press contributed to this report.