Team Penske cars have trouble in pre-race inspection at MIS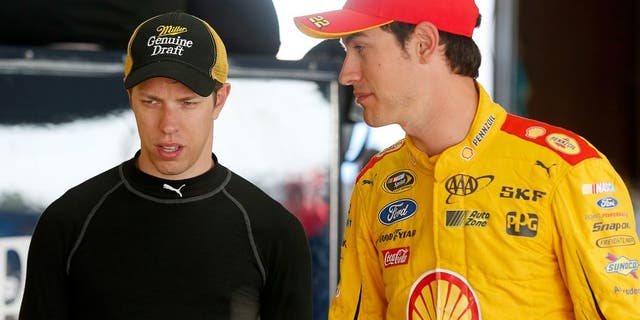 NEWYou can now listen to Fox News articles!
Both Team Penske cars had issues getting through NASCAR technical inspection prior to Sunday's Pure Michigan 400 at Michigan International Speedway.
Joey Logano's No. 22 car was the first of the two Penske cars to roll through tech, with NASCAR taking issue with the thickness of the front splitter. When Brad Keselowski's No. 2 car went through tech, it had the same issue.
NASCAR required the crews of both cars to remove the original splitters and install new ones before going back through the inspection line. A NASCAR official confiscated both splitters, taking them back to the NASCAR hauler in the garage.
Todd Gordon told FOXSports.com NASCAR just did not like what they saw with the splitter, saying it was "no big deal."
NASCAR allows teams to smooth out the splitter prior to the race, but issues arise when teams begin manipulating the edges and thickness of the splitter.
When asked why NASCAR would take a splitter from a team in general, NASCAR's Robin Pemberton explained that is a splitter is manipulated to be concave it could create more downforce, which teams are desperately seeking with this high-drag aerodynamic package.
NASCAR spokesperson Kristi King addressed the issue on Sunday, saying the splitters on both cars were so close in tolerance the sanctioning body asked the team to err on the side of caution and change the splitters.
Despite the issue, neither Penske team will lose their starting positions for Sunday's race at Michigan, and if any penalties or fines result from the issue they will likely be announced early next week.