Team brings new personnel, Danica to '12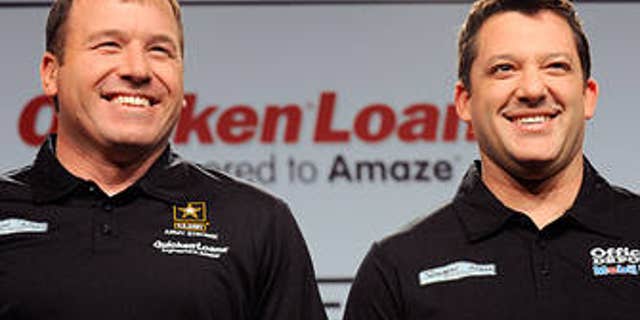 2012 Team Preview: Stewart-Haas Racing
Owners: Tony Stewart, Gene Haas (13 career wins, one career championship).
Drivers: Tony Stewart (finished first in 2011), Ryan Newman (10th), Danica Patrick (rookie).
Crew chiefs: Steve Addington (Stewart), Tony Gibson (Newman), Greg Zipadelli (Patrick).
Key offseason changes: Addington replaces Darian Grubb as Stewart's crew chief ... Zipadelli comes on board as the team's competition director ... The Danica Patrick Experience.
Overview: Trying to decipher the changes at Stewart-Haas Racing this year will leave the average NASCAR fan longing for the clarity, simplicity and directness of a Flannery O'Connor short story. But here goes:
Co-owner Stewart had an extremely disappointing run in the 26-race 2011 NASCAR Sprint Cup regular season, failing to win a race and posting just three top-five finishes. So, before the season-ending, 10-race Chase for the Sprint Cup, Stewart decided to replace Grubb as crew chief after the racing campaign concluded. Inexplicably, Stewart suddenly got red-hot, winning five of the 10 Chase races and his third Sprint Cup championship in what many believe was the most exciting NASCAR season in history.
But the wheels were already in motion to replace Grubb with Addington, who formerly worked with Stewart at Joe Gibbs Racing and had spent four years toiling away as the crew chief for first Kyle Busch and then Kurt Busch, two of the most volatile and occasionally toxic personalities in NASCAR.
Stewart also hired away another former JGR buddy, Zipadelli, to serve as the team's competition direction.
On the other full-time SHR car, rock-steady Newman and crew chief Gibson are preparing for a fourth season together in the No. 39 Chevy. The big news is that Newman's car will have a flock of new primary sponsors: Quicken Loans (nine races), Wix Filters (four races) Aspen Dental (two races) and Outback Steakhouse (two races), in addition to US Army, Tornados and Haas Automation.
Now here's where it gets complicated.
SHR announced last summer it had hired Danica Patrick to run a 10-race Sprint Cup schedule in the No. 10 SHR Chevrolet for 2012, with sponsorship from GoDaddy.com.
Last week it was announced that SHR and Tommy Baldwin Racing had formed a "collaborative partnership." The gist is that TBR's No. 36 Chevrolet finished in the top 35 in Sprint Cup owner points last season. That means it's guaranteed a starting spot in each of the first five Cup races of 2012, including the Daytona 500.
Officially, the No. 36 TBR Chevy will become the No. 10 TBR Chevy, and Patrick will drive it in 10 Cup races this year, along with her full-time NASCAR Nationwide Series ride with Dale Earnhardt Jr.'s JR Motorsports. When Patrick drives the No. 10 TBR Cup car, it will be run out of the SHR shops, with Zipadelli serving as crew chief. In the other 26 races, David Reutimann will drive the No. 10, which will be campaigned out of the TBR shop. The team is still looking for sponsorship for Reutimann.
It's a complicated relationship, to be sure, but it guarantees Patrick makes the Daytona 500. That, in turn, ought to make that race a ratings bonanza for FOX on Feb. 26. Presumably, it's also going to funnel some much-needed cash to the small but scrappy TBR organization, making it a win-win.
Regardless of all the attention Patrick's Cup debut at Daytona will undoubtedly draw -- call it Danica-palooza -- Stewart and Newman are and will continue to be feared competitors on the track. The addition of Zippy and Addington will add to an already deep talent pool for a team that's expected to contend for another championship this year. Collectively, Stewart and Newman have qualified for the Chase five of a possible six times since SHR was formed. Don't expect to see that change this year.
Prediction: No one, especially Stewart, expected SHR to be a championship-caliber team after just three seasons. But that's exactly what it is right now. Could SHR repeat, with either Stewart winning a fourth title or Newman his first?
Possible but not likely. And that's no slap at SHR. There are so many championship-capable teams at the top of the points charts these days, it's hard to imagine history repeating itself again this soon. It's not impossible, certainly, but it remains unlikely.
Still, expect to see Newman and Stewart both finish solidly inside the top 12 in points. As for Danica, expect her first Cup season to mirror her first Nationwide season -- lots of cautious driving on her part, with a smattering of decent finishes. Nothing more, nothing less.