TCU's Patterson hears enough from OU QB Mayfield and fires back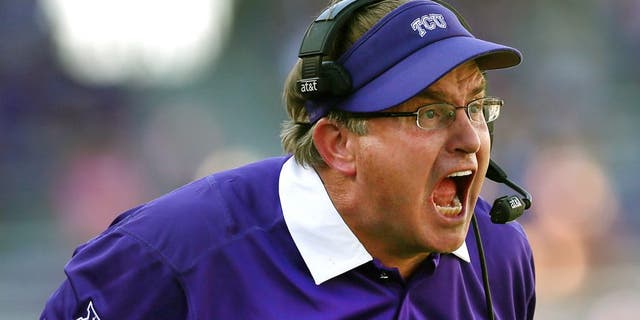 NEWYou can now listen to Fox News articles!
TCU Horned Frogs coach Gary Patterson fired back at Baker Mayfield after the Oklahoma Sooners quarterback said TCU "hung me out to dry" during his 2013 recruitment.
The topic came up during an Orange Bowl press conference Monday as Mayfield and the No. 4 Sooners prepare to play No. 1 Clemson in a national semifinal. Mayfield was asked which school disappointed him the most during a recruiting process that did not yield a scholarship and led him to walk-on at Texas Tech, which he left under acrimonious circumstances following the 2013 season.
Mayfield's answer: TCU. Mayfield told reporters that he was told he would be offered a scholarship, but ultimately was not. As he waited for the TCU offer, he said he informed other schools that he wasn't interested because he believed he was headed to Fort Worth. When asked if he Patterson has looked him in the eye since then, Mayfield responded: "No. He doesn't like me and I have no comment about that."
Well, later on Monday, Patterson, who is in San Antonio preparing his team for the Alamo Bowl, did have a comment, and he didn't mince words with Campus Insiders' Bonnie Bernstein, not only calling out Mayfield, but also his father, James Mayfield.
Bernstein relayed Patterson's comments on her Facebook page:
"I like Baker Mayfield. I think he's a good kid and that's what disappoints me.
"If Baker Mayfield wants to blame TCU for 128 BCS schools not offering him a scholarship, that's fine. But ask Kliff Kingsbury why he didn't offer him a scholarship at Texas Tech. Ask about Baker's dad [James]. He's an arrogant guy who thinks he knows everything. If people knew the whole story, they might not have a great opinion of Baker or his father.
"Remember what was going on then. Casey Pachall was in alcohol rehab, we already had Trevone [Boykin], Tyler Matthews was an early commit. When we knew we were getting Casey back, there just wasn't a need. This stuff happens all the time."
After TCU defeated Oklahoma in 2014, when Mayfield was sitting out the season to satisfy transfer rules but was on the Sooners' sideline, Patterson accused Mayfield of stealing TCU's signals. Mayfield played under TCU offensive coordinator Sonny Cumbie at Texas Tech. Patterson also addressed that issue with Bernstein: "Baker's been out for us for awhile."