TCU tailback Aaron Green returns to where it all began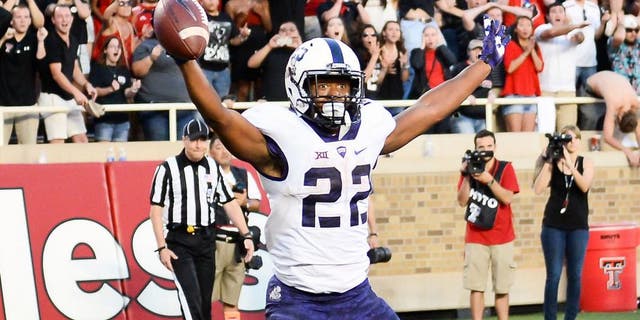 NEWYou can now listen to Fox News articles!
TCU running back Aaron Green celebrated his late touchdown off a tipped pass that allowed the Horned Frogs to defeat Texas Tech. John Weast Getty Images
Aaron Green's rise to become TCU's featured running back as a fifth-year senior certainly didn't follow the script he expected.
First off, the San Antonio native started his college career at Nebraska. Buried on the depth chart, Green decided to return to Texas and chose new Big 12 member TCU. But even there he found himself behind B.J. Catalon. In 2013 during a game at Iowa State, Green replaced an injured Catalon and produced two key runs on a late drive in the 21-17 victory.
That day proved to Green he could be an impact player.
Still, he entered 2014 behind Catalon, only to take over as the featured back when Catalon sustained a concussion against West Virginia on Nov. 1. From there, Green took off, finishing the season with 922 rushing yards, averaging 7.1 yards per carry, and nine touchdowns.
When Catalon chose to leave TCU early after last season to take a shot at the NFL, Green finally found himself alone as the main man. Now he, quarterback Trevone Boykin and wide receiver Josh Doctson form one of the most dangerous trios in college football.
Halfway through his final season, Green heads back to Iowa State with an opportunity to improve the No. 3-ranked Horned Frogs to 7-0. He hasn't slowed down either, averaging 6.4 yards per carry, well on his way to his first 1,000-yard season with 625 yards and eight rushing touchdowns.
"When I go back there, there will probably be a lot of memories," Green told reporters during TCU's weekly media conference. "It will probably be pretty emotional for me. It's my first big game in college football."
The touchdown everybody remembers, however, is Green's lone touchdown catch of the year, a right-time, right-place grab off a tipped fourth-down pass that pushed TCU past Texas Tech in the final minute of regulation.
"I always feel like I have something to prove when I step on the field," Green said. "Even when you go to Kansas State, there's someone in the stands who's never heard of Aaron Green and who will never see me play again.
"I want to go out there and leaven an impression. I want them to know who I am before I leave."
(h/t Dallas Morning News)
MORE NEWS: Want stories delivered to you? Sign up for our College Football newsletters.